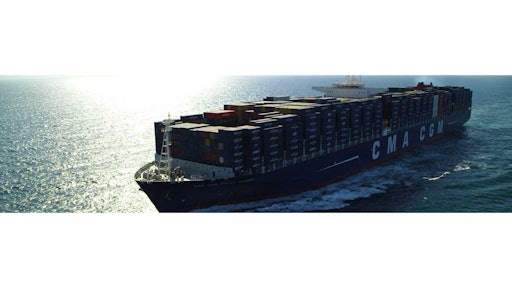 CMA CGM, China Container and United Arab Shipping Form 3-Way Alliance 
French container shipping group CMA CGM has sealed an alliance with two rivals after a failed attempt to partner with bigger peers Maersk and Switzerland's MSC, vetoed by China earlier this year due to competition concerns, according to Reuters News. CMA CGM has agreed a route-sharing alliance with China Shipping Container Lines Co Ltd. (CSCL) and United Arab Shipping Co. (UASC) to be known as Ocean Three in a bid to save costs on key container routes. The shipping industry has been battling overcapacity linked to a glut of new vessels ordered during a boom period before the global financial crisis of 2007-2009, forcing operators to look for ways of becoming more efficient. CMA CGM said the new alliance would cover routes between Asia and Europe, as well as Asia and North America.
Port Tampa Bay Signs Agreement With Cartagena, Columbia Port
Port Tampa Bay signed a memorandum of understanding agreement with the Port of Cartagena, Colombia that strengthens the bond of comradeship between the two ports and establishes a strategic alliance for collaboration toward commercial pursuits. This recent signing is the latest in a string of similar agreements brought to fruition between Florida's largest port and other key Latin American ports such as Quequén, Argentina; Barranquilla, Colombia; Veracruz, Mexico; JAPDEVA, Costa Rica; and the Panama Canal Authority.
As with existing "sister port" agreements, this latest one with Cartagena's port will encourage and support a working business relationship and opportunities for trade growth between the ports and establishes an alliance of cooperation between two ports with similar diverse business portfolios and growth plans. The Latin American trade lane is the strongest and most active for Tampa's large and diverse port.
Last Mile Carrier LaserShip Teams With ProShip Inc.
ProShip, Inc. announced a partnership with LaserShip, the premier last mile parcel carrier that travels on the East Coast. The newfound relationship between ProShip and LaserShip, headquartered in Vienna, Va., will provide a mutual benefit to both of the companies and their customers as ProShip is now recognized as compliant with an additional east coast carrier. Known for its delivery network which enhances the speed of shipping, LaserShip will be another carrier for ProShip's customers to choose from when shipping packages.
Farmbox Direct Subscription  Delivers Local, Organic Produce
Farmbox Direct brings 100 percent USDA certified organic seasonal, and pesticide-free produce to customers weekly on a subscription basis from New York to Washington D.C. Farmbox Direct offers three different size boxes ranging from $36.95 to $58.95. Following the company's launch in Manhattan and Brooklyn, Farmbox Direct has expanded throughout the East Coast and plans to expand and serve customers nationally. This September, Farmbox will make its first moves on the national stage, releasing a monthly subscription box stocked with up to 12 packaged snacks—everything from popcorn and cookies to rice—that will ship out on the 15th of the month. Prices will range from $20 to $30, and customers can elect to continue ordering any of the products in future deliveries. 
Transportation Investment To Grow Fast In Africa
Global capital project and infrastructure spending in Africa is expected to grow to more than $9 trillion annually by 2025, up from $4 trillion in 2012, according to a new report issued by PwC, "Capital Project and Infrastructure Spending: Outlook to 2025."
The report, for which Oxfords Economics provided research support, analyses infrastructure spending across 49 of the world's largest economies which account for 90 percent of global economic output. It covers five industry sectors – extraction, utilities, manufacturing, transport and social – and forecasts their impact on seven major world economic regions (Western Europe, Latin America, Asia-Pacific, Middle East, sub-Saharan Africa, Former Soviet Union and Central and Eastern Europe).  It estimates the scale of current infrastructure investment and assesses the prospects for future investment from now to 2025. Overall, close to $78 trillion is expected to be spent globally between now and 2025 on capital projects and infrastructure.
The report finds that during 2011 to 2012, the global infrastructure market rebounded from the global financial crisis, and will continue to grow between 6 percent to 7 percent yearly to 2025.
The report shows that that the recovery will be geographically uneven, led mainly by Asia, as spending overall shifts from West to East. The Asia-Pacific market will represent nearly 60 percent of all global infrastructure spending by 2025, driven mainly by China's growth. Western Europe's share will shrink to less than 10 percent from twice as much just a few years ago.
Clean Energy Will Fuel Bimbo Bakeries' Natural Gas Trucks
Clean Energy Fuels Corp. announced it will fuel the first heavy-duty natural gas trucks deployed by Bimbo Bakeries USA, the largest baker in the U.S. Trucking fleets across the nation continue to expand or begin natural gas fueling operations. Clean Energy and approximately 40 competitors have opened nearly 100 public heavy-duty truck-friendly stations so far in 2014, according to the U.S. Department of Energy, Alternative Fuels Data Center.  This translates into an annual infrastructure growth rate of over 20 percent with certain markets like Texas experiencing significant natural gas fueling station growth. Grant awards affecting Clean Energy and its growing portfolio of natural gas fueling customers were also announced.  
Loblaw Tests Click And Collect Drive Through
Loblaw Companies Ltd. is preparing to pilot a grocery click-and-collect program, which will allow shoppers to order online and pick up their completed order at stores, according to The Toronto Star.
The Loblaws at 301 High Tech Rd. in Richmond Hill has been set up with a bright orange click-and-collect area that includes assigned parking. Customers will be able to have the groceries they chose and pay for online, loaded into their vehicles.
Loblaws announced earlier this year that it would pilot a click-and-collect program, but provided few details. A company spokesman declined to elaborate on Tuesday, although he did confirm that Richmond Hill will be the first location to offer the new service.
"The service is not yet available to the public, but we're excited by the prospect of offering busy customers another option to complete their shopping, saving considerable time in the process," said Loblaw spokesperson Kevin Groh.
Kane Is Able Acquries Nexus Distribution's Southeast And Northeast Hubs
Third-party logistics provider Kane Is Able, Inc. has acquired the Southeast and Northeast regional hubs of Nexus Distribution Corp., a third-party logistics company headquartered in Bloomingdale, Ill.
The acquisition of Nexus' Atlanta, Ga. and Allentown, Pa. distribution campuses reflects Kane's strategic focus on bringing integrated logistics solutions to new markets. Kane customers will immediately benefit from expanded distribution coverage and increased capabilities. Nexus Distribution Corp. will continue to operate its Chicago-area locations. With the expanded distribution capability in Allentown and Atlanta, Kane increases its total managed square footage by more than 10 percent to 7.5 million square feet of space, with locations in every region of the U.S.
Oracle: Freight Tonnage To Grow 23.5% In 10 Years
Srini Rajagopal, senior director, logistics product strategy at Oracle, said with the total U.S. freight tonnage expected to grow 23.5 percent in the next 10 years, managers need to determine the most efficient ways to ship orders by deploying the most economical fleet resources.
Rajagopal addressed the issue in an interview in an Oracle company publication. While trucking is the dominant mode of freight transportation in the U.S. (accounting for approximately 69 percent of the freight tonnage in 2013), companies also rely on trains, planes, and ships to get items to their final destinations, Rajagopal noted. Additionally, increasing regulatory oversight (particularly in the U.S.) is adding new complexity to this critical transportation sector.