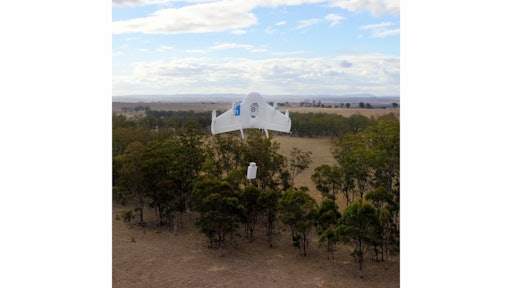 Google Tests Package Delivery Drones
Google's secretive research laboratory is trying to build a fleet of drones designed to bypass earthbound traffic so packages can be delivered to people more quickly, according to news reports. The program escalates Google's technological arms race with rival Amazon.com Inc., which also is experimenting with self-flying vehicles to carry merchandise bought by customers of its online store. Google Inc. calls its foray into drones "Project Wing." Although Google expects it to take several more years before its fleet of drones is fully operational, the company says test flights in Australia delivered a first aid kit, candy bars, dog treats and water to two farmers after traveling a distance of roughly one kilometer, or just over a half mile, two weeks ago. Google's video of the test flight, set to the strains of the 1969 song "Spirit In The Sky," can be seen at https://www.youtube.com/watch?v=cRTNvWcx9Oo
Square Buys Caviar, Expands Into Food Delivery
Square, which provides a mobile payment reader, announced that it has acquired Caviar, a rapidly growing company that allows buyers to get delivery from top-rated restaurants that do not otherwise offer delivery. For restaurants, Caviar is an affordable, convenient alternative to an in-house delivery solution and drives additional revenue.
With the acquisition, Square deepens its commitment to providing independent sellers with services that make it easier for them to grow their business.
Uber Launches Same-Day Grocery Delivery Service In U.S. 
Taxi and private car hire service Uber has launched a grocery delivery service in the U.S., according to the British Broadcasting Corp. (BBC) The Corner Store facility is available as an option via its main smartphone app and covers more than 100 items.
The products are competitively priced against high street stores, and there is no delivery fee.
The service is limited to Washington D.C. at this time, but it makes Uber the latest in a series of tech firms to move into the sector.
Amazon operates AmazonFresh, a same-day "fresh produce and grocery" delivery service, in California and Seattle.
Peapod Adds Fee For Store Pick Up
Online grocer Peapod will implement a fee for its store pick-up service beginning in September, reported Supermarket News. Store pick-up customers will be charged $2.95, with a minimum order size of $60. The service - available at Ahold's Stop & Shop and Giant stores- previously was free, with no minimum order.
Peapod announced the change in an email to customers: "We kept it as close to free as we possibly could. But it's true — we have to start charging a fee for pick-up orders… We hope you agree it's worth it."
The service lets shoppers choose their groceries online or via a mobile app. Pick-up clients then go to their store, and their groceries are loaded into their cars. The Peapod email encourages users to sign up for the Peapod Pod Pass, which charges a fee for unlimited home delivery or pickup services. A three-month Pod Pass costs $39; six-month, $59; and one year, $99.
Walmart Expands Hydrogen Fuel Cell Vehicles
Plug Power Inc. has received a follow-on GenKey purchase order from Wal-Mart Stores, Inc. to add a seventh GenKey site to support GenDrive fuel cell powered lift trucks. This additional site in Sterling, Ill. consists of 286 GenDrive fuel cell units and is planned to deploy in the third quarter of 2014.
 GenKey is Plug Power's all-inclusive hydrogen fuel cell power solution, combining: GenDrive fuel cell units; GenFuel infrastructure construction and hydrogen fuel supply; and GenCare onsite maintenance service.
In February 2014, Plug Power received a GenKey order from Walmart to roll out 1,783 GenDrive fuel cells in the forklift fleets at six sites across North America. The first of these sites, in Pottsville, Pa., was brought successfully on line during the second quarter of 2014. Plug Power deployed almost 300 GenDrive fuel cell units in Walmart's class-2 and class-3 electric lift trucks.
U.S. Approves Chilean Carrier Merger With Hapag-Lloyd
U.S. authorities have approved the merger of the container shipping business of Chilean ocean carrier Compañía Sud Americana de Vapores with German container line Hapag-Lloyd, according to Port Technology International. The merger will reportedly create the world's fourth largest carrier.
Clearance for the merger was granted recently by the U.S. Department of Justice and the Federal Trade Commission. The move forms part of the consultation process to regulatory authorities that both companies are carrying out in order to merge their container businesses.
DP World Vancouver Stops Accepting U.S. Bound Cargo
DP World Vancouver will stop accepting U.S.-bound containers intended for direct transfer to rail, citing a lack of railcars to handle the surge of cargo headed across the border, according to Journal of Commerce. The operator of the Centerm Terminal will continue to handle U.S.-bound cargo moving by truck either to the regional market or to a nearby container yard. Since the beginning of the month, the Dubai-based terminal operator has waived demurrage for rail containers diverted to truck transport and moved from its terminal, according to a letter sent to DP customers and obtained by JOC.com from a port customer who suggested that other terminals could soon follow DP World Vancouver with a similar policy.
Nicaragua Prepares Inter-Oceanic Canal
The inter-oceanic canal project in Nicaragua is expected to begin soon, according to Nicaraguan radio station La Primerisima. It will be between 230-530 meters wide and 26-30 meters in depth.
Currently, Chinese entrepreneur Wang Jing, owner of HKND Group, whose firm holds the concession to build the Nicaragua Grand Canal, is in the country heading up a delegation that will announce the chosen canal route and other project details in the weeks ahead.
According to La Primerisima, "The canal could be partially ready by 2019 and able to handle the transportation of up to 416 million metric tons, representing 3.9 percent of the world's maritime cargo. The route of the Nicaragua inter-oceanic canal will cross through the mouth of the Brito River, south of Rivas, north Tule River and the entry of Punta Gorda River. This route will cross the country from east to the west with a total length of 278 kilometers, including a stretch of 105 kilometers in the Cocibolca Lake."
Diamond State Port Corp. And Chiquita Sign Lease Agreement
The Diamond State Port Corp. (DSPC) and Chiquita Brands have recently reached an agreement by which Chiquita will continue to use the Port of Wilmington as its mid-Atlantic distribution hub for the next five years. Also, this agreement includes two five-year lease renewal options which will extend Chiquita's relationship with Wilmington until 2029. With the retention of Chiquita's business the Port will continue to handle more bananas than any other port in North America.
In 1988, Chiquita consolidated its mid-Atlantic supply chain operations at the Port of Wilmington, now its largest port operation in North America. It leases 28.7 acres at the port and its vessels make approximately 52 port calls annually. Chiquita operates a fully containerized service between Central America and Wilmington discharging bananas, pineapples and other tropical fruit and vegetables, and loading back forest products, used automobiles and general cargo.
"We are extremely pleased that Chiquita has decided to sign a new lease with the port and continue our long and "fruitful" relationship," said Gene Bailey, executive director of the DSPC. "Chiquita is a most important customer and responsible for hundreds of jobs and the resultant and significant economic impact to our port, state and region. We are grateful to the governor and the General Assembly for the support which has allowed us to make those capital equipment acquisitions and infrastructure improvements needed to retain Chiquita's business despite a very competitive environment," Bailey added.
"The Port of Wilmington is an important destination for Chiquita and our customers," said Mario Pacheco, Chiquita's senior vice president, global logistics. "We are pleased that we have reached an agreement that will enable us to continue to call Wilmington home for many years to come. Wilmington is a great partner for Chiquita and we look forward to growing our business together in the years ahead."
Clean Energy Opens 27 Natural Gas Fueling Stations
Clean Energy Fuels Corp. announced the completion and opening of 27 natural gas fueling stations in the first half of the year, nine of which are America's Natural Gas Highway stations. Upgraded equipment and additional compression capacity have also been added to 10 existing stations to keep pace with growing natural gas fuel demand. Additional fueling and station development agreements representative of Clean Energy's growing portfolio of natural gas fueling customers were also announced.
Kroger Builds Distribution Center In Forest Park, Ga.
Kroger recently broke ground on a distribution center in Forest Park, Ga. The new facility is expected to create 120 new jobs. The new facility will service existing operations in Alabama, Georgia, South Carolina and Tennessee. Kroger Atlanta Division President Bruce Lucia commented, "We can get to our stores quickly from here. We have such great road systems in Georgia today."
PAS Supports Yearsley Logistics' Freezer Project In U.K.
Yearsley Logistics, the United Kingdom's largest distributor of frozen foods, has begun the second phase of a three-part, £5 million expansion of its freezer "superhub" warehouse adjacent to the group's headquarters in Heywood, England. The expansion, which uses PowerStor® technology from Power Automation Systems (PAS), will provide an additional 50,000 square feet of space which provides 12,000 extra pallet sites bringing the total to 60,000 pallets at Heywood.
The cold store uses a combination of PowerStor technology integrated with mobile racking for the most economical and energy-efficient storage process to meet the throughput and storage needs of Yearsley Logistics' frozen food customers.
"The PAS system helps to speed up the customer ordering process and improves productivity, as well as having environmental benefits in relation to less door openings and lighting," said Harry Yearsley, CEO of Yearsley Logistics.
Willow Run Foods Adds CadecSoftware To Run CNG Vehicles
Willow Run Foods has added Cadec's PowerVue software to its Compressed Natural Gas (CNG) fleet of vehicles. Willow Run Foods specializes in food distribution for fast food chains throughout the Northeast. As part of the company's alternative transportation project, the CNG trucks will run mostly in New York City, Long Island and northern New Jersey, helping to offset a high-traffic region with significant greenhouse gas emissions. When used for transportation fuel, natural gas can reduce greenhouse gas emissions considerably when compared to petroleum fuels.
Cadec's PowerVue is an SaaS-based fleet management system, providing fleet management features in a single, easy-to-use, secure and reliable system combined with in-cab hardware designed specifically for the private fleet customer.
Willow Run Foods is using PowerVue to track the CNG vehicles fuel consumption, along with other valuable driver and fleet information such as driver behavior and productivity, on-time delivery data, vehicle operation and safety.
Papa John's Improves Fleet Performance With Isotrak TMS
Papa John's Food Service (PJ Food Service) reports having more visibility over its fleet after using Isotrak's Active Transport Management System, according to Isotrak. By measuring and monitoring arrival and departure times, idling time and miles per gallon, fleet managers can make proactive and informed decisions. PJ Food Service improved its rate of on-time deliveries by more than 25 percent and its rate of on-time departures by more than 30 percent over the course of 2013.
The platform integration capabilities were key to selecting Isotrak because PJ's Food Service did not want a host of stand-alone systems, according to an Isotrak white paper. They needed a solution that would allow for integration into their existing systems so that from the time the order was placed to the time the truck returned empty, they would have full visibility and metrics delivered on one platform.
Seaboard Foods' TruStar Energy Opens CNG Fueling Station 
TruStar Energy, a developer of compressed natural gas (CNG) fueling infrastructure throughout the U.S., celebrated the grand opening of the High Plains Bioenergy (HPB) fast-fill CNG station which is located across the road from their Guymon, Okla. processing facility.  This station is HPB's first public station and offers 24/7 access. The addition of the HPB CNG fueling station ensures the availability of CNG to Seaboard Foods' fleet, but also provides a fuel source for the growing number of CNG vehicles in the Oklahoma Panhandle. Seaboard Foods and its integrated food system produce premium pork products by controlling every step of the way, from before the farm to beyond the fork. The expansion of their CNG fleet and launch of their public CNG filling station aligns closely with their commitment to be environmentally responsible in the communities in which they work.
Oceanographic Real-Time System Launches In Jacksonville, Fla.
National Oceanic and Atmospheric Administration (NOAA) officials recently joined local maritime leaders at a ceremony dedicating a new sensor system designed to save money, improve safety and enhance research regarding conditions in the St. Johns River. The $2.8 million Physical Oceanographic Real-Time System (PORTS®) offers data from 18 stations comprised of 46 sensors located along 67 miles of the St. Johns River in Northeast Florida. The system provides instant tidal and weather information to commercial, military and recreational users, and compiles invaluable research data for use by academic institutions, environmental scientists and agencies.