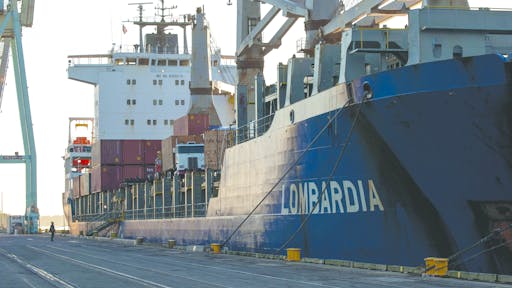 JAXPORT Offering Reefer Service to Africa
The Jacksonville Port Authority (JAXPORT) is now offering refrigerated cargo service from Florida to ports in Namibia, South Africa, and Mozambique— the first time the Port has offered such service in over a decade.
Container and heavy lift cargo terminal operator Galborg USA, a longtime JAXPORT tenant, recently upgraded its vessel fleet and now provides up to 100 reefer units on each vessel.
"The addition of refrigerated cargo service from Jacksonville to Africa is another example of JAXPORT's commitment to maintaining and growing a diversified line of business," said Roy Schleicher, JAXPORT's executive vice president and Chief Commercial Officer.
The announcement comes on the heels of a decision made earlier this year by the Florida Department of Transportation (FDOT) to increase the maximum gross vehicle weight for sealed cargo containers from 95,000 pounds to 100,000 pounds, making it easier for trucking companies to accommodate heavier export cargo, such as food commodities.
New Allison Tractor Transmission Available at Navistar
Allison Transmission's new TC10 tractor transmission, which averages five percent fuel savings over current manual and automated manual transmissions in test fleets, is now being offered on Navistar's International ProStar and TranStar models with MaxxForce 13 engines with SCR—the first time the fully automatic TC10 has been made available with those models.
The TC10 is specifically designed for both city and highway tractor duty cycles and provides a blended architecture with full power shifts, a torque converter and a twin countershaft gear box. It is fully automatic and offers smooth, seamless shifting through 10 ranges, optimizing the acceleration and fuel economy to make the transmission especially ideal for situations where a tractor-trailer splits its work cycle between city and highway conditions.
"We have a long history of successful initiatives with Navistar and this launch of the TC10 into the tractor market furthers that model," said Jim Wanaselja, vice president of North America marketing, sales and service for Allison Transmission. "The TC10's cutting edge transmission technology, paired with Navistar's offerings, will allow fleets the ability to save fuel while enjoying the performance, durability and reduced maintenance that the industry has come to expect from Allison Automatics."
Canada's Launch of Border eManifest System Delayed Again
The Canada Border Service Agency has delayed the launch of eManifest again, a program that requires all highway and rail carriers entering Canada from the U.S. to submit cargo information prior to arriving at the border.
In October, the agency announced that their previous "fall of 2013" deadline to implement eManifest would be pushed back—the third time they've delayed the project—due to what the agency called "timelines associated with the regulatory process."
The agency has yet to announce a new timeline for launching eManifest, only offering that they will provide a 45-day advance notice before implementation.
Once the eManifest program takes effect, data pertaining to the cargo and driver must be done electronically, similar to current requirements in the U.S. Carriers could face delays or even be turned away if they fail to provide the necessary data prior to arrival at the border.
The eManifest program will apply to all highway carriers, even one-truck owner-operators.
Canada Border Service Agency states that carriers are welcome to register for eManifest at any time and registration is free.
Cold Chain Monitoring Via Smartphone
Montpellier, France-based OCEASOFT newest product, Emerald, is a small (slightly bigger than a wristwatch) wireless temperature tracker that connects to a smartphone via Bluetooth and monitors temperature-sensitive goods during transit and in storage.
Emerald stores up to 4,000 temperature readings and does not require any dedicated computer equipment or complex installations. When synced with the free EmeraldView smartphone app, the whole system connects wirelessly via Bluetooth enabling Emerald devices to view data and upload the information—including geolocation information provided by the smartphone—to the "cloud."
The Emerald device supports temperature ranges from -40°C to +85°C.
BNSF Opens New Intermodal Facility in Kansas City
BNSF Railway celebrated the grand opening of their new Logistics Park Kansas City (LPKC) in October, a 1,550-acre plus, master-planned distribution and warehouse development anchored by a $250 million intermodal facility in Edgerton, Kansas. This is the third BNSF terminal to anchor a logistics park, a concept that uses an intermodal facility adjacent to distribution centers in order to reduce supply chain costs, truck miles traveled and energy consumption and emissions.
The 433-acre intermodal facility nearly doubles BNSF's lift capacity in the Kansas City freight rail transportation market, one of the most strategic hubs in the nation. The LPKC facility has six 8,000-foot tracks for loading and unloading, more than 1,800 parking spaces and 4,300 container stacking spots at full build-out. In addition, it's equipped with five wide-span, electric, rail-mounted gantry cranes, which produce zero emissions on site and will significantly reduce the number of hostler trucks needed to move containers within the facility, according to BNSF.
The LPKC site features some cutting edge technology for safety and security, including an automated gate system for trucks as they enter and exit the intermodal facility, a biometric driver identification system, and digital cameras to record images of containers, chassis and tractors.
LPKC is also the only full-service BNSF facility in the western two-thirds of the U.S. offering domestic intermodal service (container, trailer, and expedited and standard service levels), international intermodal service and direct-rail/carload service.
Preferred Freezer Expands Presence in China with Joint Venture
Preferred Freezer Services has entered into a joint venture with Chinese logistics provider Sinotrans Limited (Sinotrans), Yang Ming Lines, and Yida Group, an urban design and real estate developer, to jointly build and operate cold chain logistics businesses throughout China.
The new joint venture aims to leverage Preferred Freezer's technology and refrigerated logistics expertise to address China's rapidly growing demand for cold chain logistics services that is being driven by food safety issues and the growing middle class population.
"We believe that China's cold chain logistics is still in its initial stages of development and through this strategic partnership with Sinotrans and Yang Ming, we will be well positioned to execute on significant growth opportunities and expand our footprint in the region," said Preferred Freezer president and CEO John Galiher in a press release.
UPS Expands Expedited Ocean Freight Service to Mexico
UPS has expanded its Preferred Less-Than-Container (LCL) expedited ocean freight service from Asia to three destinations in Mexico: Monterrey, Mexico City and Guadalajara, to take advantage of growth in the eastbound Asia-Mexico trade lane.
"We continue to see retail, industrial and automotive companies looking for additional freight transportation options allowing them to increase their speed to market without dramatically increasing their transportation costs and without having to sacrifice product visibility," said Keith Andrey, vice president, UPS ocean freight services. "UPS's technology solutions, Mexico customs brokerage expertise and the expansion of its Preferred LCL expedited ocean freight service in this market can alleviate customer challenges related to delays and difficulties in customs processing."
UPS launched its preferred LCL service in the spring of 2011. The service provides up to 20 percent faster port-to-door delivery to Mexico for LCL shipments, while delivering the cost savings of ocean freight.