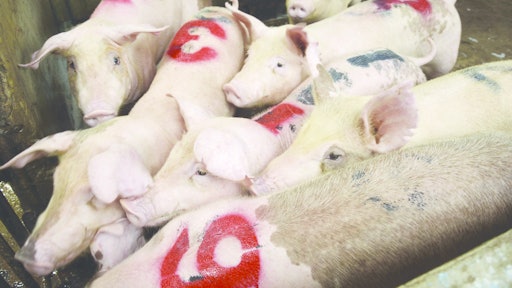 FDA Gets One Month Extension for FSMA Rule
The Ninth Circuit Court of Appeals granted the Food and Drug Administration (FDA) a one month extension to propose new food safety rules, which are part of the Food Safety Modernization Act (FSMA), according to a November 6 blog post from Pintas & Mullins Law Firm.
Originally, the FDA had until November 30, 2013 to propose new food safety rules to prevent intentionally-contaminated food from being imported into the U.S..
The revised deadline is December 20.
According to the law firm, "The FDA delay was due in part to the recent 16-day government shutdown, and in part because the agency would like to solicit more input from the industry before drafting its final guidelines. In response to the delay, which the FDA originally planned to push into 2015, a lawsuit was filed aiming to force the agency into proposing new rules."
The Center for Environmental Health and the Center for Food Safety were identified as the two groups who filed the lawsuit against the FDA.
New Apps Offer Information on Food Safety, PET Bottle Recycling
Two innovative Irish environmental health graduates—Emer Murphy and Michael O'Rourke—are the creators of a free iPhone app called Safe Food, Healthy Business, designed to meet the needs of food industry professionals when it comes to food safety and legislation.
The app offers business owners information on food safety that is relevant and above what is considered "minimum" compliance.
Some of the features include guidelines for dealing with E. coli and food poisoning outbreaks; pest control identification and elimination; info on the latest food alerts; HACCP templates for compliance; and contact information related to food safety products and services.
The app is free to download from the Apple iTunes Store and is compatible with iPhones, iPads and iTouch models.
For its part, Plastic Technologies Inc. (PTI) recently launched a free app for iPhone and Android users that calculates the recyclability of polyethylene terephthalate (PET) bottles, containers, and/or packages, allowing them to determine how compatible a specific package is with today's recycling systems and its impact on recycled PET (rPET) production.
"The question that we all need to address is what is going to happen to that bottle or PET package when it is time to dispose of it? Can it be easily sorted using today's manual and automated processes? Can it be turned into high quality rPET or will it contribute to the degradation of the recycled material supply," posited PTI vice president Frank Schloss in a press release. "The only way for brand owners to really be able to claim that their package is fully recyclable and meets APR (Association of Postconsumer Plastic Recyclers) guidelines is to subject it to testing that can support their position."
Once installed, the app allows users to choose the PET resin type from listed options, indicate whether the package is multilayer, has additives, coatings, or labels; and indicate if containers have a closure, seal, other attachments and whether the containers float in water.
The free download is available in the iTunes App Store or Google Play by searching for "Recycle Calc" and looking for an icon with the familiar PETE resin identification logo.
Taiwan Initiating "Food Fraud" Team
Taiwanese government officials plan to form a cross-agency team to crack down on food fraud and boost inspections following a recent series of food safety scandals that have hurt consumer confidence domestically and abroad.
The team will include ministries of health, agriculture, justice, economic affairs and finance, as well as officials from the Taiwanese government's consumer protection and fair trade agencies.
"High risk" foods on the team's list include soy sauces, cooking oil, rice, bread, eggs, milk and food purchased through group-buying websites.
Several food scandals this year involving adulterated oil, artificial additives in bread marketed as "all-natural" and snack foods made with industrial starch have raised concern among Taiwan's consumers and government officials. In addition, the government is considering new regulations to provide incentives to whistleblowers and heftier fines for food manufacturers that violate food safety laws.
FSIS Issues New Guidance on Humane Handling of Livestock
In October, the U.S. Department of Agriculture's Food Safety and Inspection Service (FSIS) introduced new guidance to improve the humane treatment of livestock presented for slaughter.
The FSIS's Compliance Guide for a Systematic Approach to the Humane Handling of Livestock supports the Humane Methods of Slaughter Act, and sets forth practices to assist facilities in minimizing excitement, discomfort and accidental injury in livestock.
"We have taken significant measures over the last few years to strengthen our ability to enforce humane handling laws at livestock slaughter facilities nationwide," stated FSIS Administrator Al Almanza. "The guidance is one example of our commitment to the humane treatment of animals. We continue to implement improvements so that we have the best system possible."
This new guidance was developed to address the humane handling incidents cited in the spring 2013 Office of Inspector General report. The FSIS also reports that half of all livestock-slaughter facilities have already adopted the systematic approach to humane handling this year, meeting the agency's strategic objective three years earlier then forecasted.
In addition to the new guidance, the FSIS will continue to offer a training program that is a practical, situation-based humane handling approach for inspectors and veterinarians who verify and enforce humane handling requirements at livestock slaughter establishments.
FSIS started this in 2010, which offers a variety of realistic animal-handling scenarios that employees may encounter, from truck unloading, to stunning, to post-stunning.
Minnesota Soybean Farmers Issue First Ever Sustainability Report
The Minnesota Soybean Research & Promotion Council (MSR&PC) is taking a lead role in communicating with the food industry on sustainable crop production and farm operation with the publication of its first ever Sustainability Annual Report, which features statistics and stories about sustainable farmers in Minnesota.
"MSR&PC believes it is important for farmers to take the lead in helping the food industry and consumers understand that farmers are committed to sustainability," notes Paul Simonsen, a farmer who chairs the industry group. "Our sustainable performance includes sound environmental objectives, social responsibility, promoting economic growth, and continuous improvement in the technology and cultural practices we use. It is crucial for soybean farmers to keep an open dialog with decision-makers in the food industry and influencers in the regulatory arena about what sustainable farming really is."
The Sustainability Annual Report addresses the areas of conservation, economics, family, and technology, and explains why sustainability is important when considering the future of farming and providing food and fuel for the next generations.
The report is available online at www.mnsoybean.org.
USDA Announces Funding for Advanced Biofuels Projects
U.S. Department of Agriculture (USDA) Secretary Tom Vilsack announced that up to $181 million in funding would be available for companies to develop commercial-scale biorefineries, or retrofit existing facilities with appropriate technology to develop advanced biofuels. The announcement came as  part of the USDA's Biorefinery Assistance Program created through the 2008 Farm Bill and administered by USDA Rural Development, which provides loan guarantees to viable commercial-scale facilities to develop new and emerging technologies for advanced biofuels.
"This financing will expand the number of commercial biorefineries in operation in the U.S. that are producing advanced biofuels from non-food sources," Vilsack said. "USDA's Biorefinery Assistance Program is yet another way USDA is helping to carry out the Obama Administration's 'all-of-the-above' energy strategy to develop every possible source of American-made energy. But the benefits go beyond reducing our dependence on foreign oil. These biorefineries are also creating lasting job opportunities in rural America and are boosting the rural economy as well."
Eligible entities include Indian tribes, state or local governments, corporations, farmer co-ops, agricultural producer associations, higher education institutions, rural electric co-ops, public power entities, or consortiums of any of these entities.