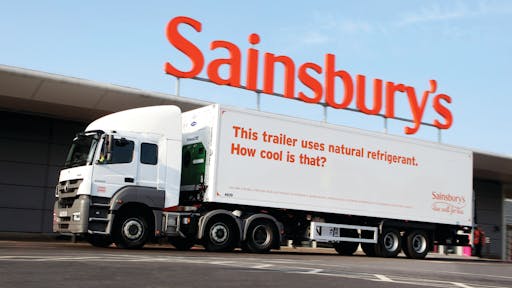 Sainsbury to Debut First Naturally Refrigerated Truck
Supermarket giant Sainsbury recently announced they were set to trial the world's first naturally refrigerated truck to their fleet, setting up a two-year deal with natural refrigeration technology specialist Carrier Transicold to introduce their NaturaLINE HFC-free refrigeration system in a working refrigerated trailer.
"This is the very first time that our NatraLINE system has been mounted to a box trailer anywhere in the world," said David Appel, president of Carrier Transicold. "It's a fantastic opportunity to advance Carrier's natural leadership in environmental technologies, by working closely with Sainsbury's, one of our largest customers in Europe, to test how the concept performs on the road."
The new truck is one of many initiatives by Sainsbury to reduce the environmental impact of their refrigeration and cold supply chain. The company just recently converted its refrigerated depots to HFC-free in 2011, and a spokesperson for Sainsbury told BusinessGreen.com that the company is on track to reach their goal of switching 250 stores to HFC-free by 2014.
Sainsbury also recently expanded their duel-fuel fleet of trucks, trucks designed to use a combination of diesel and bio-methane fuels to cut emissions 25 percent compared to standard trucks, so the announcement of the two-year trial puts them on pace to meet their 20x20 Sustainability Plan goals of 35 percent less carbon emissions by 2030.
Coca-Cola Launches Electric Refrigerated Truck Fleet
Customers that buy a Coca-Cola product in the San Francisco Bay Area will be the first to have had it delivered to the store by the beverage maker's all-electric refrigerated truck fleet, an announcement the global beverage giant made at an electric vehicle (EV) industry event in September. 
Coca-Cola will use 16 refrigerated electric trucks made by Kansas City-based Smith Electric Vehicles to make deliveries in the Bay Area, as their first foray into a fuel-free fleet in their cold supply chain. With several alternative fuel fleets already in operation in North America, including over 650 hybrid trucks and a handful that run on compressed natural gas, this will be Coca-Cola's first fleet with electric chillers used in place of the conventional diesel-powered transport refrigeration units (TRUs).
The Smith trucks employ cold-plate technology, which chills the air by using a series of aluminum beams circulating a refrigerant. The chiller is also powered by a separate electric system that operates independently of the electric motor and batteries used to power the truck.
According to Smith Electric CEO Bryan Hansen, improvements in cold-plate technology have made the change to electric-powered truck refrigeration "much more compelling to fleet managers." The chiller system is powered overnight while the truck is recharging and can then be used as the source of refrigeration inside the truck all day. This will be the largest fleet of trucks using Smith Electric's electric chillers installed, a fact that Hansen called "a demonstration to others, when people see Coca-Cola committing to this it will move the industry forward."
Coca-Cola piloted a test vehicle for 13 months before deciding to purchase the fleet, and although the costs are higher than comparable diesel-powered alternatives, with lower maintenance costs and expected fuel savings Coca-Cola is predicting a return on investment in three or four years.
Lufthansa's "Triple Seven" Bound For North America, Again
Lufthansa Cargo is hoping to spark memories of the past this November when they take the first of five newly purchased Boeing 777 freighters, dubbed the "Triple Seven," for its first scheduled flight to Atlanta, Chicago and New York in North America. 
Just like they did back in 1972, when Lufthansa flew their first "jumbo" Boeing 747 cargo flight from Frankfurt to New York, the global air freight carrier is hoping the newer versions of the Boeing aircraft will open a new era of aviation just like the predecessor did four decades ago.
"Thanks to outstanding technical performance and reliability, the freighter is entering new dimensions," said Dr. Karl-Rudolf Rupprecht, Board Member Operations Lufthansa Cargo AG. "This marks a milestone on our ambitious path to lowering specific emissions by 25 percent until 2020."
At a price tag of $270 million, the Boeing 777F can travel over 9,000 kilometers non-stop and remain in the air for up to ten-and-a-half hours with a payload of 103 tons. The new aircraft also meets the strictest noise protection standards in international civil aviation, allowing Lufthansa Cargo access to airports with noise regulations and legislation.

Archer Daniels Midland Opens Intermodal Port in Illinois
Archer Daniels Midland Co. (ADM) and Illinois Governor Pat Quinn held a ceremony on September 19 to commemorate the opening of ADM's new intermodal container facility at its processing complex in Decatur.
The 250-acre Midwest Inland Port intermodal facility, which will be served by CN, CSX Transportation and Norkolk Southern Railway, is designed to initially handle 50,000 containers per year, a number ADM plans to eventually expand to 150,000 units annually in the future. The intermodal ramp also offers direct access to several major highways and was funded in part by an Illinois Department of Commerce and Economic Opportunity grant.
"ADM is one of the key reasons Illinois is the largest exporting state in the Midwest, and this new facility will help even more businesses get their goods to domestic and foreign markets more easily and cost effectively," said Quinn in a press release.
The facility will enable businesses to tap ADM's grain transportation and logistics expertise, Quinn added. It is also ADM's hopes that businesses of every type will be able to "access markets anywhere, at any time, and do so quickly and cost-effectively," said ADM Transportation President Scott Fredericksen.
Isoform Insulated Pallet and Roll Covers Offer a Low-Tech Solution to a Hi-Temp Problem
Using a relatively simply idea to try and solve a complex cold storage and cold chain issue, Italian company Formula Snc has launched a line of reusable and disposable insulated pallet and roll covers designed to help preserve the optimal temperature of food and other perishable products throughout the supply chain.
Isoform covers use alternating layers of insulation to create separate internal chambers, and the use of microfiber wool inside the central chamber also reduces residual heat exchange to ensure optimal insulation and reduce food loss and damages due to exposure to high or low temperatures during the production, loading/unloading, transit and storage phases of the food supply chain.
Isoform's pallet covers are designed for use during transporting, loading and unloading, while the roll covers are designed for internal handling inside the facility. All Isoform covers have been tested and certified by the Tuv-Italia certification body, and can be customized to any size or level of thermal insulation.
Windsor Airport Gets C$19.9 Million Cargo Upgrade
The Canadian government recently announced a C$19.9 million (US$19.2 million) federal grant to upgrade cargo facilities at the Windsor International Airport, which includes the construction of a multi-modal cargo terminal and two collaborative projects at the airport and the University of Windsor.
As part of the project, officials also announced they would establish the Institute for Border Logistics and Security, which will include a facility at the university used for research and a facility at the airport for testing new technologies in the logistics sector. To give the project some extra support, the Windsor airport also signed a lease agreement with FedEx.
"By investing in research for faster, safer ways to move goods and people across international borders, our government is not only helping to create high-quality jobs in Windsor, but we are also positioning this region to be a leader in the increasingly important field of border logistics and security," said Gary Goodyear, minister of state for the Federal Economic Development Agency for Southern Ontario at the announcement.