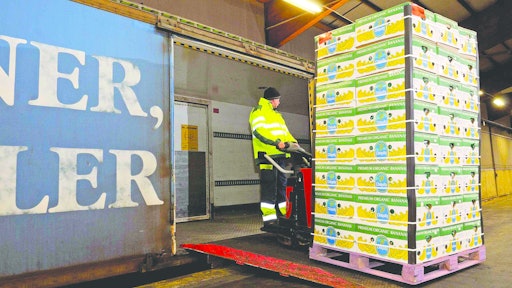 Port of Oakland Betting a Billion on Upgrades
If the port cargo business were a game of poker, then the Port of Oakland just moved all of their chips into the pot with the announcement of a bold, new $1.2 billion dollar expansion in hopes of upping their presence in the 21st Century global shipping economy. The Port of Oakland's goal is to turn the abandoned 322-acre Oakland Army Base into an ultra-efficient port that links ships directly to new rail service while simultaneously reducing truck traffic and providing space for new warehouse facilities.
"No other port on the West Coast, or around the country, has the ability to offer support services and really good rail to serve both the warehouses and docks. That's very unusual. That is our value proposition," said Jean G. Banker, the port's deputy executive director.
Demolition and site clearing has begun on what will become the Oakland Global Trade and Industry Center, the city's largest development in decades. It is a two-phase project, and so far, only phase one is financed with $500 million in city, port, private, federal and state funds. An additional $700 million is expected to be raised for phase two construction at some point in the future.
In the 1960s, the Port of Oakland was a global leader, but now it handles one-sixth as many containers as pass through the Los Angeles-Long Beach port complex. By comparison, the still relatively new Port of Prince Rupert in northern British Columbia saw their business grow 40 percent last year, while the enlarged Panama Canal will give eastbound Asia to U.S. containerships an expedited all-water route to East Coast ports.
In recent years, the Port of Oakland has had little room to grow and innovate, forcing it to rely on exports more than imports.
With a new plan to turn things around, the Port will boast some impressive features, including a doubling of current railroad track lengths and a considerably larger train storage yard near the docks (from 17 rail cars to 200 plus). Warehouse facilities will increase from the current seven to as many as 18 and their location right next to the rail tracks will streamline the transfer of cargo between ships, trains and trucks, resulting in quicker and more seamless sorting and distribution of goods to save shippers time and inland transportation costs. Furthermore, new cold storage facilities will support increased exports of produce, beef and poultry to China's growing consumer population.
DSC Logistics Opening New Southern California Logistics Facility
DSC Logistics is opening a new logistics facility in Southern California that boasts Kraft Foods as its first customer. The state-of-the-art Food/CPG Retail Consolidation Logistics Center is under construction in Moreno Valley, CA and scheduled to open later this year. It features leading edge security, food safety, C-TPAT and system capabilities that will provide Kraft and other customers with warehousing, value-added services and transportation to retailers, according to DSC Logistics.
For its part, Kraft is in the midst of redesigning its supply chain, which includes a number of initiatives ranging from reducing SKUs and increasing direct plant-to-customer shipments.
Plug Power to Test Fuel Cells
in TRUs
Plug Power Inc. has been awarded a $650,000 contract from the U.S. Department of Energy (DOE) to demonstrate the use of hydrogen-based fuel cells to power the refrigeration units in semi-trailer trucks that transport perishable and frozen foods.
Plug Power was one of two companies selected by the Fuel Cell Technologies Office within the DOE's Office of Efficiency and Renewable Energy (EERE) to showcase its fuel cells in transport refrigeration units (TRUs). These units are large air conditioners that regulate cold temperatures for items such as frozen pizza, fruits, vegetables, meats, dairy products and other goods that must be kept chilled or frozen during transport from distribution centers to retail destinations.
Currently, most of the approximately 300,000 TRUs traversing U.S. highways are powered by diesel generators. However, diesel is costly and produces environmentally hazardous particulate matter and nitrous oxide (NOx) emissions. A typical TRU will consume about 10 gallons of diesel per day, and emit roughly 101 kg of carbon dioxide (CO2). By comparison, hydrogen-powered fuel cells emit only a small amount of heat and water, making them an environmentally friendly alternative energy source. These fuel cells also operate more efficiently, cleaner, quieter, and at a lower cost than diesel.
"Plug Power's leadership in the material transport industry is generating interest and development funds for implementation of fuel cells in adjacent markets," commented Andy Marsh, CEO of Plug Power. "This TRU award demonstrates how Plug Power is now executing on its market expansion strategy to architect fuel cell solutions across a wider range of opportunities."
Plug Power's TRU fuel cells, which will be based on its GenDrive technology, will cool Carrier Transicold refrigeration units on trailers delivering products for a Sysco Corp. distribution center on Long Island, NY. Each TRU will run for a minimum of 400 hours over the two-year contract period. Researchers at the Pacific Northwest National Laboratory (PNNL), a contractor that manages government programs for the DOE, will oversee the program.
Gulf States Cold Storage Moves Into Savannah
Gulf States Cold Storage recently opened a 100,000 square-foot cold storage facility serving the Port of Savannah, with the site being capable of blast freezing up to four million pounds of cargo per week.
The new facility, located less than 10 miles from the Port of Savannah, maintains the cold storage area at -12 degrees Fahrenheit, while the blast cells reach as low as -35 degrees. Most of the cargo will be moved on racks, however the facility also features a bulk staging area for transload operations with plans for a dock extension and the addition of 85,000 square feet of frozen storage already in the development stage.
"With Gulf States already considering the expansion of warehouse space and adding a second shift, it's obvious Port customers need the cold storage capacity," observed Curtis Foltz, Executive Director for Georgia Ports Authority (GPA). "Right now, we have more demand for refrigerated warehousing than we have existing facilities. The GPA's ongoing work to expand our on-terminal capacity for refrigerated cargo, along with private developments like Gulf States, will strengthen Georgia's position in the marketplace."
Supplied largely by Georgia's farms, the Port of Savannah handles nearly 40 percent of the nation's containerized poultry exports. Since 2006, refrigerated exports through the Port of Savannah have increased 130 percent. Last year alone, the GPA saw a 3.9 percent increase in refrigerated cargo exports, totaling nearly 108,000 twenty-foot equivalent units (TEUs).
Focused mainly on poultry exports, the majority of Gulf States' cargo originates in Georgia, but the cold storage facility also handles cargo from North and South Carolina. John Dean, vice president of sales and marketing at Gulf States, said the blast freezing site will serve only export customers for now, but the company is talking with potential customers to add imported vegetables, fruit and seafood to its commodity portfolio.