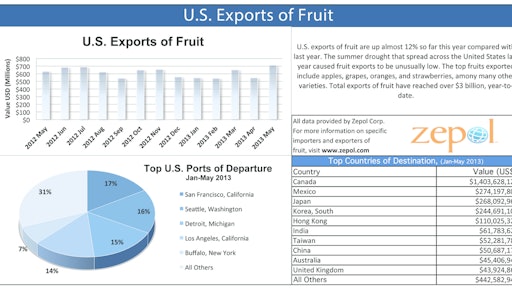 New Food Packaging Uses High Pressure Instead of Heat
Researchers at the Mattson Food Science Lab in California are using a few new technologies to create packaged foods with a longer shelf life, but they're doing it without sacrificing the food's original texture or taste by using high pressure instead of heat during packaging.
Technologists at Mattson say that by eliminating the heat from traditional pasteurization they are able to produce foods that retain flavor compounds that are normally lost in the process. Applications for this new packaging technology are plenty, but researchers tout the ability to 'tweak' the acidity of a jarred sauce using the new high pressure method to produce a sauce that doesn't require the intense heat to kill microbes to make the food safe to eat.
Sustainable Intensification a Recipe for Future Food Production
Growing more food on smaller land plots while simultaneously reducing greenhouse gas (GHG) emissions, a concept called Sustainable Intensification, continues to gain attention as more research data comes out in favor of it.
Using modeling tools that factor in future policies, actions, cost and outcomes, researchers at the Austria-based International Institute for Applied Systems Analysis (IIASA) found that improving crop yields using sustainable methods could help cut GHG emissions by as much as 12 percent per calorie produced. IIASA researcher Hugo Valin, who led the study published in the journal Environmental Research Letters, concluded that "the most efficient way to ensure sustainable intensification on the crop side is to rely on practices and technologies that are not more fertilizer-demanding, such as new varieties, improved rotations, integrated crop-livestock practices and precision farming."
Developing countries hold the most potential for sustainable intensification according to the IIASA study, because in many cases the farming in these countries is already inefficient, so investing in better farming practices could lead to big benefits in both food security and the reduction of GHG emissions.
The IIASA findings seem to coincide with a special report from the United Nations that also concludes that small-scale sustainable agriculture and what they call 'agroecological' methods will be important in helping to alleviate poverty in many developing nations. UN Special Rapporteau Olivier De Schutter recently told the UN Human Rights Council that "to feed 9 billion people in 2050, we urgently need to adapt the most efficient farming techniques available. Today's scientific evidence demonstrates that agroecological methods outperform the use of chemical fertilizers in boosting food production where the hungry live."
Results from UN-sponsored agroecological projects have shown an average crop yield increase of 80 percent in 57 developing countries, and an average increase of 116 percent for all of the African test projects. Recent projects in 20 African countries demonstrated a doubling of crop yields over a period of 3 to 10 years, leading De Schutter to conclude that "conventional farming relies on expensive inputs, fuels climate change and is not resilient to climatic shocks. It simply is not the best choice anymore today."
US Allowing Imports of Fresh Citrus From Uruguay
As of August 9, the U.S. Department of Agriculture's Animal and Plant Health Inspection Service is allowing importations of several fresh citrus fruit varieties from Uruguay, including sweet oranges, lemons, four species of mandarins, and two types of kumquats.
Under the new rule, the fruit must comply with requirements for importation in commercial consignments, pest monitoring and pest control practices, grove sanitation and packinghouse procedures designed to exclude the quarantine pests, and treatment. The fruit shipments are also required to be accompanied by a phytosanitary certificate issued by the national plant protection organization of Uruguay with an additional declaration confirming that the fruit is free from all pests of quarantine concern and has been produced in accordance with the systems approach, according to international law firm Sandler, Travis & Rosenberg.
Uruguay is one of the world's top 25 exporters of fresh citrus fruit.
Delivery Fees a Drag for Online Grocers
Online grocery sales still only account for approximately one percent of the $631 billion U.S. grocery market, but reports that companies like Amazon, Walmart, Peapod and Good Eggs are expanding their grocery delivery services into new test markets has raised awareness of the trend.
While most of the industry has been hesitant to expand into the online retail market due to economic factors like the heavy upfront investment costs, the logistical challenges with delivering perishable items, and the inherently low margins with selling food, global ratings agency Fitch Ratings discovered that consumers' resistance to delivery fees is playing a role in holding back growth in the sector. With fees that range from $6 to $10 per order, it turns out most consumers are deciding the convenience of having their groceries delivered right to their door is not worth the added cost.
Fitch Ratings predicts modest growth in the online grocery market—just 2 to 3 percent over the next 10 years—and cites this slow pace of growth as a major factor that will limit the number of new entrants into the online market, while slowing the pace at which existing companies in the sector will expand.
Halifax "Port Days 2013" Focuses on the Food Chain
Canada's Port of Halifax and Canadian National (CN) Railway are focusing on the food value chain, growth markets and cold chain strategies during the Port Days 2013 event set for September 19.
Attendees can meet and network with industry leaders from the Port of Halifax, ZIM Integrated Shipping Services, Maple Leaf Foods, Loblaws and CN Railway.
Claude Mongeau, president and CEO of CN Railway is scheduled to give a presentation from 11:45 AM - 2:00 PM Eastern.
For more information, including registration for online remote access to Port Days 2013, visit www.portofhalifax.ca.