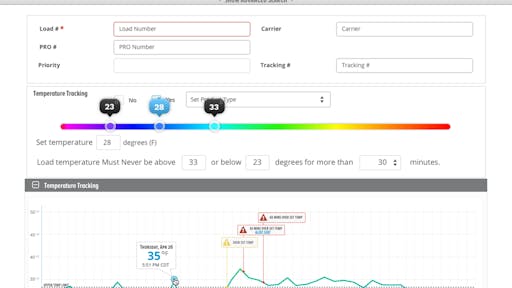 FourKites Releases Industry's First Real-Time Temperature Tracking Solution for Shippers
FourKites recently launched the industry's first real-time temperature and location tracking solution for shippers. The offering will allow FourKites' customers to monitor shipment temperatures and ensure compliance across their supply chains.
FourKites' real-time temperature tracking makes it easier for enterprise shippers to comply with the Food Safety Modernization Act (FSMA), which requires shippers and carriers to take steps to ensure that temperature-sensitive foods remain within specified safe temperature ranges during transit. Using FourKites, shippers can reduce spoilage, operational costs and one-time spot buys. They can also increase customer satisfaction by identifying potentially non-compliant loads earlier in the shipping process, before those loads make it all the way to their destinations or have to be diverted to quality centers.
"As a partner to the largest food and beverage companies in the U.S., helping our customers achieve FSMA compliance is a natural evolution of our product," said Mathew Elenjickal, founder and CEO of FourKites in a press release. "Our real-time temperature tracking solution will enable customers across a wide range of industries to ensure the safety and freshness of their products."
One such customer using FourKites Temperature Tracking is Smithfield Foods, the world's largest producer of pork products with leading consumer packaged meat brands across categories.
"As the world's largest pork producer, we are committed to delivering the market's freshest and highest quality product," said Dennis Organ, Senior Vice President of Supply Chain at Smithfield Foods. "The Temperature Tracking solution from FourKites will help us consistently ensure that our product meets stringent temperature requirements across our operations, using the same innovative FourKites technology that we use to track our shipments around the country."
Transporting temperature-sensitive goods like produce and pharmaceuticals cross-country has historically created challenges, even for vehicles equipped with the latest refrigeration and telematics systems, because of the lack of real-time connectivity between carriers and shippers.
FourKites' solution solves that challenge by relaying load temperatures in tandem with location data every 15 minutes from leading telematics and trailer temperature tracking manufacturers. Customizable notifications alert users as soon as temperatures fall outside a specified range. Visualization and analysis tools enable shippers to review individual and aggregated load temperatures over time to spot trends and to compare against industry benchmarks to improve operationally.
Soft Drink Cold Chain Delivers Vaccines to Africa
Thanks to specialized refrigeration support from Coca-Cola, vaccines are getting to where they are needed, even in the most remote places in several African countries.
The expansion of Project Last Mile project to deliver life-saving medicines to the hardest-to-reach communities was announced today (8 June) at the European Development Days. The project is a public-private partnership that makes use of Coca-Cola's supply chain management and expertise to support African governments in reaching the "last mile" to deliver vaccines.
Project Last Mile works in partnership with The Global Fund to Fight AIDS, Tuberculosis and Malaria, USAID and the Bill and Melinda Gates Foundation.
Making vaccines available to a given African country is not the end of the story. Even when they are available, vaccines are often confronted with "thermostability" issues, meaning they should be transported in the cold chain.
A company like Coca-Cola has the capacity to penetrate African countries down to the most remote areas, providing cool drinks to its clients. Governments could only dream of a cool chain to deliver vaccines of the kind the soft drink company has.
Hapag-Lloyd Implements Second Cancellation Fee in Asian Market
Hapag-Lloyd was the second carrier to impose a cancellation fee in June, with CMA CGM imposing a $150 per TEU cancellation fee on its Europe to Indian subcontinent, Gulf and Red Sea routes on June 1.
The German carrier announced last month a "Booking Cancellation Fee" of $60 for export shipments from Singapore to India, which took effect June 9, 2017. The fee will apply to all bookings which are cancelled within three calendar days prior to vessel arrival.
This is Hapag-Lloyd's second implementation of a no-show fee in Asia, where reports of over-bookings are significant. In October, the line instituted a $40 cancellation fee for shippers in the ports of Hong Kong and Macau.
Lineage Logistics Acquires European Automated Warehouse Leader
Lineage Logistics LLC has acquired Partner Logistics, Europe's leading cold storage provider and world's largest automated cold storage company. The transaction marks the first international acquisition by Lineage, and represents significant growth in the company's warehouse automation strategy.
Lineage specializes in supply chain transformation for the world's leading food, retail and distribution brands. Operating one of North America's largest and most diverse warehouse networks, Lineage creates high-impact logistics solutions through value-added services including managed transportation, customs brokerage, processing and manufacturing. The company has grown through major acquisitions and new construction since its founding in 2008, with its domestic U.S. facility footprint reaching over 100 locations and 609 million cubic feet of temperature-controlled capacity.
With the acquisition of Partner, Lineage adds more than 101 million cubic feet of temperature-controlled capacity, and expands its operations to include six state-of-the-art, fully automated warehouses and one conventional warehouse in the Netherlands, Belgium and the United Kingdom. Headquartered in Netherland's Bergen op Zoom, Partner's network of cold storage facilities has a total capacity of over 500,000 pallets and is designed to maximize the efficiency and cost effectiveness of their customers' supply chains.
The deal marks an important step in company's broader automation strategy, which has been in development for over three years. Earlier this year the company announced plans to construct its first automated cold storage facility in the Dallas/Fort Worth, Texas, market, and will use the acquisition of Partner as an additional platform for new automated projects in U.S. and European markets. Lineage intends to combine its existing expertise in automation with the intellectual property and best practices of Partner to further reduce product damage, enhance efficiency and improve customer experience.