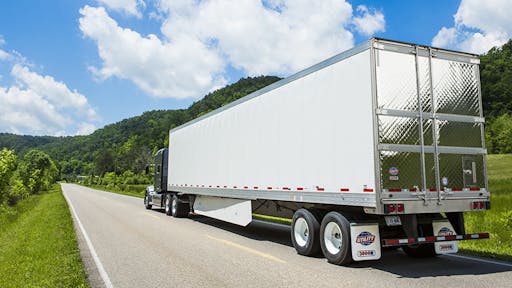 Utility Trailer Nears Production of 500,000th Refrigerated Van
Utility Trailer Manufacturing Company, the industry's largest manufacturer of refrigerated trailers and a leading manufacturer of dry freight vans, flatbeds and Tautliner curtain sided trailers is on target to manufacture its 500,000th refrigerated van in 2017.
Since 1994, Utility has been the No. 1 manufacturer of refrigerated vans in the Americas, and the 3000R continues to maintain its industry leadership.
"When our Clearfield, Utah plant recently manufactured its 250,000th reefer, we decided to add up the total number of reefers manufactured in our history. The number turned out to be over 490,000 refrigerated vans. With what we have in the pipeline, we will hit half a million reefers sometime this year," says Craig Bennett, senior vice president of Sales & Marketing for Utility Trailer Manufacturing.
Utility Trailer currently operates two reefer manufacturing facilities in the United States, dedicated to building the No. 1 selling 3000R refrigerated van, and maintains over 50 percent market share. "We continue to improve and innovate our reefer design and are proud of its unsurpassed performance in the field," adds Bennett.
The Philadelphia Regional Port Authority is Rebranding as PhilaPort
On the threshold of an unprecedented era of expansion, the Port of Philadelphia is establishing a new brand identity that will bolster its national and international marketing efforts and position the port as one of the most important trade gateways on the Atlantic seaboard.
People in the region and shippers across the globe will now know that gateway as PhilaPort.
"The name is short, clean and memorable, and it reflects very simply who we are and what we do," says Jerry Sweeney, PhilaPort chairman. "The name 'PhilaPort' helps distinguish us from the many other regional authorities and commissions as we seek to capitalize on the opportunities that will result from our expansion."
Sweeney said the port is positioned for considerable growth, thanks to public and private investment approaching $1 billion, which demonstrates the sustained commitment at the Port of Philadelphia to accommodate larger ships and improve efficiencies. There are 41 million people within 150 miles of PhilaPort, and the northeast United States is one of the wealthiest consumer markets in the world.
PhilaPort enjoys several competitive advantages over other East Coast ports. They include 19 labor start times per day. They include more flexible working rules to competing ports and truck turn times of less than one hour and the ability to move more containers per hour than many other ports.
"PhilaPort's aspiration is to be the better option for cargo shippers BCOs (beneficial cargo owners). This will be accomplished by efficiency of operations, costs and being the best location," says Jeff Theobald, executive director and CEO.
LoadTrek Revolutionizes Telematics with End2End
LoadTrek, a first fleet technology provider,unveiled a new service model called End2End, which provides an all-in-one solution for the management of motor carriers' back office operations.
In the telematics industry many Electronic Logging Device (ELD) providers focus primarily on their ELD service alone with no additional services included. With LoadTrek, End2End fleets will not only get an advanced ELD, but also a dedicated Transportation Management System (TMS) that can assist in automating tasks such as dispatching, load planning, monitoring driver performance, and even load billing. All processes are managed and monitored 24/7 by a team of professionals
"End2End is more than a simple equipment lease or training classes. It's experienced transportation professionals who use years of experience and best practices to set up and monitor a company's Transportation Management System for maximum efficiency", says Joel Beal, LoadTrek's general manager.
Werner Enterprises Introduces Final Mile Delivery
Werner Enterprises, a premier transportation and logistics provider, is launching a new logistics solution, Werner Final Mile, which will primarily deliver large or heavy items using two uniformed associates operating a lift gate straight truck.
Werner Final Mile seamlessly provides nationwide delivery and related services to residential and business locations using the logistics provider's extensive network of delivery teams operating from nearly 200 locations. Werner Enterprises' proprietary and highly innovative software platform, carefully developed over the last year, allows for fully automated, high volume e-commerce delivery of non-conveyable products from white-glove home and business deliveries, including returns and exchanges.
"With our customers' rapid growth in the e-commerce market, we continue to adapt our services and technology to meet and exceed their expectations," says Chief Operating Officer Marty Nordlund. "Our significant investment in technology and network development make Werner Final Mile services another key element in our comprehensive logistics portfolio."
Ryder San Francisco Fueling Facility Offers 100 Percent Renewable Diesel
Ryder System, Inc., a leader in commercial fleet management, dedicated transportation, and supply chain solutions, has begun to offer renewable diesel (RD) fuel, at its San Francisco, California, fueling facility. With this implementation, Ryder customers will be better able to address their sustainability goals of reducing greenhouse gas emissions while still utilizing diesel vehicles.
Based on production levels and availability of RD, Ryder will continue to monitor other markets with plans for expanding this offering. The company also plans to continually analyze market opportunities that would benefit its customers to have RD available for their fleets. Either through Ryder's fueling facilities or its new mobile fueling solution that provides fuel deliveries directly into vehicles parked on customer sites. This mobile service is now available through Ryder both in the United States and Canada.