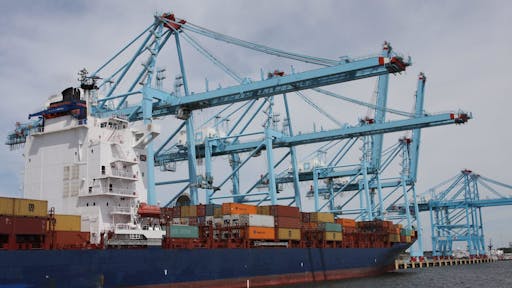 Federal Maritime Commission Approves Virginia-Georgia Ports Alliance
The federal government gave its approval in April to an innovative agreement that allows the Georgia Ports Authority (GPA) and the Virginia Port Authority (VPA) to begin discussion on ways the two ports can share information in certain operational areas to position themselves as the U.S. East Coast's leading gateways for containerized cargo.
A joint application to proceed with development of the "East Coast Gateway Terminal Agreement" was filed by the ports on Feb. 24. The application set into motion a 45-day review period—including a 12-day public comment period—by the Federal Maritime Commission (FMC). The approved agreement encourages the exchange of information and best practices in five areas of operational and supply chain efficiencies, safety, communications and customer service.
"Our industry is changing rapidly and as a result increased collaboration between ports is necessary to provide the service excellence our customers expect and deserve," said Griff Lynch, GPA's executive director. "It is clear that both Georgia and Virginia are East Coast gateway ports and this step further allows us to create jobs, economic development and improve safety. I would like to thank our respective employees and partners in the ILA as we move forward together."
VPA CEO and executive director John Reinhart added: "The agreement enables Georgia and Virginia to work together to find ways to become more efficient and effective, which will benefit the citizens of our respective states, as well as shippers and the carriers. We are making significant investments at our respective ports to handle the larger vessels and cargo volumes coming to the East Coast. Now we will begin discussing about how to best leverage these assets, collectively and position Georgia and Virginia as the East Coast's primary cargo gateways."
Expansion on Horizon as Tiger Cool Express Lands Funding
Tiger Cool Express (TCX), a temperature-controlled intermodal carrier who focuses on the transport of fresh produce and food, has received $15 million in equity funding from its private equity backers Tiger Infrastructure Partners and Barings—much of which will be used to double its number of containers over the next two or three years.
"This capital infusion will allow TCX to continue its fast growth trajectory and facilitate TCX's goal of becoming the leading provider of temperature-controlled intermodal service in North America," says Tom Finkbiner, TCX chief executive officer.
In a related development, the company also announced that Finkbiner, who intends to step down as CEO during 2017 pending the recruitment of his successor, has been named chairman of TCX. Larry Shughart, who held roles at Worley Parsons and CSX, and was named TCX's new president.
"Since founding TCX in 2013, we have built a world class business with almost $100 million in revenues, a fleet of over 700 state of the art refrigerated containers, a diversified group of customers, sophisticated IT infrastructure, and critical long-term rail relationships. It is the right time to plan for an efficient transition to the next leader of TCX," Finkbiner explains.
UK's First Rail Freight to China Carries Whiskey (Graphic: whiskey glasses clinking, bottle pouring, etc.)
Whiskey and soft drinks were among the various food and beverage products aboard the UK's first rail freight service to China, which traveled through seven countries before reaching its destination in eastern China on April 27.
The 7,500-mile service is part of China's One Belt, One Road program, which the country hopes will revive the ancient Silk Road trading routes with the west.
Supervalu to Buy Unified Grocers for $375 Million
Supervalu Inc. has agreed to buy Unified Grocers, a Los Angeles-area food distributor, in a $375 million deal that intensifies its focus on the wholesale business.
The purchase of Unified represents a push into the West Coast for Supervalu's distribution business, which chiefly operates in the Midwest and parts of the East and Southeast. It operates a single distribution center on the West Coast in Tacoma, Wash.
Unified's $3.8 billion in annual revenue adds to Supervalu's existing wholesale business, which had about $8 billion in revenue last year. The Minnesota-based company also has a $4.8 billion retail division, which includes the Cub Foods chain—the largest grocer in the Twin Cities.
Combined, Supervalu and Unified will operate 24 distribution centers that will serve 3,000 groceries in 46 states.
Port of Palm Beach Commission okays Tropical Shipping Expansion
The Port of Palm Beach and Tropical Shipping have taken the next step towards a $4 million project that, if all goes well, will result in the demolishing of an office building to provide Tropical with an additional 3 acres for an expanded refrigerated cargo storage area.
The port commission unanimously approved the project as part of a 10-year comprehensive agreement with Tropical with four five-year renewal options. The contract has been under negotiation for months.
Tropical Shipping, founded in 1963, is the port's largest tenant and makes up about a third of its revenues. Tropical's main business is shipping food, especially perishable, refrigerated and frozen foods, groceries and consumer goods in containers from Canada and southern Florida to the Bahamas and the Caribbean.