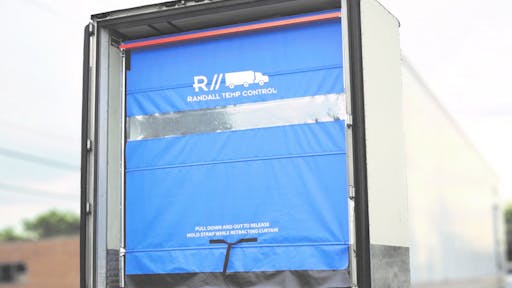 SC Ports Sees 8 Percent Growth in Container Volume
South Carolina Ports Authority saw an 8 percent increase in container volume since its fiscal year began in July.
Driving the growth is the all-time high container volume SCPA handled in January, which is traditionally one of the slowest months. 
"It's a testament to our team that we are able to handle the increasing container volume while also sustaining our high level of efficiency and reliability," notes Jim Newsome, SCPA president and CEO. "We will watch our volume development closely over the last part of our fiscal year as the new mega-alliances launch their new developments.
New Cold Chain Facility Planned for DFW
Dallas Fort Worth International Airport (DFW) is building a 37,000-square-foot cold chain facility that will be open this summer. The facility, which will be operated by AirLogistix USA, will support temperature-controlled shipments of fresh food, pharmaceuticals and flowers.
"There are tremendous growth opportunities for domestic and international cargo customers to ship perishables through DFW to 180 markets," remarks John Ackerman, executive vice president of global strategy and development at DFW.
UP Acquires Railex
Union Pacific Railroad announced acquisition of Railex LLC's refrigerated and cold storage distribution assets in Delano, Califpornia; Wallula, Washington; and Rotterdam, New York, in January. The deal does not include Railex Wine Services LLC.
Railex, a refrigerated rail service and 3PL provider, plays a role in UP's food network, transporting fruits, vegetables and other temperature-sensitive shipments across the U.S. 
"The Railex team developed a fantastic business changing how fresh food arrives on America's tables, offering food shippers fast, reliable door-to-door based transportation solutions," says Brad Thrasher, vice president and general manager—agricultural products. "The integration of their highly efficient cross dock facilities and logistics capabilities into UP's broader food network allows us to offer our customers increased access to a wider range of capacity and service solutions in a rail-centric cold chain."
UP Food Trains directly serve Railex's Delano and Wallula facilities, located in the heart of major agricultural production regions. The Food Train network provides a fast and reliable service from these growing regions to the Midwest consumer base via Chicago and further into the heart of the northeast region via CSX.
Randall Temp Control Introduces Pull Down Trailer Curtain
Randall Temp Control has introduced a new pull down trailer curtain with a retractable design, which helps food service and grocery distributors improve temperature control at the rear and side doors of the trailer.
According to Fred Jevaney, president of Randall Temp Control, a Safe Fleet brand: "Today's demands on the supply chain with the enactment of the Food Safety Modernization Act (FSMA) are driving temperature control innovation and agility. We are designing and manufacturing new products that leverage our temperature control experience to help minimize risk, reduce energy costs and protect perishable inventory." 
The rear and side pull down curtains provide easy and quick operation with a retractable design and superior airflow control.
Otto Self-Driving Vehicles Not One in the Same
An article, "The Future of Self-Driving Vehicles," in the January/February issue of Food Logistics inaccurately depicted OTTO Motors and Otto as a joint company. OTTO Motors, a division of Clearpath Robotics, focuses on self-driving materials handling vehicles, while Otto, which was acquired by Uber in August 2016, specializes in autonomous systems that can be retrofitted and installed on existing vehicles. 
Though both important when discussing the future of self-driving vehicles, the two companies are in no way connected. The editors of Food Logistics regret the error and apologize for any confusion in regards to the earlier story.