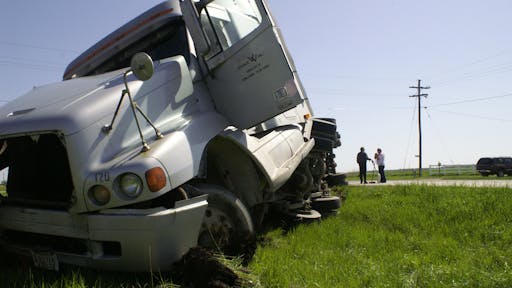 When it comes to today's food and beverage supply chains, transportation safety and efficiency are among the top concerns for fleet managers. Companies face a number of threats, and taking proactive steps to mitigate risks is vital to a company's success. In the case of collisions, the impact extends well beyond physical damage to the vehicle. Often, accidents on the road result in legal setbacks and liability claims, damage to brand reputation, personal injury or worse, in addition to the cost to repair or replace fleet assets.
In data released earlier this year, the National Highway Traffic Safety Administration found that in 2014, an estimated 111,000 people were injured in crashes involving large trucks–an increase of 17 percent from the year prior. This statistic suggests a likely increase in claims filed against commercial fleets, negatively impacting the fleets' bottom line and overall business reputation. However, statistics from the U.S. Department of Transportation tell us that approximately 80 percent of crashes involving heavy trucks are not the truck driver's fault. With video-based safety technology, fleets can protect and exonerate drivers, alleviate other risks to fleet assets and brand reputation, and improve the bottom line.
See the Big Picture
Today's leading video-based driving analytics solutions offer fleets the ability implement a road-facing camera only, road-facing and cab-facing cameras, or configure a solution of up to four cameras for 360-degree visibility around the vehicle. Combined with the power of Big Data, the most advanced solutions enable fleets to identify, score and analyze risky behaviors and actions, such as hard braking, speeding, following too closely to other vehicles on the road, U-turn detection and much more. Video capture initiates upon specific triggering events as determined by fleet management. Immediately following the incident, the video is saved and uploaded to a company-specific database, and analyzed by fleet safety experts.
The video serves as a single source of truth as to what actually occurred on the road and allows fleet managers to identify specific risky behaviors. Accompanying coaching workflows in the most advanced solutions enable managers to work with drivers one-on-one to collaboratively and productively to improve safety and operational efficiency. Once drivers fully understand that video-based safety programs protect individual drivers as well as companies, any initial resistance generally subsides.
One driver of a leading food service industry supplier stated, "At first you think the system is there to critique you, and point out your faults in your driving. But it's not there for that purpose. It's there to help us be a better, safer, company. It does make me feel a lot more secure and it has made me a better driver."
In addition to delivery trucks, passenger vehicles are an important part of many food and beverage fleets. Merchandisers, retail specialists and other employees rely on these automobiles to deliver in-store displays, ensure store shelves and coolers are stocked with product, and visit retail clients to ensure exceptional service. While driving is an important element of the job, often these individuals are less experienced than the typical tenured fleet driver, which introduces another level of risk into fleet operations. Food and beverage companies that have adopted a video-based safety program across these passenger vehicles tend to find that many collisions and other on-road incidents are caused by drivers distracted by their phones or other mobile devices. With this knowledge, fleet managers are able to properly onboard, train and coach their drivers to ensure these instances don't reoccur.
Relying on advanced driving analytics, the best video-based systems provide fleet managers the unique capability to see not only a true view of what's occurring on the road, but risks that surround the vehicle as well. This is particularly important as the challenges facing food and beverage distribution companies frequently involve the location of deliveries. Often, these drivers are hauling massive trailers that need to exit the highway and navigate residential and dense commercial areas. This poses a new set of risks, such as passenger vehicle collisions, parking difficulties and pedestrian-related incidents. Many claims, such as damaged and stolen goods, also occur when drivers are loading and unloading products. The use of video, with configurations of up to four cameras to provide 360-degree visibility around the vehicle, gives managers transparent insight into what is taking place, and allows them to determine whether their drivers are taking the proper precautions to protect themselves, the products they are hauling and others on the road.
Freshness and shelf life are important factors when delivering consumable products, and pose additional concerns for food and beverage distributors. When a collision occurs with a truck carrying perishable goods, any resulting delay in getting those items on customers' shelves becomes problematic. Similarly, when distributors have fragile items in their trucks, such as bottles, a collision can cause major damage to the cargo, negatively impacting the bottom line. When these incidents occur, a ripple effect of negative outcomes could arise. The distribution company may face exponential costs as a result from the collision damage, and may also lose resources spent in mitigation with other drivers who may have been involved. Customers will not receive their anticipated shipments, and manufacturers lose revenue from the loss of product. The unique challenge further demonstrates the need for safety throughout food and beverage distribution fleets.
Video-based safety solutions have proven to be one of the most effective and game-changing methods of not only improving fleet safety practices, but improving relationships between managers and drivers as well. This technology allows for a clear picture of actual events on the road, allowing managers to validate and verify the details of an on-road incident with video. Fleet managers are then able to conduct targeted, personalized coaching for each driver based the specific risky behaviors that may need to be addressed. This approach encourages open dialogue, ensures the focus is on safety improvement, and ultimately leads to enhanced driver performance which reduces future risk and related costs.
Video-based driving analytics solutions are integral to gaining a full understanding of vehicle and driver safety, and have proven to provide many benefits to fleet's bottom line. Food and beverage delivery fleets are critically important to the supply chain, with companies focused on making deliveries on time and safely. By incorporating safe driving solutions, fleets demonstrate their commitment to their staff, their customers, and the safety of everyone on the roads.
Matt Drake is a program manager at SmartDrive Systems, where he is focused on developing and managing project plans for clients. At SmartDrive since 2013, Drake has been in the project management space for more than 10 years. He previously worked as a safety specialist and service manager instructor at FedEx Ground, and earned bachelor's and master's degrees from the Rochester Institute of Technology.
Howard Rogers, III is a regional sales manager at SmartDrive Systems. A results-driven leader with nearly 10 years of experience in the high-tech industry, Rogers leverages his exceptional knowledge of commercial trucking and service orientation to support fleets' selection and deployment of video-based safety solutions. He previously worked with Dell as a large enterprise account manager, and is a graduate of the University of Texas, Austin.