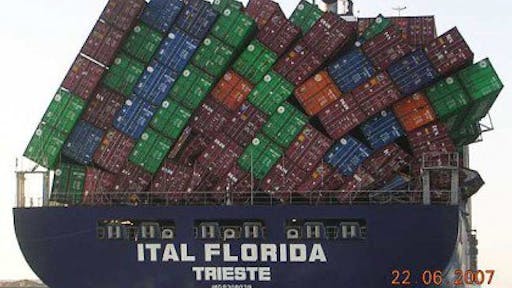 U.S. Ports And Terminals To Provide Container Weight Verification; Shippers Have Uncertainties
As the new Safety of Life at Sea (SOLAS) Verified Gross Mass container weighing regulation took effect in July, the majority of the nation's largest container ports and terminal operators agreed to provide truck scale weights to allow business at the busiest facilities to continue uninterrupted, according to reports.
However, some shippers said the procedures vary from port to port, meaning there could be delays.
Class 1 railroads in the U.S. and Canada do not, as a rule, provide weight information to the ocean terminal upon arrival at on dock facilities, according to The American Journal of Transportation. Ports and terminals in the U.S. will be adopting differing strategies for addressing the issue of "on dock" rail exports.
Panama Canal Expansion To Double Cargo Trade
The Panama Canal Authority estimated that the combined effect of 12 to 14 larger Panamax vessels per day (an average of approximately 4,750 ships a year) combined with continued smaller vessel transits will double capacity, increasing canal throughput from 300 million tons to 600 million tons PCUMS (Panama Canal Universal Measuring System), according to a shipping risk management briefing from Allianz Global Corporate & Specialty. The expanded canal, which opened on June 26, increased the maximum vessel capacity and enlarges the overall volume of transported freight.
Truck Drivers Oppose Nationwide Database For Drug And Alcohol Results
Truck drivers are battling with the Obama Administration over a long-delayed proposal related to drug and alcohol testing, according to The Hill. The U.S. Department of Transportation is moving to establish a national database — also known as a clearinghouse — that would list truck drivers who have failed drug and alcohol tests. It would also list drivers who have refused to take them.
The administration and supporters of the proposal say the database would make it easier for employers to conduct background checks before they hire new drivers.
"Seat belts save lives – period," said U.S. Transportation Secretary Anthony Foxx. "Whether you're a driver or passenger, in a personal vehicle or large truck, the simple act of wearing a safety belt significantly reduces the risk of fatality in a crash."
KION Group To Acquire Dematic For $2.1 Billion
The KION Group AG, one of the two largest suppliers of forklift trucks, warehouse equipment and related services, will become one of the leading global providers of intelligent intralogistics solutions by acquiring Dematic, a best-in-class automation provider and specialist in supply chain optimization.
The KION Group agreed with funds managed by AEA Investors and Ontario Teachers' Pension Plan as the sellers on this transaction to create a global provider with close to 30,000 employees, more than 6.7 billion EUR in revenue for the calendar year 2015 and a strong profitability with a combined adjusted EBIT margin of approx. 9.4 percent for this period.