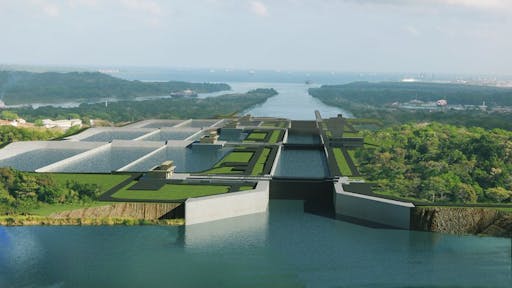 Panama To Open Expanded Canal On June 26
Panama will inaugurate its newly expanded canal on June 26, nearly two years behind schedule, the head of the state canal authority said recently. "With the inauguration of this project, we will claim once again our historic vocation as a route of transit and a meeting point of civilizations," the Canal Authority's CEO Jorge Quijano said at a ceremony alongside Panama's President Juan Carlos Varela.
The multibillion-dollar project had originally been scheduled to end in October 2014 but has been successively pushed back. It has suffered construction and labor problems, legal issues and the discovery of fissures in one of the widened locks. Work to enlarge the 50-mile (80-kilometer) long waterway to handle more traffic and bigger cargo ships started in 2007. The project's cost is estimated to have ballooned from an initially budgeted $5.3 billion to around $7 billion.
U.S. Eases Restrictions on Travel To Cuba
The Obama administration announced it would allow individuals to travel to Cuba for "people to people" educational trips and lift limits on the use of American dollars in transactions with Cuba, wiping away stiff restrictions on travel and commerce as President Obama prepares to make a trip to Havana next week, according to The New York Times.
The change punctures a major element of the American embargo against Cuba, which remains in effect despite Obama's repeated calls for its repeal — the Republican-led Congress has shown little interest in lifting it. While tourism is still barred by statute, the new rules amount to permission for any American who wants to travel to Cuba to plan an educational sojourn there, as long as they keep records of their activities for five years.
Maersk Tests Shore-To-Ship Drone Delivery
Maersk Tankers says that it has completed the first drone delivery to a vessel at sea as part of a test to see whether or not drones can become a part of the supply chain, according to gcaptain.com.
The company says the test delivery took place near Kalundborg in Denmark and involved a drone dropping a small parcel to one of its tankers. Due to weather, the drone could not be launch from shore as planned, but rather was launched from a nearby tugboat, which dropped the package from a height of 5 meters above deck.
Ocean Container Weight Rule To Boost Rates
In an assessment of a rule that has roiled the container shipping world, Cowen and Co., a New York City-based financial services firm, said the total cost of shipping an ocean container from Los Angeles to Shanghai could increase by approximately 14 percent because of the extra time and expense that shipping lines and their customers face, according to The Wall Street Journal. Those costs may include fees for weighing shipping containers and charges for holding goods while information on the goods is collected and verified.
Total Transportation Services Files For Bankruptcy
Premium Transportation Services Inc., known locally as Total Transportation Services Inc. (TTSI), one of Southern California's largest port trucking companies, filed for chapter 11 bankruptcy protection in federal court in Delaware. The company said in a court filing that "downward pricing pressure from some of its major clients over the past year" along with mounting costs of litigation with independent drivers had proven more than it could manage.
TTSI has lost nearly a dozen misclassification claims before the California Labor Commission and 14 lawsuits in state court, which amounted to roughly $3.5 million in awards and damages. Legal fees for those cases, along with several other lawsuits currently proceeding before the commission and the courts, have cost the trucking company an additional $4 million, according to the bankruptcy filing.
VersaCold Logistics Services Buys Coastal Pacific
VersaCold Logistics Services, Canada's largest supply chain solutions company focused exclusively on the handling of temperature sensitive products, has entered into an agreement to acquire Coastal Pacific Xpress, British Columbia's largest refrigerated carrier specializing in the shipping of perishable and ambient products throughout Canada and the U.S.
The acquisition comes just one month after the announcement of VersaCold's acquisition of Gary Heer Transport and the launch of its newest subsidiary, VersaCold North America Transportation Solutions Limited.
Norfolk Southern Service Links Port Of Charleston To Charlotte Intermodal Facility
South Carolina Ports Authority (SCPA) announced an enhancement to international intermodal rail service between the Port of Charleston and the Charlotte Regional Intermodal Facility at the Charlotte Douglass International Airport. The new, two-day Norfolk Southern service will operate five days per week connecting Charleston and Charlotte using existing dedicated intermodal trains.
"This dramatically-improved containerized rail service between Charlotte and the Port of Charleston is the result of collaboration between the Norfolk Southern Railway and the South Carolina Ports Authority," said SCPA president and CEO Jim Newsome.