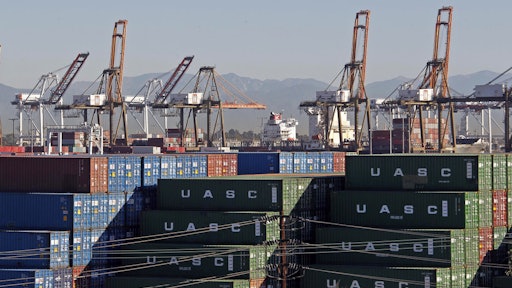 West Coast Ports Lose Import Container Trade As Asian Shippers Reroute
West Coast ports' share of container imports fell to 45 percent in May, down from 51.5 percent a year ago, as the effects lingered from massive delays earlier this year, according to data released Tuesday by the U.S. Census Bureau, The Wall Street Journal reported.  The decline—measured in the dollar value of goods imported in containers—is partly due to decisions by many Asian shippers to reroute cargo to the Gulf and East Coasts after protracted West Coast labor negotiations led to delays earlier this year at Pacific ports. 
Greek Crisis Fuels Oil Price Fall
Oil prices plunged in July in the aftermath of the Greek referendum, which saw the Greek people hand Prime Minister Alexis Tsipras an overwhelming victory after they decisively rejected Europe's bailout terms, according to oilprice.com. The "no" vote provides Tsipras with renewed momentum in negotiations with European creditors. Led by Germany, creditor nations had hoped that a "yes" vote would force the Greek government into further austerity measures in exchange for an extension of the bailout. The "no" vote has created turmoil across the globe, and oil prices have crashed to their lowest levels in months. 
Kuehne + Nagel To Acquire ReTrans Inc.
The Kuehne + Nagel Group, a Switzerland-based logistics firm with more than 1,000 offices in over 100 countries, has agreed to acquire ReTrans Inc., a U.S.-based provider of multimodal transportation management solutions. The acquisition builds on Kuehne + Nagel's overland strategy and will strengthen the company's position as an end-to-end logistics provider in North America. 
Taco Bell Launches Delivery Service With DoorDash
Taco Bell delivery is rolling out to select markets through a partnership with on-demand delivery service DoorDash. The delivery service will be available in over 90 cities and more than 200 restaurants throughout the Los Angeles, Orange County, San Francisco Bay Area and Dallas regions. The partnership provides delivery service beginning today through the DoorDash, iOS, Android or website. Pricing and delivery costs may vary depending on restaurant location. The Taco Bell delivery announcement is the first national partnership for DoorDash. 
Trucking Group Calls On FMCSA To Move To Risk-Based Enforcement 
The American Trucking Associations called on the Federal Motor Carrier Safety Administration (FMCSA) to accelerate the agency's efforts to integrate more risk-based assessments into its enforcement programs in light of a report made public by the Department of Transportation. During investigations of four commercial motor vehicle crashes, NTSB found that FMCSA had failed to identify significant safety issues during prior audits of the motor carriers involved in the crashes.
Feds Grill 19 Ocean Carriers On West Coast Ports Collaboration
Federal officials are requiring the world's largest shipping companies to provide detailed documentation on how they are implementing service agreements on the U.S. West Coast amid concerns over a collaboration the companies formed to address port congestion, according to The Wall Street Journal. The Federal Maritime Commission (FMC) issued the order to 19 international ocean carriers.
EPA To Eliminate HFCs Used In Reefer Cooling And Grocery Refrigeration
The Environmental Protection Agency (EPA) has finalized a rule to prohibit certain uses of chemicals that significantly contribute to climate change in favor of safer, more climate-friendly alternatives. The agency also granted a 3-year extension to manufacturers of refrigerated trailers and their suppliers another three years, through 2019, to develop a new foam-blowing agent that does not incorporate strong greenhouse gasses. This action responds to President Obama's Climate Action Plan by reducing emissions of hydrofluorocarbons (HFCs), a class of potent greenhouse gases used in air-conditioning, refrigeration, and other equipment.
California Gov. Brown Calls For Zero Freight Emissions
California Gov. Jerry Brown called on state leaders to develop a plan to transition to zero-emission technologies in the freight industry, according to reports. In an executive order, Brown said the state has set "aggressive targets for reducing pollution" by 2030, including decreasing greenhouse gas emissions and cutting petroleum use in automobiles by half. 
UPS Seeks To Acquire Coyote Logistics For $1.8 Billion
United Parcel Service Inc. is in talks to buy Coyote Logistics LLC for about $1.8 billion, people with knowledge of the matter said, according to Bloomberg News. Coyote is backed by New York-based private equity firm Warburg Pincus, which first invested in the company in 2007.
Ports And Truckers Face Chassis Shortage
As U.S. seaports enter their busiest season, shippers and truckers expect to be plagued with a familiar problem: a shortage of chassis, a key piece of equipment that allows trucks to transport shipping containers, according to The Wall Street Journal.  Finding a free chassis – little more than a steel frame with wheels - can take hours, making them a top source of port congestion because containers can't be transferred from a ship to a truck without them, truck drivers say. Leasing companies also rent different types of chassis, so drivers must often go out of their way to return the equipment to specific locations, creating traffic problems at ports. Some trucking companies are bracing for particularly bad congestion as ports ramp up for their busiest time of year.