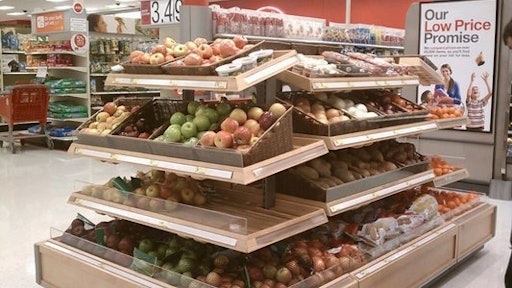 Target Corp. is seriously considering partnerships with outside companies to help shore up a creaky fresh food supply chain that has led to chronic shortages on store shelves, according to Reuters.
Target's supply chain evolved over time as it expanded its offerings, including more fresh food, he said, leading to a patchwork system. "I said to my team this looks like Frankenstein," Chief Operating Officer John Mulligan said in a recent interview. We have made this thing out of a bunch of parts."
Mulligan said Target has increased food sales by bringing its edible products more into line with the "cheap chic" ethos of other store offerings, such as clothing and housewares. That strategy has meant a greater focus on such things as organics, fat-free yogurts and other healthy food trends.
But, he said, the company's supply chain for fresh food isn't fully reliable in many parts of the country.
The potential shift to relying on outside partners comes as Target pushes to revamp its food business with newer offerings and aims to get a bigger slice of online grocery sales, which will put new pressures on its food supply chain.
To read more, click HERE.
Editors Insight: According to this report, Target is stepping up its food business in a big way as it seeks to keep up with its big retail competitors and expand in grocery e-commerce. According to one retail analyst interviewed for this report, Target's new food partnerships could mean billions of dollars for food wholesalers distributors and manufacturers who have infrastructure in place to service Target stores.
Target will definitely be investing in a more robust food supply chain. In August, the company announced plans to test home grocery delivery.
COO John Mulligan said the challenge of managing inventory will be more difficult as the company ships more products from its existing stores.
Target also recently partnered with the MIT Media Lab and global design firm IDEO on a multi-year collaboration, known as the Food + Future coLAB, to explore the future of food. The work will focus on areas such as urban farming, food transparency and authenticity, supply chain and health. 11-4-15 By Elliot Maras