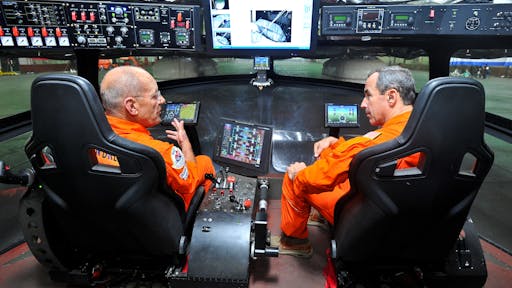 As we near the end of 2014, the price of oil has fallen to a four-year low at roughly $66 per barrel. Ironic, because the rising cost of oil in recent years is largely responsible for driving transportation innovations aimed at reducing fuel costs for supply chains. Considering the U.S. Energy Information Administration estimates that diesel prices will fall from an average of $3.82 per gallon this year to $3.38 per gallon in 2015, it's unlikely the fossil fuel party will last forever.
Fortunately, numerous transportation innovations and developments are underway that promise to transform the way cargo is transported. Whether by air, land or sea, the goal is improved fuel efficiency and lower emissions.
But, that's not all. New equipment, technologies, infrastructure projects and more are opening up new possibilities for transportation providers and shippers in the food and beverage supply chain.
Look, up in the sky!
Helium-filled airships have been used since the 1960s mostly for advertising, aerial observation and tourism. However, Aeroscraft Corp. believes its new design and engineering advancements will revitalize interest in airships, particularly for cargo applications.
John Kiehle, the company's director of communications, explains that, "Cargo airship utility has been historically hindered by external ballast exchange requirements as well as lack of VTOL (vertical takeoff and landing) flight capability, slow speed, and non-rigid structural design that has limited payload capacity, aerodynamic loading (speed) and propulsion flexibility. The Aeroscraft's validated self-ballasting design addresses these limitations, while combining many of the flight attributes and benefits of fixed-wing, rotary and traditional lighter-than-air (LTA) vehicles to move cargo directly or flexibly to new destinations independent from infrastructure. Both Aeroscraft configurations will move faster than conventional airships (100 knot cruise/120 max) at about 185 kph, outracing boats, trains and trucks."
The Aeroscraft's rigid structure is reminiscent of the Zeppelin era, states Kiehle, "but is now built with lighter and stronger carbon fiber and other advanced materials."
A $60 million grant from the U.S. Department of Defense helped fund development of the Aeroscraft in the early stages, although private investors are required to support the next goal—creating a fleet of Aeroscrafts.
Igor Pasternak, Aeroscraft's founder and CEO, wants to build 24 airships and lease them to companies and governments. Aeroscraft has signed memorandums of understanding (MOUs) with several interests, including Singapore-based Pacific Airlift, global aircraft charter company Air Charter Service, and Bertling Logistics (part of the Germany's Bertling Group). The company is now in fleet development for the 66-ton configuration Aeroscraft (ML866), which will be followed by a larger 250-ton payload version (ML868). Aeroscraft also expects to begin Type Certification with the U.S. Federal Aviation Administration (FAA) in approximately three years.
Kiehle says Aeroscraft sees unique transportation options emerging in the food sector, including perishable shipments.
"Aeros shares many bullish industry assessments for the global reefer market and growth prospects for the global food supply chain. We believe the Aeroscraft will soon fill important niches within the global transport landscape especially with respect to cold chain logistics where the vehicle fleet's infrastructure independence, landing-site flexibility and overall speed/cost intermediary status between air and ground alternatives foretells significant strategic and financial opportunities."
Eventually, the Aeroscraft could transport cargoes virtually anywhere in the world quickly and directly, he says, operating in a cost effective and ecologically conscious manner to provide expedited delivery of large payloads, palletized or containerized cargo.
"Lower density, higher value cargoes and perishables will be particularly well aligned to the benefits of transport by the Aeroscraft," adds Kiehle. "The vehicle is an ideal solution for perishables and other products that require controlled-temperature monitoring, and will be capable of transporting 20-foot, 40-foot and 53-foot containers without requiring ground support equipment."
Meanwhile, Amazon's much-publicized drones remain grounded, pending regulatory hurdles. Last year, Jeff Bezos announced the company's Prime Air service would use drones to deliver customer packages in 30 minutes or less. The technology seems ready to go, but the FAA's proposed rules for drones, which specify that commercial drone operators must be certified pilots of manned aircraft and must remain below 400 feet and in view of the operator could make it extremely difficult to get Prime Air "up in the air" anytime soon.
Global logistics provider DHL is having better luck. In September, the company launched a pilot project on the North Sea island of Juist to test its DHL parcelcopter drones for delivering medications.
"This research project represents the first and only time in Europe that a flight by an unmanned aircraft will be operated outside of the pilot's field of vision in a real-life mission. By taking this step, DHL Parcel has moved to the next phase of the parcelcopter research project it launched in December 2013," the company stated in a press release.
Ocean carriers support a growing cold chain
With imports/exports of fresh and frozen foods increasing worldwide, containerized and specialized reefer carriers are ramping up investments to keep pace with growing demand. As example, South American reefer exports to North America rose 10 percent during the first half of 2014; one of the busiest trade lanes.
Containerized carriers are updating and adding to their reefer equipment fleet. United Arab Shipping Corp (UASC) announced a partnership with Hamburg Sud to gain access to the South American trade lane and plans to make "significant investments" in new reefer units.
Gareth Madsen, head of reefer management at UASC, remarked at WOP 2014, the Middle East's international perishables expo, that, "Through partnerships with leading operators, investment in some of the largest and most eco-efficient container vessels ever built, and a commitment to expanding reefer services, UASC is moving up the rankings of the global container liner shipping industry in a way that reflects our strategic growth plans. We are continuously investing in our container fleet to meet customer demand and to comply with the most up-to-date specifications. Expanding our reefer fleet will ensure that we continue to offer our customers the most cutting-edge, energy-efficient solutions for the carriage of frozen and chilled cargoes."
UASC's reefer fleet is one of the youngest in the industry, with equipment averaging three years of age.
In June, CMA CGM's Danube set sail on her maiden voyage. The 9,400-TEU vessel is the first of a series of 28 ships in this size that will be delivered through the third quarter of 2016. The Danube boasts a capacity of 1,458 reefer plugs—the largest so far on such a ship—and provides direct service between Asia, Turkey and the Black Sea.
Seatrade, the world's largest specialized reefer ship operator, is also making sizeable investments, with orders placed for two new 2,200-TEU vessels that will be deployed on its "Fast, Direct and Dedicated" reefer service. China's Yangfan Group is the shipbuilder and plans to deliver the vessels in January 2016.
According to Seatrade, the vessels "are of an eco design and are equipped with a high reefer capacity that equates to approximately 12,000 pallets," or approximately 600 standard 40-foot reefer containers per vessel.
Reefer vessel designs are also changing to adapt to new marketplace requirements. Denmark's naval architecture firm Knud E. Hansen A/S recently released version II of its new Reefer RoRo Ship design, which targets the banana trade. The vessel design allows for quick loading and discharge in port, which offsets lost time due to slow steaming (the "new normal" for the shipping industry).
In the meantime, the Panama Canal expansion project and new Nicaragua Canal will alter the future of the global food supply chain as well, providing all-water routes to bigger vessels with more reefer capacity.
"Those vessels are going to be everywhere when a widened Panama Canal opens," said Hamburg Sud's Poul Hestbaek, senior vice president for Latin America West Coast & Caribbean, in a recent interview referring to the new access that containerized carriers will have once the expansion project is completed.
At the same time, specialized reefer carriers are expected to continue losing market share to containerized carriers, despite efforts to maintain their niche business. Their share of the 100 million ton perishable trade is forecast to fall to 20 percent by 2018 (from 28 percent in 2013).
Construction on the Nicaragua Canal, the largest infrastructure project in Latin America's history, is set to break ground by the end of the year. The $50 billion, 173-mile long waterway will be designed, built and operated by the Hong Kong Nicaragua Canal Development Group, headed by Chinese entrepreneur Wang Jing. Providing the project sees completion, it would add yet another all-water east-west trade lane—and direct competition to the Panama Canal.
On the ground, it's about alternative fuels
From trucks to forklifts, the trend is moving towards alternative fuels that reduce operating costs and cut down on greenhouse gas emissions. Liquefied natural gas (LNG)- and compressed natural gas (CNG)-powered trucks are replacing those that run on diesel fuel, while hydrogen fuel cells are one of the newest options for powering electric forklifts.
In September, Clean Energy Fuels Corp. announced an agreement with Bimbo Bakeries USA, the largest bakery in the U.S., to fuel the first heavy-duty natural gas trucks deployed in the company's California-based fleet. The 16 heavy-duty natural gas trucks use fuel from Clean Energy's public access CNG gas station network throughout Northern California. It's expected that Bimbo Bakeries USA will cut its greenhouse gas emissions by more than 580 metric tons with this initial deployment.
Clean Energy and approximately 40 competitors have opened nearly 100 public heavy-duty stations this year. According to the U.S. Department of Energy's Alternative Fuels Data Center (AFDC), there are currently 15, 129 alternative fuel stations in the U.S. (not including private stations).
Ryder System, Inc. also announced a significant deal involving alternative fuel. In October, Northeast Foods, based in Baltimore, Md., signed a full-service lease agreement for 25 compressed natural gas (CNG) tractors to support its exclusive distribution and delivery operations for McDonald's. The vehicles will be delivered to Northeast Foods in 2015.
Ryder is a leading provider of natural gas vehicle solutions for the commercial transportation industry, deploying CNG and LNG vehicles into the fleets of its customers throughout California, New York, Michigan, Texas, Arizona, Utah, Georgia and Louisiana as well as in Canada. The company also operates Liquefied to Compressed Natural Gas (LCNG) fuel stations at its Fontana and Orange, Calif., service stations. Ryder also operates an LNG fuel station at its Fulton, Ga. maintenance facility.
When it comes to powering electric forklifts, Plug Power Inc. is making headway with advancements in hydrogen fuel cell technology as an alternative to lead-acid batteries. Recently, Newark Farmers Market expanded its investment in this clean energy alternative by choosing to integrate a full GenKey solution from Plug Power to support material handling operations for a new food distribution building currently under construction at its Newark, N.J. site.
Newark Farmers Market purchased an additional 110 GenDrive units, which will more than double the size of its fuel cell-powered lift truck fleet at the Newark location.
Under the GenKey contract, Plug Power will construct a complete GenFuel hydrogen infrastructure, including indoor dispensers and outdoor fuel storage. The entire GenFuel hydrogen infrastructure will address the current and new GenDrive fleets.
Furthermore, in October, Plug Power announced that Golden State Foods, a global, California-based food manufacturer and distributor for the quick service restaurant industry, with customers such as Starbucks, Chick-fil-A, Arby's and Taco Bell, would deploy GenDrive hydrogen fuel cells in the material handling fleet at its new food distribution center in Illinois. The 158,300-square foot regional headquarters and logistics center will serve more than 460 McDonald's in the U.S. Midwest region.
For more information:
Aeroscraft Corp., 818.344.3999, aeroscraft.com
Air Charter Service, +44 (0)20 8339 8555, aircharter.co.uk
Bertling Logistics, 281.774.2300, bertling.com
Clean Energy Fuels Corp., 949.437.1000, cleanenergyfuels.co
CMA CGM, cma-cgm.com
DHL, 800-225-5345 (U.S.), dhl.com
Hamburg Sud, 49-40-37050, hamburg-sued.com
Hong Kong Nicaragua Canal Development Group, hknd-group.com
Google, 650-253-0000, google.com
Knud E. Hansen A/S, 45-32-831391, knudehansen.com
Oceana, 202-833-3900, oceana.org
Pacific Airlift, +65 6297 8862, pacificairlift.com.sg
Plug Power Inc., 518.782.7700, plugpower.com
Ryder System Inc., 305.500.3726, ryder.com
Seatrade, (32) 3 544 9493, seatrade.com
SkyTruth, 304-885-4581, skytruth.org
United Arab Shipping Co., uasc.net/en
U.S. Energy Administration, 202-586-8800, eia.gov
U.S. Department of Defense, 703-571-3343, defense.gov
U.S. Department of Energy Alternative Fuels Data Center, 800-254-6735, afdc.energy.gov
U.S. Federal Aviation Administration, 866-835-5322, faa.gov
Yangfan Group, 0580-3012168, eyangfan.com
Global Fishing Watch Aids Food Sustainability Efforts
Three partners—SkyTruth, Oceana and Google—recently unveiled Global Fishing Watch, a big data technology platform that leverages satellite data to create the first global view of commercial fishing. On Nov. 14, 2014, a prototype was presented at the 2014 IUCN World Parks Congress in Sydney, Australia. A public release version is in development. Global Fishing Watch will ultimately give citizens a simple, online platform to visualize, track and share information about fishing activity worldwide.
According to a press release, the platform works by analyzing data points from the Automatic Identification System (AIS) network. AIS is essentially a GPS broadcast of a ship's location, and was designed primarily as a safety mechanism to avoid collisions at sea, but information about the vessel's behavior can be derived by analyzing the identity, speed and direction of broadcasting vessels. Global Fishing Watch removes all the cargo ships and other non-fishing vessel activity, providing an unprecedented view of human interaction with the ocean.
The current version of the Global Fishing Watch started with 3.7 billion data points, more than a terabyte of data from two years of satellite collection, covering the movements of 111,374 vessels during 2012 and 2013. A behavioral classification model was applied across the data set to identify when and where fishing behavior occurred. The prototype visualization contains 300 million AIS data points covering over 25,000 unique vessels. For the initial fishing activity map, the data is limited to 35 million detections from 3,125 vessels that Google and its partners were able to independently verify as fishing vessels. Global Fishing Watch can then display fishing effort in terms of the number of hours each vessel spent engaged in fishing behavior, and puts it all on a map that anyone with a web browser will be able to explore.
Google and its partners state that, "With hundreds of millions of people around the world depending on our ocean for their livelihoods, and many more relying on the ocean for food, ensuring the long-term sustainability of our ocean is a critical global priority. We need a tool that harnesses the power of citizen engagement to hold our leaders accountable for maintaining an abundant ocean."
Eventually, Global Fishing Watch will be available to the public, allowing anyone with an Internet connection to monitor when and where commercial fishing is happening around the globe. Citizens can use the tool to see for themselves whether their fisheries are being effectively managed. Seafood suppliers can keep tabs on the boats they buy fish from. Media and the public can act as watchdogs to improve the sustainable management of global fisheries. And, fishermen can show that they are obeying the law and doing their part, while researchers will have access to a multi-year record of all trackable fishing activity.