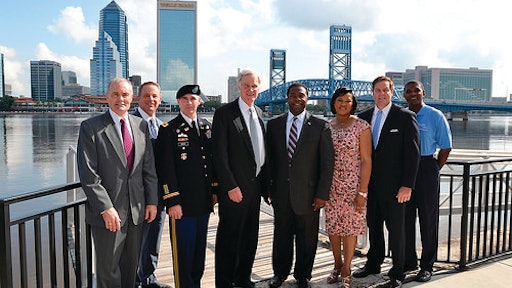 China Denies Support For P3 Network
The Ministry of Commerce (MOFCOM) of the People's Republic of China denied support to the P3 Network, proposed by Mærsk A/S (Maersk Line) together with MSC Mediterranean Shipping Company S.A. and CMA CGM S.A., according to news reports.
The MOFCOM's decision follows a review under China's merger control rules.
"The Partners take note of and respect MOFCOM's decision. Subsequently, the Partners have agreed to stop the preparatory work on the P3 Network and the P3 Network as initially planned will not come into existence. The lack of implementation of the P3 Network will have no material impact on the Maersk Group's expected result for 2014,"  A.P. Møller – Mærsk A/S said in a statement.
The P3 Network agreement received support from the U.S. and the European Union.
Kroger To Build 1M-Square-Foot Cold Storage Facility In Georgia
The Kroger Co. selected Primus Builders to provide design-build services on a new, 1 million-square-foot cold storage distribution facility to be located on the old Fort Gillem Army base in Forest Park, Ga. The facility will service existing operations in Alabama, Georgia, South Carolina and Tennessee. The former army base was officially transferred from the Department of Defense to the city of Forest Park and will be re-named Gillem Logistics Center.
Governor Nathan Deal announced the plans on June 12th and credited Georgia's interconnected highway and railway system, low cost of doing business and highly skilled workforce as factors in Kroger's decision. "Georgia is the ideal location for Kroger to establish its newest distribution facility," he said.
"The 1,000,000-square-foot facility will improve efficiencies, help the economy in the communities we serve and deliver products to our stores much more quickly," said Glynn Jenkins, director of communications and public relations for Kroger's Atlanta division.
"Primus is eager to help Kroger achieve its goals for speed-to-market," said Rich O'Connell, president of Primus Builders. "We have partnered with Kroger on several projects in the past, but this one will be the most technologically advanced for Kroger and for us. We're incorporating BIM (Building Information Modeling), safety badging, a new safety app and other new processes on this project. We are excited to be a part of it."
Design Of Jacksonville, Fla. Harbor Deepening Project Begins
Federal, state and local leaders joined the U.S. Army Corps of Engineers and JAXPORT leadership along the St. Johns River in downtown Jacksonville, Fla. to mark the start of the pre-construction, engineering and design phase of the Jacksonville Harbor Deepening Project.
The initial engineering and design work is expected to take 18 months. Deepening construction could begin as early as 2016.
"During the course of the next year and a half, the U.S. Army Corps of Engineers will design a project with both the economics and the environment as dual priorities," said JAXPORT Board of Directors Chairman Joe York. "Our attention as a region must turn to ensuring that this project is funded stays on track so we can return every bit of benefit back to our citizens as soon as possible."
On June 10, President Obama signed bipartisan legislation authorizing the Jacksonville Harbor Deepening Project, saying this project and others like it will strengthen our national infrastructure and put more Americans to work.
Lineage Logistics Completes Acquisitions Of Loop Cold Storage, Oneida Cold Storage, And Millard
Lineage Logistics, a warehousing and logistics company backed by Bay Grove, has completed the acquisition of Loop Cold Storage, Oneida Cold Storage and Millard Refrigerated Services, which was previously announced in March. The company has also broken ground on a new facility near the ports of Los Angeles and Long Beach, Calif. With these three acquisitions, Lineage expands its national cold storage footprint to over 544 million cubic feet and a facility network of 102 facilities in 21 states. Financial terms of the transactions were not disclosed.
Based in McAllen, Texas, Loop has the largest cold storage operation on the U.S.-Mexico border servicing the imports of fruits and vegetables and specializing in the international produce trade. In addition to cold storage services, Loop provides value-added packaging and cooler services for produce distributors.
Former owner John McGuire has joined Lineage's management team as vice president of fresh business to focus on developing Lineage's fresh services segment.
Headquartered in Henderson, Colo., Oneida is the largest cold storage provider in the Denver metropolitan area. At over 400,000 square feet, Oneida's state-of-the-art facility provides customers with a variety of services including custom freezing programs, multi-temperature storage, tempering services, and retail distribution solutions.
Procter & Gamble To Open Dayton, Ohio Distribution Center; Will Employ 800
Procter & Gamble will open a 1-million-square-foot distribution center in Dayton, Ohio near the Dayton International Airport.
The $90 million distribution center will employ 800 employees and hiring will likely begin in November, said Lynn Anderson, vice president of communications for Exel, the company that will handle logistics at the facility.
The company expects to work with the Montgomery County Jobs Center and others to find the best employees, and there may be job fairs for prospective employees, as well, she said.
This new site will put P&G products closer to retail and population centers as well as major transportation networks, JobsOhio officials said.
Elizabeth Radke, scaled operations director for P&G, said using third-party logistics contract assistance has worked for the company in the past.
"Most of our distribution centers are operated with really outstanding 3PL (third-party logistics) partners," she said. "And that's how we've operated our networks for quite some time very successfully across the region.
Construction of the company's $90 million site began late last year and should be operational in 2015, company officials said.
Light-Duty Natural Gas Vehicles Will Reach 4.2 Million in Annual Sales by 2023
During the last few years, a number of major automakers have refocused their efforts in the natural gas vehicles (NGVs) market, and growth in this category is expected to be strong across all regions in the coming years.  According to a recent report from Navigant Research, worldwide sales of light-duty NGVs will grow from 2.5 million annually in 2014 to 4.2 million in 2023.
The report, "Light Duty Natural Gas Vehicles," analyzes the global market for natural gas passenger cars and light duty trucks, including pickup trucks, SUVs, minivans, and vans.  It provides an analysis of the market issues and drivers associated with light-duty NGVs, including refueling availability, gas storage cylinders, total cost of ownership, vehicle availability, and government influence.  Global market forecasts for vehicle sales, vehicles on the road, and fuel used, broken out by region, segment, and drivetrain, extend through 2023.  The report also examines the key technologies related to natural gas storage on vehicles, as well as the major players within the market. An executive summary of the report is available for free download on the Navigant Research website.
Public Refrigerated Warehouses Post Rapid Growth
The International Association of Refrigerated Warehouses (IARW) has released its annual IARW Global Top 25 List of the public refrigerated warehouses (PRWs) with the greatest capacity of warehouse space in the world. Accompanying the Global Top 25 is the IARW North American Top 25 List.
Overall, companies worldwide reported increased capacity. The Global Top 25 currently operates 3.36 billion cubic feet (95.20 million cubic meters) – a 4 percent increase from 2013. The combined space of IARW total membership, including the Global Top 25 and North American Top 25 members, accounts for 4.39 billion cubic feet (124.29 million cubic meters) – a 2 percent increase from this time last year.
"The changes to the Top 25 Lists reflect positive growth, as well as increasing consolidation in the PRW industry," said IARW President and CEO Corey Rosenbusch. "Our members are strengthening the cold chain around the world to meet the needs of the food industry. This global expansion also underscores our strategic priority to grow the reach of our association internationally." 
IARW has members in 66 countries around the world. The Global Top 25 list includes PRW companies with facilities in Argentina, Australia, Canada, China, Denmark, Finland, France, Germany, Italy, Japan, Mexico, the Netherlands, New Zealand, Norway, Poland, Sweden, Vietnam, and the United States of America.
A complete listing of all IARW Members can be found in the 2014-2015 Global Cold Chain Directory, which is available in print, online at www.gcca.org/directory, and in a new mobile app available in Google Play and iTunes. This easy-to-use guide connects manufacturers, distributors and retailers to an international selection of companies specializing in refrigerated warehousing and logistics. Printed copies of the directory are also available – free of charge – to food manufacturers, retailers, food service companies, government agencies, and trade press.
New Orleans Cold Storage Expands In The South
New Orleans Cold Storage is more than doubling the size of its storage space at the Port of Charleston in South Carolina, according to The New Orleans Advocate. The expansion will include an investment of more than $14 million, of which the South Carolina State Ports Authority has approved up to a $12 million contribution.
"Not only will our storage space be increasing dramatically by over 150 percent, but we will also be increasing our blast freezing capacity by 100 percent, giving us the ability to grow with the market well into the future," said Mark Blanchard, president and CEO of New Orleans Cold Storage.
He said the expansion will help the company continue to be one of the largest logistics and cold storage suppliers to the poultry, pork, beef, seafood, vegetable and international refrigerated food industries.
Railex Expands National Footprint With Jacksonville, Fla. Facility
Railex, a provider in cold chain transportation and logistics, will expand its national footprint with the opening of its temperature-controlled multimodal and 3PL services in Jacksonville, Fla., starting June 2014. The opening of its Southeast services, along with its facilities in Delano, Calif.; Wallula, Wash.; and Schenectady, N.Y., gives Railex nationwide reach, significantly increasing shipping options and forward positioning of inventory for its customers. This offers West Coast shippers a year-round, uninterrupted expedited shipping solution into the once under-served Southeast. Likewise, growers and shippers from the Southeast can soon readily move product to the West Coast.
Railex recently began offering expedited service to the Southeast, with routes from California and Washington into Florida multiple times weekly, every week of the year. According to a company press release, only Railex gives customers the exclusive ability to combine loads from separate West Coast origins. That, along with Railex's container consolidation and deconsolidation services, brings a new opportunity to U.S. importers to move perishable goods from coast-to-coast.
Gordon Food Service To Open Distribution Center In Aberdeen, Md.
Gordon Food Service announced that it will open a new distribution center in Aberdeen Md. before the end of 2014. The facility will serve foodservice operators in the Baltimore Md. Washington D.C., and Philadelphia Pa. areas, according to news reports.
The family-controlled broadline foodservice distributor signed a long-term lease agreement for 242,000 square feet of space within an existing distribution center. The facility is expected to employ about 150 people within the first three years of operations.
"We welcome Gordon Food Service to Maryland and look forward to working with them as they grow and create jobs in our State," said Dominick Murray, secretary of the Maryland Department of Business and Economic Development. "Maryland is ideal for foodservice distribution, offering an outstanding transportation infrastructure, central location to all major East Coast cities, and overnight trucking access to one-third of the US population."
Gordon Food Service currently operates 22 distribution centers in North America. The Aberdeen facility will be the company's 15th distribution center in the U.S.
Its U.S. distribution centers are in Grand Rapids (two) and Brighton (two) Mich., Kenosha Wis., Springfield Ohio, Shepherdsville Ky., Greenville S.C., Pottsville PA, Plant City Fla., and Miami Fla. Another distribution center operates as Perkins is in Taunton, Mass. Distribution centers operating as Glazier Foods Co. are in Houston and Coppell, Texas. Two distribution centers are under construction, including one near Pittsburgh Pa. and another near Atlanta Ga. Both are expected to be operational in early 2015.