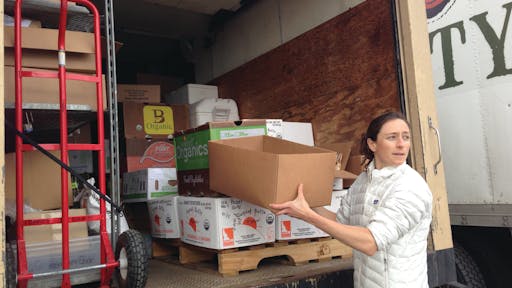 'Food Hubs' Emerge To Match Locally Grown Food With Restaurants
Local and regional "food hubs" that match locally-produced food with restaurants have been cropping up nationwide. Launched by the Wallace Center launched in 2008, the National Good Food Network is a peer-to-peer network of regional food systems practitioners, supporters and food hub developers. A food hub is a business or organization that actively manages the aggregation, distribution, and marketing of source-identified food products primarily from local and regional producers to strengthen their ability to satisfy wholesale, retail, and institutional demand. Food hubs leverage online ordering, tracking and marketing tools to cut down on costs and to try to keep local food systems viable for growers and affordable for consumers. For information, visit http://ngfn.org.
Kroger And Cardenas Markets To Deploy Natural Gas Trucks
Clean Energy reported that Kroger Co. plans to replace 40 of its diesel trucks based in Clackamas, Ore., with natural gas trucks, and that Cardenas Markets will deploy 15 natural gas trucks, according to news reports. Kroger's liquid natural gas (LNG) truck fleet deployment will serve the company's Fred Meyer and QFC grocery chains in Oregon and Washington. Clean Energy Fuels said it will engineer and implement the necessary modifications to bring Kroger's four vehicle maintenance bays in Clackamas into code compliance for natural gas vehicles.
Walmart To Test Store For Online Grocery Orders
Walmart will test a new depot format where customers only pick up groceries they pre-ordered on Walmart's website, according to news reports. Since last fall, the country's largest retailer has been testing a drive-thru system for picking up online orders at 11 stores in the Denver area, but the planned project in Walmart's Arkansas hometown of Bentonville will be a stand-alone depot that is not connected to a Walmart store. The idea was first announced by CEO Bill Simon earlier this year at an investors conference in Orlando, Fla.
No Smoke Here -- This Reefer Is Pollution Free
A Cryometrix CB-40 transport refrigeration unit (TRU) or "reefer" made history recently by delivering its first commercial load of frozen foods using a new pollution-free refrigeration technology. The Cryometrix CB-40 TRU is a pollution-free refrigeration alternative to diesel-powered systems for transport trailers. The CB-40 uses a patented liquid nitrogen cooling system to achieve consistent temperature control with almost no moving parts and greater reliability. A closed, self-contained refrigeration system ensures nothing but fresh cold air enters the trailer or touches the food.
Tesco: A Lone Success In Online Grocery Sales
Tesco is the clear winner in the online grocery market, taking almost 50p of every £1 spent on food shopping on the internet, according to Econsultancy. This virtual monopoly is set to continue not just because of spending on fulfilment, dark stores, distribution, stock and offline marketing, but due to its online visibility through organic search and a very visible well-structured website. Tesco is bucking the trend and hoovering up 50 percent of all online grocery spending. The online share of the grocery market is minuscule compared to other sectors within retail.
Publix Super Markets To Have Online Deli Ordering System
Publix Super Markets Inc., which serves six Southeast states, will roll out an online/mobile deli ordering system by summer, according to news reports. The company expects to offer it for all of its 1,077 stores by July. The system allows users to place deli orders 15 to 20 minutes ahead of pick-up using a computer, smartphone or tablet. It is accessible through the "deli selections" section of the Publix website.