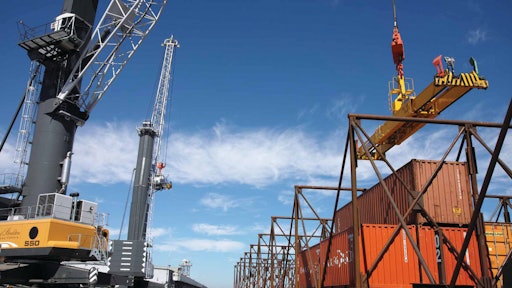 Port of Stockton's M580 Container-on-Barge Service Making Waves
The newly launched M-580 container-on-barge service between the Port of Stockton and the Port of Oakland promises to add a much needed transportation alternative to importers and exporters in Northern California.
Last summer, the service started with an initial demonstration phase then ramped up into full operations in late 2013. Shippers of grain, bulk commodities and wine are among those cargoes being targeted by the M-580 service, said Mark Tollini, the Port of Stockton's senior deputy port director, in an interview with Food Logistics earlier this year.
Currently, the service operates twice weekly with two barges—M-580A and M-580B—but is expected to expand to four round-trip rotations per week later this year. On average, the transit time one-way is about 9.5 hours.
Interstate 580 is a heavily traveled truck route between the two ports, and it's also one of the most congested corridors in the nation. Therefore, the container-on-barge service, which can accommodate the equivalent of 350 trucks for every barge move, offers a number of attractive benefits, including reduced transportation and logistics costs, improved air quality, less truck traffic, and ultimately a safer highway for other motorists.
But those aren't the only advantages, according to the Port of Stockton's Tollini. The barge service allows shippers to load containers up to the maximum allowed volume of weight and cubic capacity of the container, which can save about 20 percent on ocean freight charges for shippers.
CN Rail Challenged to Meet Mandates on Grain Shipments
Canadian National Railway said last month that it's doing its level best to meet the Canadian government's requirement to transport more grain, but warned that grain elevators on Canada's west coast are are nearing capacity while ice coverage and persistent cold weather is preventing shipping via the Great Lakes.
The railroad reports that it is moving more grain in response to an order from Ottawa to CN Rail and Canadian Pacific Railway to more than double the amount of grain they hauled or face stiff daily fines.
The Canadian government's order to the railroads to move 1.1 million tons of grain total came after many Canadian farmers complained that the bumper grain crop wasn't being transported fast enough and they risked losing export business as result.
In their defense, the two railroads said the most severe winter in decades has forced them to shorten their trains, reduce capacity and slow services while increasing transit times.
"As I have said before, blaming railways alone, or even worse, threatening to punish them with re-regulation for an outsized crop and winter conditions beyond their control, will not help to move any more grain, now or over the longer term," CN Railway's CEO and President Claude Mongeau said in a statement.
Meanwhile, CN Railway is concerned that grain elevators on Canada's west coast are nearing capacity, limiting export potential before the Great Lakes shipping lane re-opens and the export program at the Port of Thunder Bay, Ontario, begins. Furthermore, the Great Lakes ice cover is the largest in decades, and while the shipping season normally begins in March, some carriers don't expect to begin shipping until early to mid-April, according to The Detroit News.
"We need urgent support from the Canadian Coast Guard to open navigation channels if we are to meet the federal government's order in council requiring CN to move 500,000 tons, or close to 5,500 cars of grain per week," said Mongeau.
California Drought Threatens State's Salmon Industry
California has begun hauling 30 million young Chinook salmon hundreds of miles toward the Pacific Ocean in tanker trucks to try and save the state's fishing industry, after a record drought left rivers too low for the fish's normal migration.
Three climate-controlled trucks, each carrying 130,000 silvery three-inch smolts, were transported from a federal hatchery near San Francisco for a three-hour drive to San Pablo Bay, where they are being held in netted pens to acclimate before release.
"Water conditions, because of the drought, are going to be horrible for the fish," said Harry Morse of the California Fish and Wildlife Department. "Depending on how far those fish have to go, the longer they must travel through the system, the higher the losses."
Shipping fish to the Pacific coast is the latest in a series of emergency steps that state and federal authorities are rushing into place as water reservoirs sit one-third below normal and farmers idle thousands of acres. At the same time, California Governor Jerry Brown has called for a voluntary 20 percent cut in water use and many areas have declared mandatory restrictions.
The hatchery fish that typically migrate through the Sacramento River Delta to the Pacific are key to the state's $1.5 billion commercial and recreational fishing industry, according to the Nature Conservancy. Fish released now will be part of the population that can be harvested in a few years.
The lack of rainfall means that the Sacramento River will prove too shallow and too warm for the tiny fish to survive the 200 to 300 miles of river and tributaries they must navigate to reach the Pacific.
Convoys of four to seven trucks daily will make the trip from the federal hatchery for 22 days during the next two and a half months. In all, 12 million juvenile fish will be transported, along with 18 million raised in four state-owned hatcheries in June. When released from the pens, the tiny fish will migrate to the ocean and mature. They return to the rivers as an adult to spawn. While the state usually trucks some of its hatchery fish to the ocean, this year's haul will be about three times the usual.
P3 Alliance Gets the Green Light From FMC
The proposed vessel sharing agreement between the world's three largest container lines has received a green light by the U.S. Federal Maritime Commission (FMC).
Nonetheless, the P3 alliance between Maersk Line, MSC and CMA CGM is a controversial alignment to many in the shipping industry and is spurring concern over the potential elimination of effective competition and the impact on price and service levels. Not surprisingly, it was one of the most debated issues during the JOC's annual TransPacific Maritime (TPM) conference last month in Long Beach, California.
While the P3 alliance has now cleared the U.S. portion of its regulatory journey, the approval comes with caveats to address the concerns of shippers, which the FMC states are "an unreasonable increase in transportation costs" or "an unreasonable reduction in transportation service."
Maersk spokesman Michael Storgaard told The Loadstar that, "North America and the U.S. in particular is a key shipping market. Therefore, the decision by the FMC is a very important step towards overall approval of P3, which is still subject to regulatory review in jurisdictions in Europe and Asia."
The P3 members are now awaiting a response from the Chinese Ministry of Commerce on the proposal, which is expected by May 10. Once final approval is received, the P3 could launch during the second half of the year.
FMCSA Proposes New E-Log Mandate On All Trucks
The Federal Motor Carrier Safety Administration (FMCSA) issued a revised proposal in March to require electronic logging devices (ELDs) to be installed in all interstate commercial trucks and buses. The requirement would help enforce the hours-of-service rules, reduce paperwork burdens and ensure that drivers are not harassed, explained the FMCSA.
Transportation Secretary Anthony Foxx said the proposal would improve safety while helping businesses by cutting unnecessary paperwork. In addition, "By leveraging innovative technology with electronic logging devices, we have the opportunity to save lives and boost efficiency for both motor carriers and safety inspectors," he said.
The proposal addresses new technical specifications for ELDs; mandates ELDs for drivers currently using record of duty status; clarifies hours-of-service supporting document requirements; and outlines procedural and technical provisions aimed at ensuring that ELDs are not used to harass vehicle operators.
Baker Cold Storage, Lineage Logistics Break Ground On Huge Facility
(run with image "AR-140319361.jpeg" … a "rendering" of the new facility)
Construction on a new $75 million cold storage facility located near the Los Angeles-Long Beach port complex is underway following a groundbreaking in March. Once completed, the huge facility will rank as the largest near-port facility of its kind in Southern California.
Sited on 12.6 acres, the 250,000 square foot facility is a joint venture between Baker Cold Storage and Lineage Logistics and will feature a freezer, cooler and refrigerated cross-dock for truck, container and rail service.
Controlled Environments Construction (CEC) will act as the contract developer as well as the designer/builder for the project.
Although ammonia remains the most popular chemical for refrigeration, the new facility will use an ultra-low ammonia system developed by Los Angeles-based NXTCold that eliminates greenhouse gases form the cooling process.
The new facility will include storage for 54 million pounds of food stuffs and a cross-dock capable of transloading 2 million pounds of product per day. The flexible design of the building will allow for storage and distribution of food products, both fresh and frozen, from temperature-segregated areas within the building. Six quick freeze cells (blast cells) adjacent to the cross-dock can process approximately 1 million pounds of protein/fruit/vegetable products per day.
Officials expect the project to be completed in the spring of 2015.