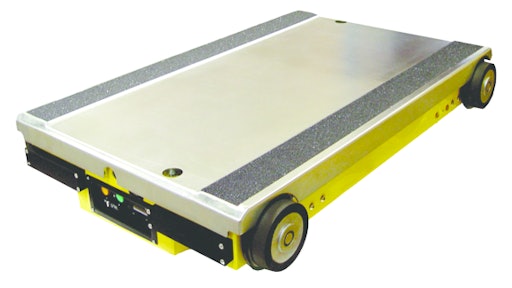 FMCSA Approves Smartphones, Other Devices as Transponders
The Federal Motor Carrier Safety Administration (FMCSA) recently announced that a whole host of new tech devices, including smartphones, tablets, fleet management GPS systems and onboard telematics devices, are now approved for use as transponders in weigh scale and inspection site bypass systems.
Now that the FMCSA has cleared these devices it opens the path for states to set up their own bypass networks to screen trucks with similar devices. Specifically, the state screening device would signal the mobile transponder via GPS signal and exchange credentials via Web connection over cellular data networks, then issue the traditional red or green light response.
The FMCSA is hoping this new technology will inspire more states to participate in the bypass program, especially since states could add additional screening sites with no infrastructure-related costs. Costs for carriers to participate would also be minimal because the program allows them to use the devices they already have as transponders, and carriers will also be able to shave more costs and leave a smaller carbon footprint due to less congestion, idling and emissions at the inspection sites.
The bypass program also improves carrier safety as FMCSA inspectors and other law enforcement personnel would be better equipped to screen 'high risk' carriers by allowing more trucks to be checked without stopping.
Bimbo Opens Ecological Depot Featuring Clean Energy Fleet
Once again Mexican bakery giant Grupo Bimbo is making another big investment in sustainability, announcing in late July new plans to build a 20 million pesos ($1.6 million) distribution center in Mexico City called the "Ecologic Depot." Using wind-derived electricity from the wind farm project Bimbo launched a year ago, the new distribution depot will feature six dozen electrically powered vehicles using engine technology developed by technicians from the bakery company.
"Less than a year ago we inaugurated the Piedra Larga Wind Farm, and today we are using that renewable energy source to power the operation of emission-free vehicles, closing the operations sustainable cycle and collaborating with the mobility in this very important area of our city," said Daniel Servitje, chairman and chief executive officer at Grupo Bimbo, at the announcement.
On top of the emission-free vehicles, the Depot will also feature rain collection systems, complete water recycling for vehicle washing, a wind turbine, green walls, solar cells and efficient lighting mechanisms.
Cold Storage Project at Port Manatee Draws Interest
When the Port Manatee Authority announced their intentions to build a new state-of-the-art cold storage warehouse on Port grounds (located on Florida's Tampa Bay) through a public-private partnership, they were hoping it would draw interest from some serious suitors in the private sector.
When both Nordic Cold Storage and Logistec Corp. responded the Port got what they were looking for, according to its executive director Carlos Buqueras, who confirmed the two companies are "interested in exploring opportunities."
The Port recently accepted a $5.4 million grant from the Florida Department of Transportation and has earmarked it as matching funds for the warehouse construction.
Nordic, the second-largest cold storage operator in the Southwest and eighth-largest in North America, recently opened a $30 million cold storage warehouse near the Port of Savannah. Logistec, a Montreal-based company, already has a presence in the Port where they store perishable products.
New Cargo Record Set at Port of Heuneme
The Port of Heuneme in Central California continues to ride a wave of growth in the global import/export industry, setting a new cargo record for the 76-year-old Port. The Port reported a total tonnage of 1,438,596 metric tons in fiscal year 2012-13, an increase of 9.2 percent over the previous fiscal year's tonnage and a 2.8 percent increase over the previous record of 1,399,670 set back in 2005-06.
Growth in freight activity at the Port of Heuneme continues to come in the form of niche markets, including fresh produce and domestic commodities like fish and petroleum products. The Port's banana imports are up 5.7 percent from last year, and fresh fruits and vegetables handled by the Port have doubled to over 12,000 metric tons. Shallow drift cargo (fish, lube oil, vessel fuel) increased 6.6 percent over last year's volumes.
The Port's record year has also been fueled by the fact that it is the key supply point in the western U.S. for Yara North America, Inc., makers of Air1 Diesel Exhaust Fluid (DEF), a selective catalytic reduction technology that helps diesel engines meet the more stringent emission standards, like those in California. Yara is the world's largest producer and supplier of this product.
Hours of Service Rule Waived 90 Days for Livestock, Poultry Drivers
While most of the trucking industry waits on the U.S. Senate and House of Representatives to take action, or inaction more likely, on a proposed amendment to the new U.S. Department of Transportation's hours of service rule, at least the nation's hog, cattle and poultry farmers are celebrating a temporary victory. The Federal Motor Carrier Safety Administration (FMCSA) announced in mid-July that they were granting a 90-day waiver of the new hours of service rule for drivers transporting livestock and poultry.
FMCSA's latest revised hours of service rule came into effect July 1 and requires truck drivers to take a 30-minute break if more than eight hours have passed since beginning service, which for livestock and poultry drivers includes time loading and unloading animals. The National Pork Producers Council (NPPC), along with 13 other livestock, poultry and food organizations petitioned the FMCSA immediately stating that complying with the 30-minute break rule would "place the health and welfare of the livestock at risk" and that would actually decrease safety because it would force livestock drivers to "choose between the humane handling of animals or complying with a FMCSA regulation requiring a 30-minute rest break."
"America's livestock and poultry farmers are pleased that the FMCSA recognized that its rule would not be practicable for drivers who transport hogs, cattle and poultry," NPPC president Randy Spronk said following the announcement. "By granting the 90-day waiver, the FMCSA will ensure that during hot summer months livestock won't be sitting in the sun for extended periods, with drivers unable to care for them because they're required to take a 30-minute break."
Port of Long Beach to Fund Pollution-curbing Technology
The Long Beach Board of Harbor Commissioners unanimously agreed to fund a $2 million pollution-curbing demonstration described as a "wharf-based 'sock on a stack,'" or Advanced Maritime Emissions Control System. The demonstration will be conducted in two phases, and the Port hopes to show that an Emissions Capture System can link to a ship's exhaust stack from a barge-based unit safely and successfully.
The technology is touted to reduce port pollution in half by capturing all of a ship's emissions, but according to Port Commissioner Rich Dines the knowledge gained from the demonstration is the main reason to fund the project.
"This technology will not only support the Port of Long Beach in reducing emissions, but for ports all around the world," said Dines.
Funding the demonstration is just another one of the Port's green initiatives enacted to limit pollution, which includes: reduced docking rates for newer, 'greener' ships; a Clean Trucks program that outlaws older, more polluting trucks from terminals; and a Green Flag program that rewards operators for slowing vessel speeds.