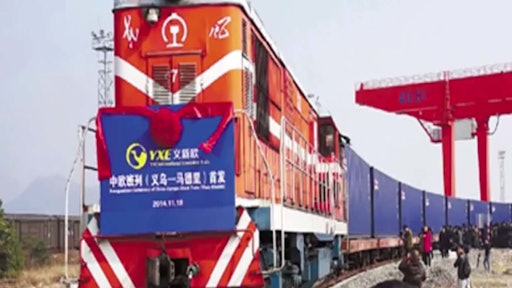 China Cargo Train Travels To Spain; World's Longest Railway Line  
The first train to complete a journey on the world's longest railway line, connecting Spain and China, has returned home. The 16,156-mile, round trip on the new 82-container Yixin'ou cargo line through China, Kazakhstan, Belarus, Poland, Germany, France and Spain took four months. 
The Pig Idea Raises Promotes Feeding Food Waste To U.K. Pigs
The Pig Idea marks a new campaign, started by food waste expert Tristram Stuart and the Feeding the 5,000 team in partnership with chef Thomasina Miers to encourage the use of food waste to feed pigs. In addition to diverting legally permissible food waste, ultimately we aim to overturn the European Union ban on the feeding of catering waste, or swill, to pigs.
Congressmen Promote Cargo Airships
Congressmen Brad Sherman, D-Calif.. and Tom Rooney, R-Fla., announced the creation of the Cargo Airship Caucus in the U.S. House of Representatives to encourage the development of these potentially revolutionary aircraft for military and civilian use. The news was announced by Aeroscraft Corp., a manufacturer of airships.
Feds Lift Restrictions On Commercial Drones
The Federal Aviation Administration unveiled proposed rules for the commercial use of drones, lifting some restrictions but still barring activities like delivering packages and inspecting pipelines. The rules also require those operating drones to maintain a line of sight but could work with a secondary spotter for longer flights.