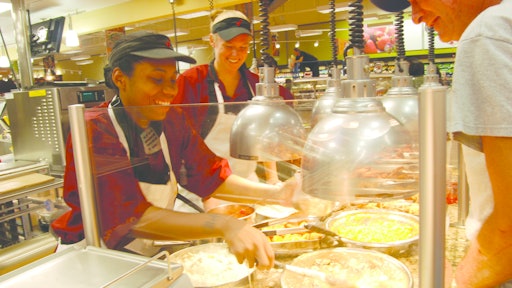 Cincinnati-based Smith's Food & Drug Stores, a division of the Kroger, has completed the installation of photovoltaic energy panels at two Albuquerque, NM stores. The solar energy output from these two store systems is 320,000 kWh, eliminating the need for that amount of energy from fossil fuel sources. It is estimated this energy savings would heat and cool 30 homes in New Mexico for one year.
Roadrunner Transportation Systems Inc., Cudahy, WI, has agreed to buy a warehousing and distribution company for $97.5 million.The acquisition of Prime Logistics Corp., Plainfield, IN, would be the fourth this year for Cudahy-based Roadrunner, and the largest to date. Prime, which does business as Prime Distribution Services, posted revenue of $67.5 million last year. Roadrunner expects the acquisition to bolster earnings immediately, and by 16 cents to 18 cents a share in 2012.
The Grocery Manufacturers Association's (GMA) Hall of Achievement Award was presented last month to two former GMA Board of Directors Chairmen—Douglas R. Conant, former Campbell Soup Company president and CEO and Richard G. Wolford, former chairman, president and CEO of Del Monte Foods—before more than 800 industry leaders at the annual GMA Executive Conference. The Hall of Achievement Award represents the highest honor given by the more than 100 year-old association.
Baton Rouge, LA-based Louisiana Food Co. has signed a letter of intent to acquire a small, independent South Louisiana-based specialty food manufacturer with distribution in approximately 100 grocery stores. Louisiana Food Co. targeted this company for acquisition, based on its strong South Louisiana-inspired family of products that includes pepper jellies, salsas and dips. It is expected that a definitive agreement will be signed following completion of each party's due diligence.
Belgium's Delhaize America and Food Lion of Salisbury, NC, plan to expand the company's distribution center in Dunn, NC, adding approximately 54,000 square feet to increase storage space for refrigerated and frozen foods. The expanded refrigerated and frozen section at the facility will provide additional storage for more than 4,000 dairy, meat and frozen food products.
TMSi Logistics of Portsmouth, NH recently announced the acquisition of Reno, Nevada-based Griffin Global Logistics, a third-party global supply chain company that offers international and domestic transportation, customs brokerage and compliance, supply chain management, multi-client warehousing and distribution, and information technology services. The acquisition will enable TMSi Logistics to increase exposure and market share along the U.S. West Coast region and will provide more opportunities to serve the supply chain needs of Fortune 500 companies.