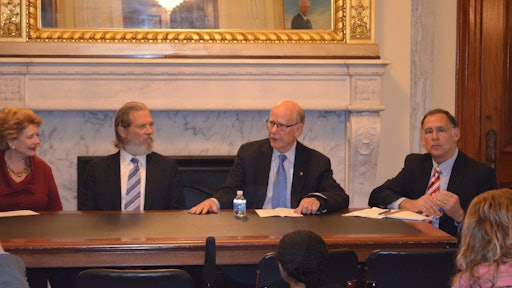 Senate Blocks Bill To Prevent State GMO Labeling
The U.S. Senate blocked a bill that would prevent states from requiring labeling of genetically modified food Wednesday, according to reports. The Biotechnology Labeling Solutions Act (S2609), authored by Sen. Pat Roberts, R-Kan., which would create a national voluntary labeling standard for genetically engineered foods, did not pass. Roberts had hoped to pass the bill before Vermont's mandatory labeling law goes into effect July 1. Despite getting support from Democrats such as Agriculture Committee members Joe Donnelly of Indiana and Heidi Heitcamp of North Dakota, he didn't get the 60 votes he needed. California Sens. Barbara Boxer and Dianne Feinstein voted against the bill.
GMO Labels Coming: ConAGra, General Mills, Campbell, Kellogg, Mars
ConAgra Foods is the latest food company to commit to GMO labeling, following General Mills, Campbell Soup Co., Kellogg and Mars Inc. ConAgra Foods announced it will begin adding labels to products nationwide by July 2016 to meet Vermont's GMO labeling requirements. "We stand behind the health and safety of all of our products, including those with genetically modified ingredients, and believe consumers should be informed as to what's in their food," CongAgra Foods said in a statement. 
FDA Issues Final Guidance On Acrylamide Levels In Food
The U.S. Food and Drug Administration (FDA) has issued final guidance to the food industry to help growers, manufacturers and food service operators take steps to reduce levels of acrylamide in certain foods. Acrylamide is a chemical that may form in certain foods during high-temperature cooking, such as frying, roasting and baking. The National Toxicology Program (an interagency program that evaluates possible health risks associated with exposure to certain chemicals) characterizes the substance as "reasonably anticipated to be a human carcinogen." And efforts to reduce acrylamide levels are already underway in many sectors of the food industry.
Arizona Plan To End Licensing Alarms Produce Industry
Arizona lawmakers are considering a bill that seeks to do away with state licensing for a wide variety of professions, trades and positions — including packers of fresh produce and other foods, according to Food Safety News. With the state being No. 2 in the nation for production of lettuce and leafy greens, the deregulation legislation could compromise food safety for millions, according to some in the fresh produce industry.
"I'll get right down to it. The concern is food safety," said Shelly Tunis of the Yuma Fresh Vegetable Association when she testified before during Arizona's House Commerce Committee. Also opposing the bill is the Arizona Citrus, Fruit and Vegetable Advisory Council, according to the Arizona Republic newspaper. The council is urging Republican Gov. Doug Ducey to retain licensing for produce packers.
USDA Seeks To Streamline Meat And Poultry Rules
The U.S. Department of Agriculture's Food Safety and Inspection Service (FSIS) has proposed a rule that would consolidate and streamline existing regulations for meat and poultry products. The rule would eliminate redundant trichinae control requirements for pork and pork products and consolidate regulations for thermally processed, commercially sterile meat and poultry products. FSIS is seeking comment on this rule. This rule is a supplement to 2001 FSIS proposed rule that proposed to establish food safety performance standards for all ready-to-eat (RTE) and all partially heat-treated meat and poultry products.
FDA Unveils Funding For States For FSMA And Produce Rule
The U.S. Food & Drug Administration (FDA) has laid the groundwork for the largest allocation of funds yet – $19 million – to help state agencies support implementation of the FDA Food Safety Modernization Act (FSMA). The funds will support implementation of the Produce Safety rule, which became final in November 2015 and establishes enforceable safety standards for the production and harvesting of produce on farms. Applicants are encouraged to utilize these funds for planning, infrastructure building, training and education, and other related activities. 
U.S. Opposition Grows Against China's Bid For Pesticide/Seed Giant Syngenta AG
U.S. opposition to the largest acquisition by a Chinese company is growing, with a top farm-state senator saying the $43 billion takeover of seed giant Syngenta AG could pose risks to the security of America's food supply, according to The Wall Street Journal. Charles Grassley, R., Iowa, launched a public broadside against China National Chemical Corp.'s planned deal, saying that the government must ensure that "we're not permitting the sale of too much of our food industry, especially when government-controlled entities like ChemChina are the buyers."
He said a bipartisan group of senators would seek a formal role for the U.S. Department of Agriculture as the Treasury-led Committee on Foreign Investment in the U.S., or CFIUS, carries out a national security review of the proposed ChemChina-Syngenta deal. Lawmakers want food security and safety implications analyzed, Grassley said.
Dematic Acquires NDC Automation In Australia And New Zealand
Dematic, a global supplier of integrated automated technology, software and services to optimize the supply chain, acquired NDC Automation, a provider of automated guided vehicles (AGVs) and software in Australia and New Zealand. NDC Automation will operate under the trade name NDC Automation for a transition period locally, and globally as Dematic, and will continue to deliver the highest quality AGV solutions for Dematic customers.
Ulf Henriksson, Dematic president and CEO stated, "We are pleased to announce the acquisition of NDC Automation, which enhances our ability to design, deliver and deploy global AGV solutions that move, store and/or retrieve goods."  
C&S Wholesale Grocers Inc. To Acquire Edsung Foodservice Co. In Hawaii
C&S Wholesale Grocers, Inc., based in Keene, N.H.'s wholly-owned subsidiary Hawaiian Housewares Ltd. has signed an asset purchase agreement to acquire the operations of Edsung Foodservice Co., located in Honolulu, Hawaii. The sale is expected to close in late April 2016, at which point the Edsung business will be consolidated into the Hansen Distribution Group, a division of C&S, providing operational efficiencies, increased purchasing power and product breadth, and opportunities for continued growth.