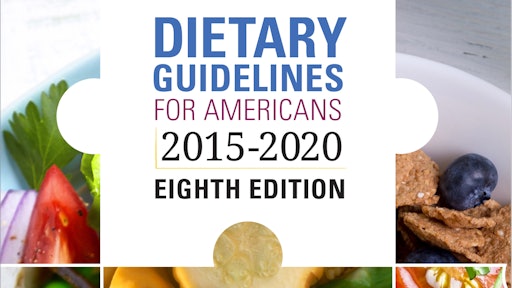 New Dietary Guidelines Encourage Healthy Eating Patterns
The U.S. departments of Health and Human Services and Agriculture released updated nutritional guidelines that encourage Americans to adopt a series of science-based recommendations to improve how they eat to reduce obesity and prevent chronic diseases like Type 2 diabetes, hypertension, and heart disease. The 2015-2020 Dietary Guidelines for Americans is the nation's resource for evidence-based nutrition recommendations and serves to provide the general public, as well as policy makers and health professionals with the information they need to help the public make informed choices about their diets at home, school, work and in their communities.
Campbell Soup Co. Reverses Stance: Supports Mandatory GMO Labels
Campbell Soup Co. announced its support for federal legislation to establish a single mandatory labeling standard for foods derived from genetically modified organisms (GMOs), reversing a previous position. Campbell is optimistic a federal solution can be established in a reasonable amount of time if all the interested stakeholders cooperate. However, if that is not the case, Campbell is prepared to label all of its U.S. products for the presence of ingredients that were derived from GMOs, not just those required by pending legislation in Vermont. The company would seek guidance from the FDA and approval by USDA.
Shrimp Peeled By Slaves In Thailand Finds Its Way To U.S. Supply Chains
Pervasive human trafficking has helped turn Thailand into one of the world's biggest shrimp providers. Despite repeated promises by businesses and government to clean up the country's $7 billion seafood export industry, an Associated Press investigation has found shrimp peeled by modern-day slaves is reaching the U.S., Europe and Asia. The problem is fueled by corruption and complicity among police and authorities. Arrests and prosecutions are rare. Raids can end up sending migrants without proper paperwork to jail, while owners go unpunished.
Walmart To Close 269 Stores, Including Walmart Express
Wal-Mart Stores, Inc. plans to close 269 stores in the U.S. and globally. As part of today's action, the company will close 154 locations in the U.S., including the company's 102 smallest format stores, Walmart Express, which had been in pilot since 2011. Walmart instead will focus on strengthening Supercenters, optimizing Neighborhood Markets, growing the e-commerce business and expanding pickup services for customers. Also covered in the closures are 23 Neighborhood Markets, 12 Supercenters, seven stores in Puerto Rico, six discount centers, and four Sam's Clubs.
 Meat Producers Laud Repeal Of Country Of Origin Labeling Rule
The North American Meat Institute has applauded the federal government for repealing the country of origin label requirements for muscle cuts of beef and pork, and ground beef and pork products. The U.S. Congress approved a spending bill that includes the repeal of federal laws mandating meatpackers identify where animals are raised and slaughtered.