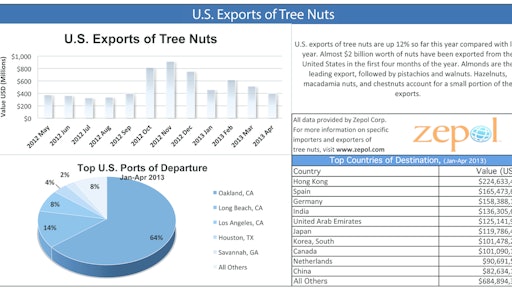 Farm Bill Fails Again
Despite high expectations, the House version of the five-year farm failed to pass in late June. Even with House Speaker John Boehner's outspoken support, the bill went down in defeat by a vote of 234 to 195. "We really want to see a farm bill done this year and have the long-term policy in place, but it's not easy to see how (Speaker John Boehner, R-Ohio) is going to get there," remarked Ferd Hoefner, policy director at the National Sustainable Agriculture Coali­tion, which represents small- and medium-sized family farms. "The most likely of the options is...we are going to do an extension."
The House bill was differ­ent from farm bill crafted in the Senate. Aside from some minor agricultural program variances, the major sticking point came down to the Supplemental Nutrition Assis­tance Program (SNAP), commonly known as food stamps. The Senate proposed cutting $4 billion in their bill, while the House proposed $20.5 billion in cuts.
Senator Harry Reid is urging the House to re-examine the farm bill before it expires on September 30, saying, "Doing nothing means no reform, no deficit reduction and no certainty for America's 16 mil­lion farm-industry workers." It's expected that revised legislation will be introduced in July prior to the expiration of the farm bill.
New Leadership at USTR, DOT and Commerce Department
Last month was busy for three federal agencies who oversee trade and transportation policy.
On June 19, Michael Froman was confirmed as the new U.S. Trade Representative (USTR). Negotiations over two monumental free trade pacts will now be in his lap, starting with the Trans-Pacific Partnership, which includes the U.S., Australia, Canada, Malaysia, Mexico, Vietnam, Chile, New Zea­land, Brunei, Singapore, Peru and Japan. Meanwhile, talks with the EU on the Transatlantic Trade and Investment Partnership have just gotten underway.
Penny Pritzker, whose father co-founded the Hyatt Hotels Corp., is the new Secretary of Commerce. She takes over from John Bryson, who resigned last summer due to health reasons.
"She is a force of nature," remarked Commerce Committee Chairman Jay Rockefeller, D-W. Va., who said the Commerce post "takes a tough person and we haven't had a tough person for a while."
Finally, the Senate voted unanimously to approve President Obama's nomination for Transpor­tation Secretary, Anthony Foxx, on June 27. He replaces Ray LaHood.
USDA Approves Voluntary Non-GMO Labeling Pro­gram
The U.S. Department of Agri­culture (USDA) has approved a voluntary labeling program that will approve and certify meat and liquid egg products have not been produced with genetically modified ingredients. The Non-GMO Proj­ect's verification seal will be used, marking the first time the USDA has approved a non-GMO label from a third party.
According to Megan Westgate, executive director of the Non-GMO Project, "There are no GMO animals on the market right now, but our standard requires testing of the animal feed," she explained, which verifies that the animal did not eat feed containing genetically modified ingredients such as corn, soy and alfalfa.
Federal Judge Cracks Down on FDA's Foot-drag­ging
Judge Phyllis Hamilton of the U.S. District Court of Northern California has cracked down on the FDA's foot-dragging with respect to rolling out the complete regula­tions of the Food Safety Modern­ization Act (FSMA). Specifically, the judge called the FDA's "target timeframes" of 2015 through 2016 "inadequate," and told the agency it has until June 30, 2015 to pub­lish all of the FSMA's regulations.
So far, three of seven key FSMA regulations have been released, while three others have been submitted to the White House Office of Man­agement and Budget (OMB) for review. The last one regarding the safe transport of food has yet to be submitted to the OMB.
Revised COOL Program Gets Pushback from Meat Industry
In May, the U.S. Department of Agriculture (USDA) issued a final rule to modify the labeling provi­sions for muscle cut commodities under the Country of Origin Labeling (COOL) program. Spe­cifically, the final rule modifies the labeling provisions for muscle cut covered commodities to require the origin destinations to include infor­mation about where each of the production steps (i.e., born, raised, slaughtered) occurred and removed the allowance for commingling of muscle cuts.
The COOL program requires retailers to provide their customers with information about the origin of various food products, including fruits, vegetables, fish and shellfish, and meats.
However, the meat industry in the U.S. as well as Canada and Mexico are pushing back against the latest revision, which became effective on May 24, 2013.
Mark Dopp, general counsel for the American Meat Institute, said meatpackers including Tyson, Car­gill and Smithfield Foods will face regulatory uncertainty under the final rule, which "is more costly, complex and burdensome that the earlier version, when WTO and our trading partners have sent strong signals that this is no 'fix,' shows a reckless disregard for trade relations and for companies."
Meanwhile, the government in Ottawa will do "everything within our power "to make sure the U.S. is aware that Canadian and American industry groups oppose the labeling provision," warned Canada's Agri­culture Minister Gerry Ritz.
In June, Canada said it would request the WTO to approve retaliatory measures against the U.S., including hiking tariffs on U.S. imports of meat, cherries, rice, potatoes and other foods.
Mexico, too, sees it is also con­sidering retaliation against the U.S.
In its defense, the U.S. Trade Representative's office stated, "As we have said from the outset, USDA's new final rule brings the United States into [WTO] compli­ance, and therefore, no retaliation should be authorized.
The Canadian government estimates that the final COOL rule will cost meatpackers as much as $192 million to implement.
Sahara Forest Project Blooms in Qatar's Desert
An idea to 'green' the desert by using environmental technologies together with biomimicy resulted in the Sahara Forest Project in Qatar, an experimental farm facility that has just harvested its second crop of cucumbers.
Currently in Qatar, 99 percent of the water used for farming, drinking and even swimming comes from the sea, which must be desalinized. It works, but it's very expensive, say the country's offi­cials, who realize that the money generated from oil and gas cannot support dieselization forever.
"This pilot project could show how we can grow vegetables with less water or brackish water. I think this will not be important only to Qatar, but to the whole region and elsewhere where they have the same climate as Qatar. So, I have a lot of hope," said Sheikh Hamad bin Jassim bin Jaber Al Thani, the country's prime minister.
USDA, EPA Launch "Food Waste Challenge"
In July, the U.S. Department of Agriculture (USDA) and the Environmental Protection Agency (EPA) launched the U.S. Food Waste Challenge, which calls on those throughout the food supply chain, "including producer groups, processors, manufactures, retailers, communities and other govern­ment agencies—to join the effort to reduce, recover, and recycle food waste," according to a press release.
The program aims to reduce the amount of food ending up in landfills by investigating the origins of waste and then working to secure safe ways to recycle or donate food that would otherwise be thrown away.
According to the USDA, "Food waste in the United States is esti­mated at roughly between 30 to 40 percent of the food supply. In 2010, an estimated 133 billion pounds of food from U.S. retail food stores, restaurants, and homes never made it into people's stomachs."
Food is now the leading waste entering the nation's landfills, added Bob Perciasepe, EPA Acting Administrator. "Americans throw away up to 40 percent of their food. Addressing this issue not only helps with combating hunger and saving money, but also with combating climate change: food in landfills decomposes to create potent greenhouse gases."
Furthermore, the "USDA is initiating a wide range of activities, including activities to reduce waste in the school meals program, edu­cate consumers about food waste and food storage, and develop new technologies to reduce food waste."
The agency is also working with industry "to increase donations from imported product that does not meet quality standards" and is streamlining procedures for these types of food donations.
Horsemeat Scandal Prompts Waitrose to Alter Supply Chain
The scandal over horsemeat turning up in Europe's food supply chain has prompted UK grocery retailer Waitrose to make changes to its supply chain.
In fact, only one supplier, Dovecote Park, will now handle all fresh and frozen meat for the grocer, according to a report in the Yorkshire Post, giving Waitrose "one of the shortest supply chains in the UK, with cattle going in one end of the facility and a broad range of frozen products coming out of the other."
Waitrose says it's the only retail­er currently able to source all of its beef from one supplier.
ESI Completes Cold Storage for D&G Ahead of Schedule
Wisconsin-based engineering and construction firm ESI Group USA completed a cold storage project for D&G Transportation ahead of schedule and within budget, paving the way for owner occupancy of the Germantown, WI facility in December.
The project consisted of warehouse freezer, cooler, and dry storage areas with a dry and perishable dock to allow for storing, shipping and receiving of food products. A one-story general office area and mezzanine above was included to accommodate future offices.