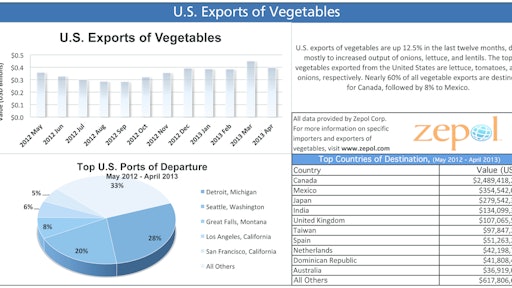 Imagine H2O Addressing Water Challenges in Food Supply Chain
Agriculture is an extremely water-intensive industry, accounting for anywhere from 70 percent to 92 percent of all fresh water usage on the planet each year, which is why organizations like non-profit Imagine H2O are busy finding ways to overcome these and other challenges related to global water usage. In May, Imagine H2O launched its 5th annual Food and Agriculture Program to identify and support promising water innovations."This program will advance innovations in how we use, supply and treat water to improve our food system," explained the non-profit's COO, Scott Bryan. "Catalyzing entrepreneurial water innovations is an essential step toward securing future food supply in a water constrained world."
The program will begin accepting entries starting in October with the winners announced in March 2014. From there, the winning companies will be introduced to leading food businesses in California's Central Valley, a major agricultural region. More information is available online at www.imagineh2o.org.
MobBucket: A Clever Smartphone App to Reduce Food Waste
The creator of MobBucket, Terence Fitzpatrick, has developed a revolutionary smartphone app to reduce perishable food waste. MobBucket is a way for retailers to promote their perishable products in real time to in-store shoppers, while simultaneously reducing food waste and saving consumers money. Once a consumer enters the market, their smartphone receives a notification and electronic coupons for perishable items, generated from a cloud-based server. This allows on the spot coupon redemption from within the store. The app is not intended as a way for retailers to move less-than-fresh produce, however. Rather, MobBucket helps retailers promote perishable goods overstock at the store level. Grocers have a financial incentive to move perishables quickly and shoppers benefit as well.
Currently, the MobBucket app is still in production and looking to complete financing before it becomes available for general use.
That's a Lot of Bacon…
The $4.7 billion acquisition of global pork giant Smithfield Foods by China's Shuanghui International Holdings Limited, announced in May, will help meet "the growing demand in China for pork by importing high-quality meat products from the United States, while continuing to serve markets in the United States and around the world," said Shuanghui's chairman Wan Long. China is the biggest consumer of pork in the world, and the U.S. is the biggest exporter. Last year, the U.S. exported nearly a quarter of its pork to China, the third-largest buyer of American produced pork, after Japan and Mexico.
While Smithfield Foods' president and CEO C. Larry Pope suggested the deal is a boon for U.S. pork exports, some producers aren't so sure. One Iowa hog farmer told a Bloomberg reporter that he is uncertain whether Shuanghui intends to use Smithfield's expertise in genetics and processing to produce more pork in China or to produce more pork in the U.S. and export to China.
Amazon.com's Grocery Biz Growing
Earlier this month, Amazon.com expanded its AmazonFresh online grocery business to metropolitan Los Angeles, the first expansion outside its Seattle home base, where it has operated for almost six years. Analysts say AmazonFresh probably hasn't made a profit yet, but that could change. "If Amazon can bundle low-margin groceries and other high-margin Amazon items, it could make the economics much more compelling," said Fiona Dias, chief strategy officer for e-commerce site ShopRunner, in a Wall Street Journal article. Meanwhile, it's likely that future expansion of AmazonFresh would include locations such as San Francisco and Dallas-Fort Worth.