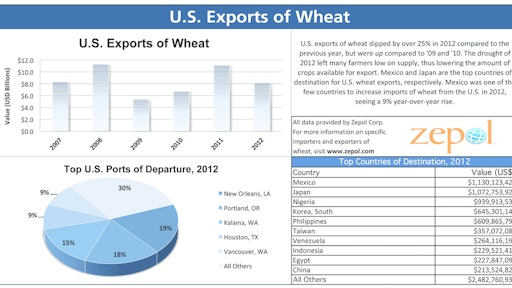 Farm Exports Could be Sticking Point for US-EU FTA
As negotiations over a pro- posed free trade agreement (FTA) between the U.S. and EU prepare to kick-off this summer, lawmakers from major agriculture states in the U.S. and others are already making their interests known.
Sen. Max Baucus, (D-MT), who serves as chairman of the Senate Finance Committee, wrote in the Financial Times that he will not support any pact that doesn't provide an equal playing field for U.S. farm exports.
"As chairman of the commit- tee overseeing U.S. trade, I will support a deal only if it gives America's producers the opportunity to compete in the world's biggest market," he stated.
Although the Transatlantic Trade and Investment Pact would be the biggest trade deal since the WTO was created 20 years ago, issues such as the EU's ban on genetically modified crops and the use of the feed additive ractopamine could be sticking points once negotiations get underway.
Senate Removes Antibiotics Provision From ADUFA
The U.S. Senate decided against adding a provision to the Animal Drug User Fee Act (ADUFA) that would have increased reporting on antibiotic sales and their use in animals raised for human consumption.
Advocates for reform were disappointed because they claim increased reporting allows for greater access to information, transparency, and helps the government monitor patterns of antibiotic resistance in livestock.
Antibiotic overuse in food animals has been an issue intensifying in urgency between legislators, microbiologists and activists. The FDA asked for increased measures in the ADUFA that would more accurately track antibiotic use and prevent the development of drug resistant superbugs spreading from food animals to humans.
In 2011, nearly 30 million pounds of antibiotics were sold to livestock producers—the largest amount ever recorded and comprising about 80 percent of all antibiotic sales for that year.
I Saw It First! And the Proliferation of Land Grabs
Increased globalization and its requisite for open markets often neglect human rights. This topic is examined in a new study by the Minneapolis-based Institute for Agriculture and Trade Policy, which looks at the effect of "land grabs," which are defined as "large-scale purchases or leases of agricultural or forest land on terms that do not serve those already living on that land." Many factors have driven worldwide land grabs. Two of the largest can be attributed to trade law deregulation and eased restrictions on foreign land ownership.
Countries can also be affected by financial breakdowns such? as the food price crisis in 2007- 2008, or by environmental disasters like the drought in 2012 where the U.S. lost 40 percent of planted corn acres.
In addition, governmental structures can also be a concern. Often land grabs occur in countries that are already in a vulnerable political position, where "institutional capacity" is low or the "investors' home country is authoritarian."
New Study Finds Genetically Modified Corn Unsafe
A recent article in the Journal of Food and Chemical Toxicology revisits the safety issue of genetically modified corn. In a recent study, animals fed Monsanto's Roundup Ready corn died a full two years earlier that their counterparts not fed the genetically modified corn and also had increased kidney and liver damage.
Most corn on the U.S. market is genetically modified to be pesticide and insect resistant. Monsanto's variety, produced in Brazil, is also treated with herbicides. A new strain developed by the company—called Roundup Ready sweet corn—was developed specifically as a foodstuff and is already on grocers' shelves.
Calls by the American Medical Association for further safety testing on genetically modified foods have so far gone unheeded. Furthermore, consumers do not have a general labeling standard by which they can determine if a product they are purchasing has been genetically modified or not.
Foster Farms Receives Humane Animal Certification
The American Humane Association (AHC) has awarded California-based Foster Farms third-party humane certification for its treatment of animals. A formal announcement was made during the dedication of Foster Farms' Poultry Education and Research Faculty (PERF) at Fresno State's Jordan College of Agricultural Sciences and Technology.
Under the American Humane Certified designation, all Foster Farms chicken growing facilities in California and the Pacific Northwest will be subject to "independent, third-party audits." The audits consist of 200 points developed by the American Humane Association. Living conditions, diet and animal behavior are some of elements examined by the auditors.
The latest research shows that consumers want to see companies provide a humane environment for livestock, even if that means paying a premium at the grocery store. Ira Brill, Foster Farms' director of corporate communications, says there is an additional cost involved with providing improved conditions for animals and implementing an internal program, but this cost will not be passed on to the consumer.
US to Levy Antidumping Duties on Vietnamese Catfish
The Commerce Department ruled last month that imports of frozen catfish fillets from Vietnam were unfairly priced and hurting domestic producers in Mississippi and elsewhere in the U.S.
An antidumping order and punitive tariffs will now be levied against Vietnam.?Sen. Thad Cochran (R-MS) commented that, "This decision to require fairer duties on imports is a step in the right direction, but the Commerce Department must continue to enforce our trade laws in future decisions. Now it's time for the administration to take responsible actions on an inspection program that will ensure the quality of fish imports, particularly for imports marketed as catfish."
According to a 2011 Government Accountability Office (GAO) report, only about two percent of imported seafood is currently inspected. Even at that minimal level, there were health and safety violations found in 482 shipments of imported cat- fish products between 2002 and August 2010.
New Jersey Lawmakers Getting Tougher on Cargo Theft
It's estimated that as much as $1 billion worth of cargo is stolen each year in New Jersey, and because the state's current laws classify truck theft as a property crime it's rare that thieves end up serving jail time.
That may soon change, though, as the state's Assembly has sent legislation to Gov. Chris Christie that will make truck theft a criminal offense.
"This is a very serious crime that puts lives at risk and deals a devastating blow to the economy, increasing prices of clothing, food, pharmaceuticals and just about any product delivered by truck," said Assemblyman David Rible, R-Monmouth.
Food and beverage commodities are one of the top targets for cargo thieves in the U.S.
Spanish Non-Profit Calls For BPA Ban
Vivosano, a Spanish non-profit group, is urging government officials to ban Bisphenol A (BPA) in any materials that comes in contact with food. The chemical is often used in plastics and resins and as a coating on the inside of tin cans.
The European Commission has already banned BPA in baby bottles and other baby food packaging, but France is the only European country that has banned BPA in all food packaging. French lawmakers approved a ban on BPA in December and it is being phased in from 2013 through 2015.
GM Salmon a Sinker for Major Food Chains
According to a report on GreenBiz.com, a number of?food chains say they won't sell genetically modified (GM) salmon even if the FDA moves to approve it.
Whole Foods, Trader Joe's, Marsh Supermarkets, Aldi and others are among those who have already nixed the idea, while the Los Angeles City Council voted on February 13 to ban GM salmon.
The GM salmon is "manufactured" by Massachusetts-based AquaBounty Technologies.
But Food & Water Watch, a consumer safety group, warned that GM salmon is a "dangerous lab experiment [that] is all hype and full of downsides to consumers, salmon growers and the environment."
For its part, the FDA has stated that genetically engineered fish pose "no significant impact" on the environment and would be as safe to eat as "real" salmon. Meanwhile, the agency is accepting public comments on the issue until April 26.
Sixty countries currently require labeling for genetically modified foods, however the U.S. is not one of them.