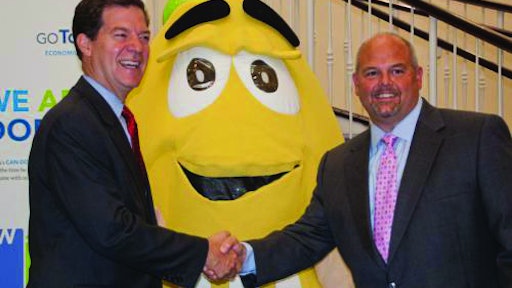 U.S. Foodservice, Rosemont, IL, has acquired Vesuvio Foods Inc., a metro New York distributor of Italian foods for pizzerias, fine Italian restaurants and gourmet shops. The acquisition will allow U.S. Foodservice to provide its broadline customers a selection of Italian specialty foods. Vesuvio Foods distributes about 3,500 products from 400 suppliers in Italy, the U.S. and around the world.
Pate Dawson Co., a Goldsboro, NC-based foodservice distributor, has reduced picking errors by using a voice solution from Lucas Systems. Since implementing the system, inventory accuracy has improved from about one picker error per 1,000 cases to less than one error per 15,000 cases.
Chicago-based International Warehouse Logistics Association announces the first metric-driven, facility-output-based sustainable logistics program for warehouse operations in North America, called the Sustainable Logistics Initiative (SLI). The data collected through SLI will inform industries on the most efficient means to develop sustainable warehouse-logistic practices.
Snyder's-Lance Inc., Charlotte, NC, has completed the largest ground-based solar farm in Pennsylvania. Covering 26 acres and comprised of 15,092 solar panels, the 3.5 MW solar farm is located across from the corporate headquarters and manufacturing plant in Hanover, PA. The solar installation, managed by RMK Solar, started in September of last year and took nine months to complete.
Modesto, CA-based PepsiCo's Frito-Lay facility has become the state's first food manufacturing site to be awarded LEED Gold existing building from the U.S. Green Building Council. The Frito-Lay Modesto facility has reduced its natural gas consumption by 25 percent per pound of product and its electricity use by 24 percent per pound of product since 1999 by installing new technologies, along with water reduction and recycling practices.
Port Jersey Logistics, Monroe, NJ, launched a less-than-truckload (LTL) freight consolidation/pool distribution program to New England through its Continental Logistics division. The company offers scheduled departures from its warehouse in Tyler, NJ, to all points in New England. The service offers more efficiency and less cost for consignees, whose orders can travel north together before being separated and delivered independently.Miami-based Ryder System Inc. supplied five natural gas-fueled delivery vehicles to Dean Foods, Ryder's first customer for natural gas commercial vehicles made available through its agreement with the San Bernardino Associated Governments (SANBAG) in Southern California. The Ryder/SANBAG project includes 202 natural gas vehicles, upgrades to three maintenance facilities for the proper servicing of natural gas vehicles and the construction of two fueling stations.
As part of a national initiative to reduce food insecurity, faculty in Penn State's College of Agricultural Sciences will direct a new $5 million project to study whether greater reliance on regionally produced foods could improve food access and affordability for disadvantaged communities, while also benefiting farmers and others in the food supply chain. The project brings together researchers, educators, entrepreneurs and community leaders from a 12-state region to shed light on how the food system can better serve all Americans.
Columbus Foods, a San Francisco Bay area maker of Italian salami and premium deli meats, opened a $31 million slicing and packaging facility in Hayward, CA. The facility will slice and package the company's line salami products and deli meats. The plant is a 60,000-square-foot renovation of the company's existing 120,000 square-foot distribution center. The expansion includes 70 additional employees and three production lines for slicing and packaging the company's products into ready-to-eat packages. The additional capacity will help Columbus keep pace with growing national demand for its products.
Mars Builds First U.S. Manufacturing Plant In 35 Years
Mars Chocolate North America is building a state-of-the-art manufacturing facility in Topeka, KS. The the site reflects Mars Chocolate North America's commitment to invest in U.S. manufacturing in order to meet the growing demand for its iconic confectionery products, including M&M'S and Snickers. The facility will be the first Mars Chocolate site built in the U.S. in 35 years.
 "We are excited to announce our plan to construct this new manufacturing site in Topeka," says Mike Wittman, vice president of supply at Mars Chocolate. "The site will be a reflection of our commitment to manufacture our products in the markets where we sell them. Mars looks forward to becoming an important part of the Topeka community."
"Mars is grateful for the support and partnership of Governor Brownback, Shawnee County and the City of Topeka," adds Todd Lachman, president of Mars Chocolate. "We are planning to build this plant with a focus on the long term and look forward to many productive years of manufacturing and community partnership in Topeka."
Phase I of the site is planned to be complete in 2013. Mars expects to make a capital investment of over $250 million in the first phase of the multi-phased project. In addition, the company expects to hire approximately 200 full time operations associates to resource the lines installed during the initial phase.  Subsequent phases of development will then expand the capacity of the facility, and more product lines will be added. The facility will pursue a LEED Gold Certified designation upon completion.