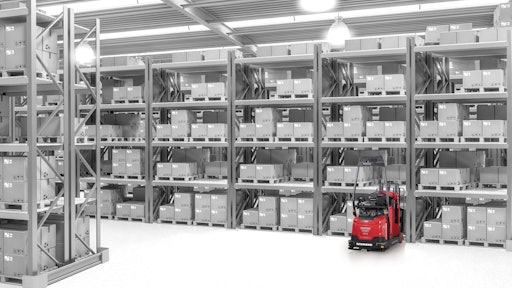 The Raymond Corp.

The Raymond Corp., Greene, N.Y., introduced the iWarehouse system, an enterprise fleet management solution for warehouse and distribution center managers to collect and analyze real-time lift truck data to maximize fleet productivity and reduce costs. 
The iWarehouse system draws real-time, accurate information from the operating systems of Raymond lift trucks. Warehouse managers can access this information via a custom Web portal to generate reports and benchmark lift truck and operator productivity; diagnose potential lift truck issues remotely; reduce the risk of impacts; and optimize lift truck capital and maintenance costs. 
The iWarehouse system also connects to the lift truck vehicle manager with a single connector — the iPort — for improved accuracy and data quality.
Other features include:
• iAlert automatically sends alert code notifications via e-mail to the service technician to identify required maintenance or provide an early indicator of an impending maintenance issue.
• iControl configures specific operator profiles based on skill level to limit lift speed and acceleration, which are set automatically when the operator signs in to use the truck.  
• iImpact notifies warehouse and service managers if there is an impact or other significant event while the truck is in motion.
• iVerify requires operators to review the OSHA-mandated operator daily checklist before the lift truck starts, and notifies the service manager if an item needs service. If critical items fail inspection, the lift truck will not start until service is performed.
• iMetrics tracks lift truck usage data for facility managers to determine whether the best truck was used for a specific application, total hours of operation and number of lift trucks used during a given shift.  
• iTrack generates reports on lift truck fleet data by truck, facility, region and company. iTrack allows online access through a personalized Web portal to track parts and labor time for each truck, and generates custom reports that reveal opportunities to save time, maintenance and costs across the enterprise.