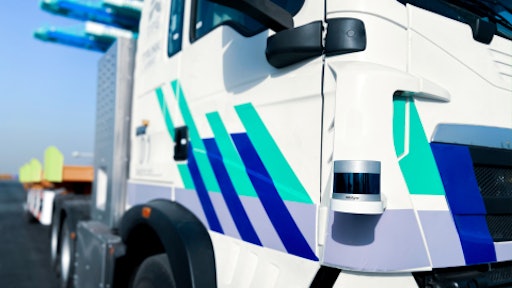 Beijing Trunk Technology Co., Ltd.
As the logistics and supply chain industries move further into automation, many companies look to invest in automation beyond the warehouse. Driverless technology now becomes closer to a commonplace theme in logistics and transportation, as many companies innovate in this area such as Velodyne Lidar and Beijing Trunk Technology Co., also known as Trunk Tech. These two partner together to create products equipped with lidar that bring sophistication to high-speed transportation processes. This software creates high-quality object awareness and detection capabilities of unmanned heavy trucks. 
Per Businesswire: 
Velodyne Lidar and Trunk.Tech will collaborate in developing next-generation autonomous heavy trucks and to accelerate commercialization of driverless trucks in China's logistics market.
Trunk.Tech is the first company in China to independently develop SAE Level 4 driverless trucks, based on its own powerful driverless hardware and software systems. It uses Velodyne's lidar, including Ultra Puck, Puck and Velarray H800 sensors, as core sensor hardware in its autonomous trucks. Trunk.Tech selected Velodyne due to sensor quality, performance and mass production capacity.
In the last few years, Trunk.Tech has deployed Velodyne lidar sensors on dozens of driverless trucks that have been delivered to commercial customers. Currently, these vehicles are operating autonomously at ports in China on a 24/7/365 basis to support operations.