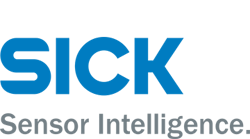 *This article is sponsored by SICK Inc.*
Machine vision gives production processes the gift of sight. Camera-based inspection and Optical Character Recognition (OCR) systems have been used for years to complement or replace manual inspection processes. Vision inspection systems have historically been very expensive to integrate and overly complicated to reconfigure, but exciting new advancements have solved both of these drawbacks, creating a compelling and quick ROI for would-be adopters in the food and beverage manufacturing space.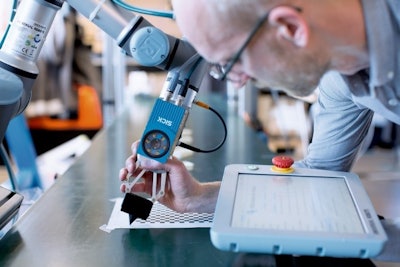 For those new to machine vision, there are a wide range of 2D and 3D applications available. From basic tasks such as presence/absence detection, barcode reading and plain text recognition, to more advanced ones that use Artificial Intelligence (AI) for real-time quality inspection in challenging environments. Machine vision is an exciting technology with nearly endless possibilities.
Machine vision can be categorized into one of four main tasks:
Positioning is the task of detecting and locating objects, and reporting the presence or coordinates of the object to a Database, PLC, or Robotic Arm.
Inspection is the task of examining something to assess its condition, quality, or compliance to a standard.
Measurement is the task of determining object dimensions such as length, width, height, area, and volume.
Reading is the ability to decode and read texts, such as 1D code, 2D code, and OCV/OCR.
When should you use 2D vision?

In 2D imaging, the Field of View (FOV) of the camera is captured by exposing the sensor simultaneously with the use of a shutter or line-by-line with a line-scan camera. The image produced by the sensor is either a collection of Black and White intensity values (monochrome) or Red, Green, Blue (RGB) values for every pixel in the image. Resolution, FOV, Lighting, and Scanning Frequency are all vital parts to obtaining clear 2D images. Of these, adequate lighting can be the most difficult variable to control.
2D vision is perfect for applications with high contrast, or when inspection of texture or color is the primary objective. Depending on the type of lighting for the task, 2D vision can be used to do all four tasks and is the dominant technology for machine vision.
When should you use 3D vision?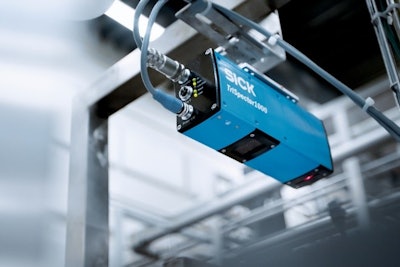 3D imaging is achieved by scanning or using snapshot technologies. Using scanning technology, 3D profiles are created line by line as an object passes through the measurement region. The object must move consistently and measurably through the observation area for the image to turn out correctly.
Snapshot technology captures the 3D images much like a regular camera by simply snapping a picture and creating a 3D point cloud of the FOV. Scanned images provide a much higher level of both precision and accuracy but have a much smaller FOV than that of 3D Snapshot Cameras.
3D vision is ideal for analyzing volume, shape, or 3D position of objects. It can also be used to detect parts and defects with low contrast if there is a detectable height difference. 3D vision is mainly used for measuring, inspection, and positioning.
3D imaging in machine vision can be accomplished in various ways and provides numerous benefits for disparate imaging applications. Knowing when to deploy 3D vision instead of 2D vision, however, is an important factor to consider before making a switch.
Case Study for 2D Machine Vision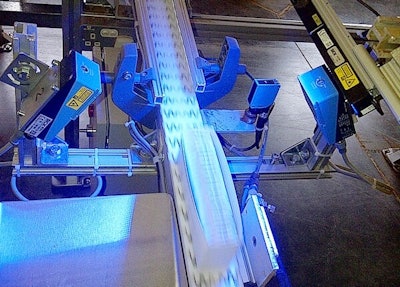 With representation in more than 150 countries, Lipton is the world's leading tea brand. Each year, people across the globe consume more than 100 billion cups of the company's tea. Lipton's second-largest plant is in Dubai, a strategically advantageous location between tea cultivation areas in Asia and tea consumer markets.
Here, Unilever deploys Inspector 2D vision cameras during the packaging process to verify label presence on tea bags, and to ensure the labels are correctly oriented.
Outside of being the primary method to dunk and remove a tea bag, the bag tag also provides vital information on the bag's contents as well as an advertising platform for the Lipton brand. In cases where tea bags are placed in one or more rows in boxes without any other packaging, Unilever attaches great importance to checking that the labels are positioned directly next to their associated bags – and not anywhere else – before the lid is closed.
The inspection process also requires a verification that each tea bag, with thread and label attached, is properly wound and positioned within the box; otherwise, there is the risk of threads becoming tangled and torn away from the bags when the box is sealed with transparent film and pull strip – but if a bag label is in the way, this sealing process can cause line stoppages and damage the primary packaging. Both of which are a no-go to a world leading brand like Lipton.
Equipped with a wide-angle lens for a large FOV and a blue color filter, the 2D Inspector Cameras from SICK accomplishes all the aforementioned tasks and does so without any external computing often required by competitive solutions. The camera is simply connected to the system PLC via digital outputs to disposition product however the operator dictates.
This intelligent camera solution can be reprogrammed simply via SICK's free SOPAS software, but it can also be combined with Deep Learning software from SICK. This add-on software functionality allows an operator to quickly develop a new "golden" or "reference" image leveraging the power of Artificial Intelligence (AI). This functionality is a game changer to bringing advanced intelligence to an already smart camera solution.
Case Study for 3D Machine Vision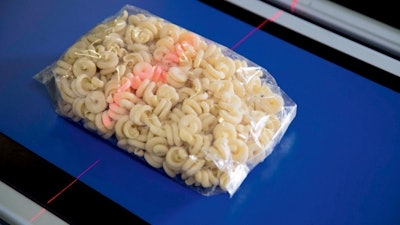 3D machine vision is used as a source for production enhancements in many industries, including consumer goods. Discovering pain points that 3D vision can solve involves careful observation of the manufacturing process and asking the right questions. One key application is in quality inspection improvements.
For example, when the company Huhtamaki, based in Finland, had an issue with rejects on a paper cup lid processing line, a solution was needed to resolve not only the manufacturing issue, but one that could also provide additional value beyond the manufacturing line.
The company specializes in making paper cups and lids for the food service industry, and occasionally some end-users expressed issue with stated product quantities not matching the actual quantities in a box. This short count wasn't intentional but was an issue that needed to be addressed quickly not only as a matter of customer service but to also ensure that production numbers were accurate.
Due to the speed of the production process and the coloring of the product itself this counting issue posed a difficult challenge for the company to correct.
The line that makes the plastic lid for the cups is an extremely high-speed line and highly automated, providing very little opportunity for count and quality inspections to occur prior to final packaging. This speed an automation was causing some customers to occasionally receive sleeves of lids that were wildly short or empty, and manual inspections couldn't keep catch these mistakes when tending to other tasks required of them on the line.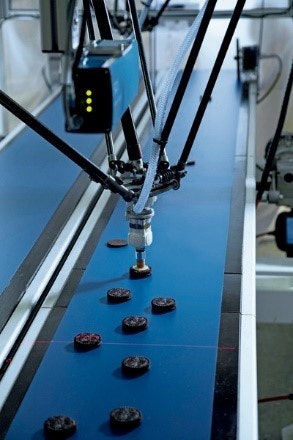 The TriSpector1000 3D vision system provided the customer with many advantages over other 2D camera solutions, but one of its biggest assets for the company it's ability to see low contrast material, black lid on a black conveyor, at high speeds. Additionally, the unit comes factory calibrated and is independent of ambient lighting making it an ideal solution to add-on to a machine.
Due to the TriSpector's ability to measure and detect in multiple dimensions, the company also found additional value in the hardware looking for lid warpage after production. The TriSpector1000 laser scanning operation provided the manufacturer with a 3D surface profile of every lid produced. That feature is hugely powerful and provided a unmatched level of quality control to their production process.
With SICK 2D and 3D vision technology, you can unlock the power of advanced quality control for your Food and Beverage Inspection Application. SICK helps manufacturers increase efficiency and reduce errors in production processes, giving you confidence that your products are being made to the highest quality standards. Investing in the right vision technology can make all the difference in your production process and SICK should be your first choice when it comes to 2D and 3D vision.