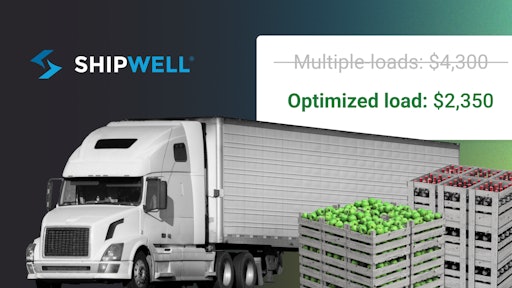 *This content brought to you in partnership with Shipwell*
In the world of cold chain logistics, there is much to consider to ensure minimal product spoilage throughout the transportation process which consists of numerous steps and stages. Demand volatility may cause problems with forecasting, where a company may order too many of a particular product. If there is less demand than the shipper predicted, perishable products can go to waste. This could stem from an error in forecasting or a surge in demand that ends before the products can be delivered.
Additionally, delays in shipping, which the industry continues to experience more and more frequently since the beginning of 2020, will almost certainly result in food waste. The longer the delay, the greater the risk that perishable products will spoil while on the way to their end destination. Additional issues like having too much inventory in transit, routing issues or scheduling conflicts can increase that risk further, making even small delays a serious issue. However, one of the most important factors is the temperature of containers throughout the transportation process. If the temperature is not accurate to the needs of the cold chain product, the shipment will likely be quickly contaminated, making it more important to ensure quick and reliable delivery of food and beverage products.
According to the Food and Agriculture Organization of the United Nations, 14% of the food produced globally is lost between harvest and retail. Food is also lost at the retail level, significantly adding to the amount of waste. Even more problematic, the FAO also found that 30-40% of production can be lost before it even reaches the market from post-harvest storage, processing, or transportation issues. To put this in perspective, it costs American businesses about $218 billion to grow, process, transport and dispose of food that is never eaten.
For food and beverage companies, cold chain product waste is one of the most expensive issues affecting their bottom line.
Help is here
Fortunately, throughout all this risk, there is help. Technology advancements such as load optimization can significantly help reduce product loss in the cold chain transportation process.
One such offering comes from shipping solution innovator Shipwell and their new Load Optimization capabilities. Designed to help reduce manual processes when turning orders into shipments while uncovering optimal consolidation, routing, carrier selection and other factors, it allows shippers to reduce both costs and shipping distance. The product is a successful part of the logistics process for many shippers due to the ease of use, which Shipwell put first in the design process.
"Ease of Use is very important to us as a design principle, and I believe a big reason why the initial release of Load Optimization was so successful," says Tom Dorazio, senior product manager at Shipwell. "Although Load Optimization is computationally rich and based on very advanced operations research, it is surprisingly easy to use. In fact, no prior knowledge of transportation management is required."
The Shipwell Load Optimization tool allows customers to see verifiable proof that loads are correctly consolidated with an immediate payback through significant cost reduction, not just incremental improvements. The technology allows for lower rates paid, fewer trucks used, and reduced mileage driven. The solution can also help reduce carbon emissions while simultaneously honoring customer service dates.
Additionally, Shipwell also addresses challenges at the operational level by reducing the amount of time needed for truck load creation. Typically a tedious task with multiple factors to consider and confirm, Load Optimization allows for optimal load creation at scale with quick turnaround that wouldn't be possible with manual processes, all while honoring constraints of due dates, rates, wait times, fuel surcharges and much more.
These features make Shipwell Load Optimization ideal for the prevention of food loss. The solution creates load plans that reduce miles traveled for the quickest possible route, which is ideal for perishable products. The route planning feature also reduces the need to reschedule missed deliveries, ensuring all delivery appointment windows are met. Missed deliveries often result in a snowball effect in which future stops on the route become affected.
"Decreasing the total time goods are sitting in the trailer helps to ensure product arrives on time, in the right condition, and greatly reduces the chance of spoilage or damage due to extended delivery delays," adds Dorazio.
But why now?
Shipwell's product comes at a crucial time in the supply chain, where disruptions are rampant. Products must reach shelves in the most efficient and cost-effective manner possible. Food manufacturers and grocers struggle daily with the task of keeping shelves stocked while simultaneously avoiding over ordering. However, route planning automation like Shipwell's Load Optimization allows suppliers to react with agility to shifting demand patterns and create dynamic route schedules to drive efficiency, while minimizing both cost and time to market.
"Shipwell's Load Optimization capabilities offer shippers the ability to easily manage complex and dynamic shipping demands, and solve the challenges of today's supply chain requirements," adds Dorazio.
In 2019, the United States saw 35% of the 229 million tons of food available go unsold or uneaten, according to non-profit ReFED, much of which ends up in a landfill. The organization believes that 24% of all food in the country ends up in waste facilities or left in fields to rot. These statistics show just how important technology like the Shipwell Load Optimization is. By tapping these innovations, farmers, processors, shippers, logistics providers and retailers can all significantly reduce this amount, helping sustainability and humanitarian efforts, while also driving greater resiliency and return on investment for the industry.
*This content brought to you in partnership with Shipwell*
For more information about Shipwell Load Optimization click here.