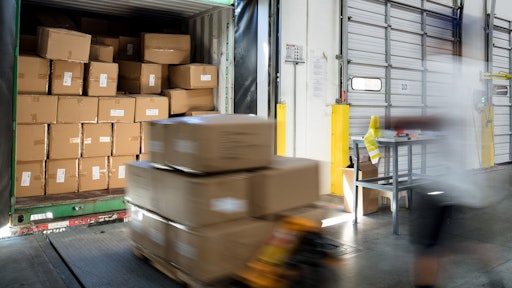 **Content brought to you in partnership with SICK Inc.**
Amid the sharp growth in e-commerce during the past two years — and alongside rising labor costs and a scarcity of qualified workers — companies throughout the supply chain increasingly turn to automation of their logistics processes.
Retailers and their logistics partners, including third-party logistics providers (3PLs), have been investing in a range of solutions to meet the growing e-commerce demand. These investments include dark stores and micro-fulfillment centers (MFCs) that often incorporate significant robotic technology and other tools. MFCs and dark stores — and, in some cases, dedicated fulfillment centers in the back rooms of existing stores — also allow retailers to provide order fulfillment without disrupting their traditional store or warehouse operations.
At the same time that retailers' operations continue to grow more complex, consumer expectations increase around their experience using both brick-and-mortar and e-commerce platforms. Retailers need to ensure that their supply chains have all the tools required to meet heightened consumer demands around product availability and timely fulfillment.
That demand includes retailers' 3PL partners, which face added complexity in supporting multiple retail customers and in-demand seasonal fluctuations, along with various package dimensions. A tight labor market and the never-ending demand for increased efficiency compound their challenges.
"When you are getting products from different customers that have different package characteristics, and different barcoding characteristics … that requires some changes in processes, or the ability to be flexible," explained Bradley Thomas, Market Project Manager-Track and Trace Systems at SICK, Inc.
With rich datasets around the products and packaging they handle and flexible systems that allow them to scale up or down based on demand, 3PLs can better expand their operations as opportunities arise, he explained.
"That's a key point with 3PLs for them to be successful," noted Thomas. "And now that we have fewer people in the workforce, doing this with hands-off types of solutions is imperative for their operation as well."
Like their retail partners, 3PLs look to scan-based technologies and automation to execute key functions throughout their operations, from shipping and receiving to inventory management and quality control.
The 2021 MHI Industry Report from Deloitte found that about half of the companies surveyed (49%) increased their investments in supply chain innovations due to the COVID-19 pandemic. Many companies said they turned to investing in inventory and network optimization; sensors and automation identification; robots and automation; and autonomous vehicles and drones.
These technologies rely on sophisticated, intelligent sensors and data systems that optimize efficiency, enhance safety, and minimize labor for retailers and their logistics partners.
Data Drives Logistics Efficiencies
As retailers and their 3PL partners strive to meet the evolving demands of today's challenging environment, the data they capture and analyze plays a critical role, remarked Joshua Herring, Account Manager of Retail at SICK, Inc. 
Managing inventory among distribution centers, warehouses, MFCs and retail stores requires accurate insights into precise inventory levels as products move through the system, he explained. Logistics companies also need to have precise data around product dimensions, an essential part of optimizing automated picking, packing, and shipping operations, for example.
The surge in e-commerce has exacerbated the demand for data accuracy during the last two years, Herring said. Retailers have added MFCs to help handle fulfillment, adding another touchpoint for inventory management, while stores cope with click-and-collect shoppers and third-party delivery firms impacting store-level inventories.
As a result, retailers increasingly look to RFID tags, cameras, and other technologies that facilitate automation and inventory management. For example, some retailers have begun to require that all products receive tags with RFID chips at the item level, which gives retailers a high level of insight into inventory levels at any given location.
That tagging will help retailers seeking to fulfill online orders from their stores or MFCs, for example, by helping ensure that e-commerce websites accurately reflect product availability.
"That way, when an organization is trying to do online fulfillment orders locally, they have a manifest of what is actually in the stores, instead of the possibility of having a missed item that wasn't picked properly at the DC," Herring observed.
 Retailers and their 3PL partners also increasingly use visual imagery obtained from cameras to increase efficiency. For example, cameras can help identify the cause of a missed read on a product bar code, Herring explained.
The following list provides some key advanced technology-driven strategies that retailers and their 3PL partners are leveraging to drive operational efficiencies and improve the shopping experience for consumers:
 Creating a "data point cloud"
Using sensors of various types, retailers and their 3PLs can collect data throughout the receiving, storage and shipping processes that create a "data point cloud," or a catalog of information about each specific item they handle, Thomas explained. This system can include visual images of items at various points in the supply chain, which can verify proper storage and handling and identify potential opportunities to reduce costs and improve performance.
That success is in addition to facilitating the everyday movement of products through their systems, especially as automation becomes increasingly important in the supply chain.
Increasingly, the tracking and tracing of products through the supply chain involves inputs from multiple data sources, including laser-based sensors, bar codes, RFID tags, and vision-based systems.
Using RFID tags to obtain multiple benefits
Retailers and their 3PL partners use RFID tags to help locate, track, and sort items in multiple ways, said Justin Hildman, Strategic Project Manager-Track and Trace Systems at SICK, Inc.
Localization, or understanding where to find objects at any given time within a facility, provides one common use case for RFID. These locations can include both containers of goods, like totes, and other valuable assets, like tools and equipment. Location data from RFID sensors combined with master data help make picking more efficient, Hildman explained.
The fact that RFID tags do not need to be visible for scanners to detect them offers a key advantage over barcodes, he pointed out. Rather than cutting open a case to verify the presence of specific content, such as an article of clothing, tagging each item with an RFID chip makes the content detectable without opening their container. This quality makes the process more efficient in terms of the labor involved and reduces the risk of damage to the items in the container during the process.
A third use case for RFID technology in the supply chain is to augment read rates for the sortation of products, he explained. A conveyor system with a barcode reader could be more efficient with the addition of RFID technology, which does not rely on visibility.
Using imagery in logistics
Augmenting data with visual images of products also increasingly matters in the world of logistics. Images can serve as valuable tools not only for the humans involved in the picking process — to verify the identification of products visually, for example — but also for robotic pickers to improve their product recognition through machine learning. Systems equipped with visual screening technology can "learn" to recognize products based on their appearance.
Visual images also play an important role in verifying product conditions at various points in the supply chain. Systems that record images of products or containers before they leave a facility, for example, can help prove whether they were intact before shipping. Conversely, images taken when packages arrive could demonstrate that damage occurred in transit.
Solutions for Retailers and their 3PL Partners
Accurate data drives efficiencies in today's supply chain, whether to help automate or streamline picking, packaging, shipping, storage or receiving. SICK offers an end-to-end solution, providing retailers and their 3PL partners continuity and ensuring the compatibility of various components.
"We are a one-stop shop. We provide the hardware, the software, the service, the support, and installation. That way, we can provide a holistic viewpoint of the solution for the customer," said Thomas.
SICK's wide range of intelligent sensor solutions and their ability to customize solutions for individual retail and 3PL customers make the company an ideal logistics partner. In addition, their global footprint allows them to provide support to partners anywhere in the world.
**Content brought to you in partnership with SICK Inc.**