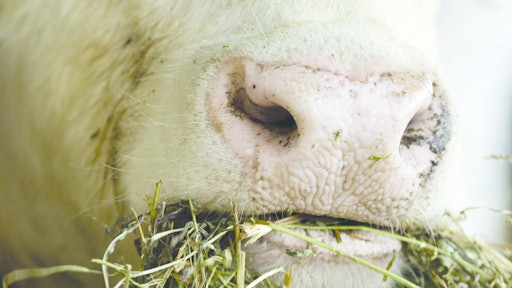 Canada Requires National Pig Identification And Traceability Program
This past July, amendments to Canada's Health of Animals regulations came into force, extending livestock traceability requirements to domestic pigs farmed for food production, according to Norton Rose Fulbright Canada LLP, a Canada-based law firm. The regulations allow for a formal agreement with a third party administrator to create and maintain a database containing up-to-date information on the identification, movement and location of all pigs in Canada.
One year later, the amendments will be extended (on July 1, 2015) to apply to farmed wild boars.
The traceability system is designed to improve food safety by reducing the risk of a disease outbreak, and to minimize the economic consequences of an outbreak of animal diseases through immediate access to information on pig identification, movement and location. The traceability system will require reporting on the movement of pigs between sites; this information should enable the Canadian Food Inspection Agency to react quickly in the event of an animal disease outbreak.
The new program will specify how and when pigs must be identified as well as how pig location and the movement of pigs must be reported. The administrator will issue identification numbers and manage the database.
Company Forms To Support Pakistan Cold Chain Development 
The Pakistan Cold Chain Development Company (PCCDC) was recently introduced at a ceremony in Lahore, Pakistan, announced the Global Cold Chain Alliance, which helped launch the company.
PCCDC CEO Nadeem Akbar Khan explained that the mission of the new organization is to provide Pakistani cold chain stakeholders with the latest information and consultations with the world's leading experts regarding all aspects of the cold chain process.
"This promises to be a substantial stride in improving the efficiency of existing cold chain facilities as well as upgrading and establishing the essential practices of the cold chain," he said. "PCCDC aims to promote modern state-of-the-art cold chain standards in all related industries in Pakistan."
GCCA President Emeritus Bill Hudson added, "PCCDC is an excellent example of the partnership between the U.S. Department of Agriculture (USDA), Winrock International, and GCCA. It will have an enduring impact on the businesses, economy, and people of Pakistan. We look forward to our continuing work to build this association and supporting its leaders and members."
Latin American Food Transporters Can Get Certified Audits For Perishable Supply Chain
To proactively prepare food exporters and importers throughout Latin America to meet upcoming the Food Safety Modernization Act (FSMA) requirements on the sanitary transportation of human and animal foods, The Cambridge Business Group (TCBG) has succeeded in certifying members to the Sanitary Cold Chain's Transportation Certification (TransCert) standards. 

Based in Buenos Aires, Argentina, TCBG provides leadership and coordination among a Latin American network of food safety, quality, environment, occupational health and safety, laboratories, and information security consultants, inspectors and auditors. 
"The TCBG network includes certified lead and external auditors in Argentina, Brazil, Chile, Uruguay, Bolivia, Ecuador, Peru, Mexico, Dominican Republic, Columbia, Central America, Venezuela and Italy," according to Jose Maria Quevedo Pearson, TCBG Americas, director.
 
"The TransCert system requires transportation suppliers to meet management, HACCP, sanitation, temperature monitoring, traceability and training standards" said Dr. John Ryan, president Ryan Systems and the Sanitary Cold Chain. TransCert standards provide a solid foundation for FSMA compliance and are also designed to help supply chain participants meet customer logistics requirements.
Domino's Pizza Launches Voice Ordering For Its Apps
Domino's Pizza has launched voice ordering for its iPhone and Android apps in conjunction with Nuance Communications.
"There will be a day when typing on keyboards or with thumbs on mobile devices will come to a close; we want to be the ones who continue to advance the technology experience – hand-in-hand with our customers," said Patrick Doyle, Domino's Pizza president and CEO. "Our mobile app users who are a part of this launch are truly helping set the foundation for the innovations of today, that will soon enough become the standards of tomorrow."
The platform, in partnership with Nuance, puts Domino's at the forefront of an intuitive ordering method that is a true first within both traditional and e-commerce retail.
Domino's new voice ordering platform is powered by Nuance's Nina Mobile, an intelligent virtual assistant that leverages speech recognition, speech synthesis and natural language understanding technologies. Together, the platform delivers a human-like, conversational customer service experience that allows users to speak an order and quickly add items to their cart. The platform launches today in beta format, which will allow for additional enhancements as customers become familiar with the new ordering feature.
The Domino's ordering apps for iPhone and Android, which have been downloaded more than 10 million times, are both available for free from the App Store on iPhone or the Google Play store on Android devices. Existing iPhone and Android app users will need the latest update to be able to utilize the voice ordering feature.
U.S. Farmers Cash In On Alfalfa Trade Boom With China
Faced with dwindling access to water and arable land, China has little choice but to turn to U.S. farmers to help supply feed for the country's growing herd of dairy cows, according to news reports. Since 2009, alfalfa exports to China grew nearly eightfold to a record 575,000 tons -- shipped overseas in the same containers that deliver the latest iPhones and flat-screen TVs from Chinese factories.
China has now pushed past Japan as Asia's biggest buyer of U.S. alfalfa and is second only to United Arab Emirates as the globe's top importer, according to data from the U.S. Department of Agriculture. Sales of alfalfa shipped abroad amounted to $586 million last year, part of the nation's record $144 billion in agricultural exports.
The thriving trade had largely gone unnoticed, not unlike more established export oddities to China such as scrap paper and chicken feet. But when three years of drought upended farms in the West, alfalfa became one of the most sought-after commodities in the bovine business.
Cattle ranchers with withered pastures were now in the market for the pricey forage, alongside dairy farmers. At the same time, production has been steadily declining in California, replaced by more profitable crops such as almonds and wine grapes. The Golden State produced 6 million tons of alfalfa hay last year, down from a high of 8 million in 2002, according to the USDA. With so much demand and diminished supplies, alfalfa prices have doubled in the last three years to more than $300 a ton.
Agricultural exports to China soared to $25.8 billion last year from $5 billion a decade earlier. China is the biggest buyer of U.S. soybeans, which is used to feed livestock and make cooking oil. U.S. dairy exports to China -- fueled in part by U.S. alfalfa -- grew to $706 million last year, up from $137 million in 2009, according to the U.S. Dairy Export Council in Virginia.
Exporters are learning something alfalfa shippers have known for years: It costs little to freight goods on the back haul to China. That's because the U.S. runs a persistently high trade deficit with China that hit a record $318 billion last year. Containers from Asia arrive full but often return empty.
Congress Passes Water Resources Bill
Water infrastructure projects across the nation may soon have access to innovative financing programs and increased public-private partnership opportunities, according to Sutherland Asbill & Brennan LLP, a law firm with offices throughout the U.S. House Bill 3080 (2013) or the Water Resources Reform and Development Act (WRRDA), passed the U.S. Senate on May 22 by a vote of 91 to 7. This action comes two days after the U.S. House of Representatives approved the bill 412 to 4. The bill now goes to President Obama for his expected signature before becoming law. When signed, WRRDA would be the first comprehensive water resources measure to become law since November 2007
A key provision of the bill establishes the Water Infrastructure Finance and Innovation Act (WIFIA). WIFIA is a five-year pilot federal loan program for water projects. It will provide low-interest federal loans to communities to reduce the cost of financing large water and wastewater infrastructure projects.