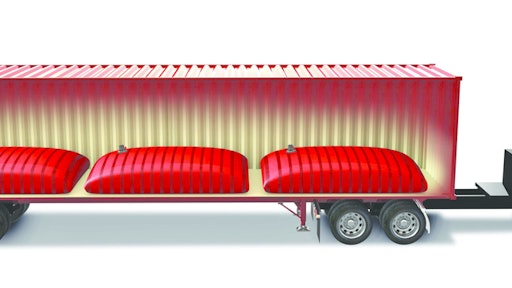 For a small, family-owned winery in the Chilean countryside, not only is perfect temperature, soil and timing of vast importance to get their award winning wine to market, but also the careful transport of that wine that will travel thousands of miles to its ultimate destination. The wine's ocean voyage often begins inside a Flexitank.
Also referred to as a "Flexibag" or "Flexitanque," a Flexitank is a flexible tank bag designated to fit into a 20-foot standard ocean container. The Flexitank size is based on the gravity of the product shipped, and weight restrictions at origin and destination. The Flexitank turns into the equivalent of an ISO tank container for bulk non-hazardous liquids.
With Flexitanks, loading and unloading times are reduced up to 90 percent and up to 31 percent more cargo can be shipped compared with IBC totes and drums. Man-hours are also significantly reduced. For a 20,000-liter Flexitank, only 7.5 man-hours are required compared to a 1,000-liter IBC tank that requires 18 man-hours, and a 55-gallon drum requires 76 man-hours. With the advent of the Flexitank more than 20 years ago, the liquid transportation industry has been revolutionized.
A more cost efficient solution than drums, totes or ISO tanks, Flexitanks have become "the" only alternative for companies looking to save on the transport of any types of liquids including: soft drinks, wines, juice concentrates, agricultural oils, liquid latex, bio-fuels, glycerin and non-hazardous chemicals. They provide lower labor and loading costs and no repositioning costs – the best option for bulk liquids with remote destinations. For the small Chilean vintner with a burgeoning business, the Flexitank can fit from 16,000 to 24,000 liters.
It also represents a safe mode of transportation for the wine and the environment with virtually no possibility of contamination. According to the Network for Transport and the Environment, maritime shipping is the world's most carbon-efficient form of transporting goods - far more efficient than road and air. Despite this fact, many companies are still looking for other innovative ways to reduce their carbon footprint – Flexitanks are that solution. A safe environmental alternative, Flexitanks do not have to be washed out and can be discarded or recycled.
The Flexitank has now entered a new era with a new configuration. This innovative configuration now fits two to three smaller Flexitanks in a 40-foot ocean container. With standard and barrier films, these newly configured Flexitanks are independently welded and suitable for food-grade, chemical and pharmaceutical products and offer an optimal amount of oxygen permeation. They can be transported via rail or road for smaller quantities to ship with multiple commodities loaded on the same trailer. The newly configured Flexitanks are self-restraining with a non-slip mat that does not allow for movement and is elevated off the floor with vents for air circulation.
Prior to the new configuration, Flexitanks covered the whole floor of the containers. The new design allows for refrigeration and temperature-control for shipment of liquids that need to remain cold. Some containers can reach more than 130°F (54°C) while travelling thousands of miles. Wine is generally to be stored at 55°-59°F (13° to 15° C) and any temperature fluctuations can reduce the aroma, color and flavor. For wine, milk and juice, that require temperature control, companies are now offering reefer containers for a more cost-effective option to refrigerated tanker trucks. For the Chilean, Argentine, American, French, Spanish, Italian or Australian wine maker, transporting their wine throughout the world signifies leaving the integrity of their wine in the hands of the logistics company handling its transport.
According to the International Organisation of Vine and Wine in its Global economic vitiviniculture data 2013 report published in October 2013, world wine production rose by nine percent with respect to 2012. With this rise in production, what should wine producers in large and emerging wine markets, such as Brazil, China, Croatia, Morocco, among others, as well as other liquid producers keep in mind? The traditional and newly configured Flexitanks are a cost-effective option but they do require training for loading and unloading of initial tanks. Although it is a simple process, with no real level of complexity, it does require a logistics company with experts on the ground ready and available to demonstrate its use and disposal. A pre-established method of disposal or periodic pick-up is readily available, usually for an additional charge.
The structural configuration of the Flexitank is not the only thing that has recently evolved. High fructose corn syrup distributors can now get their product to market faster and at a more cost-effective price. These syrups can be found in a number of products including: cereals, juice drinks, breads, candy bars, condiments, cough syrups, and dressings, among other commonly consumed foods. Given the thick consistency of the syrup, the liquid does not flow out of the Flexitank quickly or easily. A hot water heating pad with a hose on the floor of the container is traditionally positioned under the Flexitank to warm the syrup so it can flow out of the Flexitank effortlessly. With a newly invented electric heater pad for Flexitanks, high fructose corn syrups now heat in one-third of the time of traditional steamer heater pads.
The electric pads take 18 hours versus 48 hours with traditional heaters to heat the same product. These electric pads have a life cycle of up to 50,000 hours of uninterrupted work and are coated with shock/ water resistant insulation for durability and substantial heating parameters. There is also the option of having up to five pads installed in one container and they can be hung on the container walls. The electric-generated heat can range from 104-158° F (40-70° C). This electric heating pad system is not only used for high fructose corn syrups but are regularly used for palm oil, coconut oil and can also be used for any other type of liquid with a thick consistency.
The world of liquid transportation is a complex one that requires in-depth knowledge of each product being handled. As with the aforementioned example of wine, improper handling can result in oxidation, tainting and contamination or re-fermentation, thus damaging the product. Many of these same concerns can also apply to other liquids that are prone to spoilage due to temperature fluctuations. Despite the popularity of Flexitanks, it is necessary to have a logistics partner with a strong global network, product and customs knowledge and an ocean freight offering that can accommodate any size shipment to anywhere in the world in an expedited fashion.
Jeffrey C. Plumley, is the Director, Ocean Freight Business Development, Chemicals and Liquid Bulk Operations, Global Flexitank Programs, for DHL Global Forwarding. Patrice Vaucher, is the Director, Multinational Customers, Consumer/ Beverage Sector, DHL Global Forwarding.