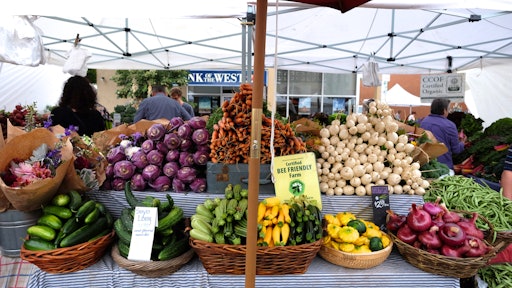 New research suggests buying fresh and local doesn't always mean safer.
A study published by Penn State University in the Food Protection Trends assessed food safety behaviors of vendors at more than 40 Pennsylvania farmers markets and found that many didn't follow basic sanitary practices. As a part of this investigation, published in an earlier study, the researchers also found harmful bacteria in meat and produce sold at the markets.
The researchers found large discrepancies between the food safety precautions vendors claimed they were taking and what the researchers actually observed them doing, according to an article published by Consumer Reports.
For example, though more than a third of vendors claimed to use disposable gloves, researchers found that less than a quarter had them at their stands. And among those who did use gloves, about half used them improperly by not changing them when they were supposed to like after handling raw meat or money.
In addition to other factors, such as contamination on the farm, the report notes poor hygiene could help explain why levels of bacteria that could potentially cause food poisoning were so high in the food sold at these markets: E. coli was present in 40 percent of beef samples, 18 percent of pork samples, almost a third of lettuce and kale samples, and 17 percent of spinach samples. Listeria was found in 8 percent of beef, 2 percent of kale, 4 percent of lettuce, and 7 percent of spinach.
This new study, however, shouldn't keep consumers from purchasing goods at their local farmers market, says James E. Rogers, Ph.D., director of food safety research and testing at Consumer Reports.
"Not all farmers markets are the same, and this is one study," he says. "But it does show that consumers need to be aware of the food safety issues related to farmers markets and take some precautions."
Consumer Reports offers the following food safety tips:
Observe vendors carefully.
Stay away from raw milk and raw milk cheeses
Buy perishables last
Practice food safety at home
To read the full original article, please click here.