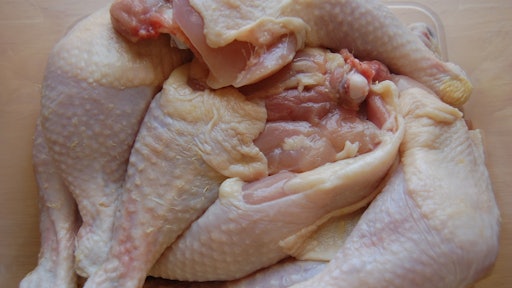 At least 92 cases of salmonella have been confirmed across 29 states. CNN reports that 21 people have been hospitalized, though no deaths have been reported.
The source of the raw chicken is undetermined and no single common supplier has been identified, CNN reports. The multi-drug resistant strain has been found in samples from a variety of raw chicken products including pet food, chicken pieces, ground pieces and whole chickens. The bacteria was also reportedly found in live chickens. The U.S. Department of Agriculture's Food Safety and Inspection Service is monitoring the outbreak while the CDC continues its investigation.
The outbreak initially started in January and people have tested positive for the strain through September. States affected include California, Washington, Texas, Nebraska, Missouri, Minnesota, Illinois, Indiana, Michigan, Ohio, Kentucky, Tennessee, Alabama, Louisiana, Georgia, Florida, South Carolina, North Carolina, Virginia, Maryland, Delaware, Pennsylvania, New Jersey, New York, Connecticut, Rhode Island, Hawaii, Massachusetts and Maine.