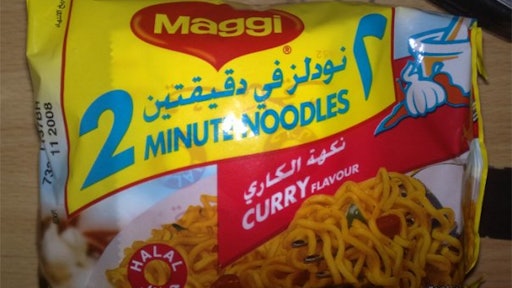 An Indian court Thursday ordered regulators to retest samples of Nestlé SA 's instant noodles after a scare over the safety of the product forced a nationwide recall and said the company could resume sales if they were found safe, according to The Wall Street Journal.
India's federal food-safety watchdog banned Nestlé's Maggi 2-Minute Noodles in June after it said tests found lead levels above permissible limits, making the product "unsafe and hazardous." Nestlé disputed the findings and took regulators to court, alleging the results were inaccurate.
When judges at the Bombay High Court handed down their ruling on Thursday, they raised doubts over the testing capabilities and capacity of Indian regulators. They selected three federal- government labs and said they should carry out fresh tests. Regulators were given six weeks to submit their results.
"Principles of natural justice weren't followed" in imposing a ban on the noodles, Justice V.M. Kanade told a packed courtroom. He said Nestlé wasn't given adequate advance notice of the ban.
Yudhvir Singh Malik, the chief of India's Food Safety and Standards Authority, declined to comment, saying he had not yet received a copy of the court's order.
In a statement Thursday, Nestlé said it "respects" the court's decision and "will comply with the order to undertake fresh tests." It said it hoped to have its noodles "back on the shelves as soon as possible."
Lawyers for Nestlé, which has said it lost $50 million in sales because of the recall, had argued in court that "the standard of testing which was done by the authority wasn't reliable and therefore on the basis of such analysis, a drastic order of banning the entire product was completely arbitrary."
In a separate action, India's federal government demanded roughly $100 million in damages from Nestlé this week, accusing the company of "gross negligence, apathy and callousness," in a complaint filed with the National Consumer Disputes Redressal Commission. Nestlé denies the allegations. That complaint could be undermined if fresh tests clear the noodles.
To read more, click HERE.