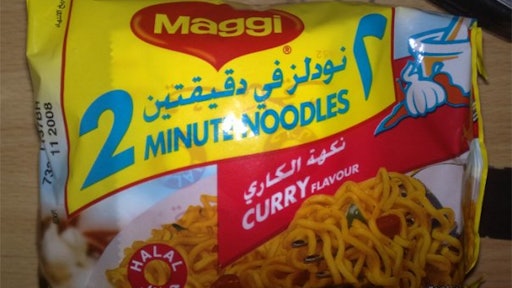 India will seek damages of 6.39 billion rupees ($99.3 million) from Swiss group Nestle after a food scare involving reports of excess lead in the firm's popular Maggi noodles forced a nationwide recall, a government official said on Tuesday, reported Reuters.
Nestle, which has been accused of unfair trade practices, would be the first foreign firm to be asked to pay damages on behalf of consumers, the official said, declining to be named.
Reuters reported in June that the Indian government had filed for damages from Nestle. The claim, made on behalf of Indian consumers, was not filed through the courts but with the National Consumer Disputes Redressal Commission (NCDRC), which has semi-judicial powers and will decide on the merits of the case and the size of any damages.
Before the NCDRC could agree on the size of any damage, however, the government on Tuesday decided to fix the level of damages at 6.39 billion rupees, the official said.
http://www.reuters.com/article/2015/08/11/us-nestle-india-food-idUSKCN0QG1SM20150811
Editors Insight: This historic legal action provides a wakeup call to the global food supply chain. Nestle's stock shares fell 4.7 percent today following this news. That's big money, and the full extent of the loss is still to be determined.
The food supply chain is globalizing faster than even the largest companies have time to prepare for. The expanding supply chain puts food at greater risk than most service providers realize. The industry has no choice but to strengthen its focus on preventative safety.
Once food safety becomes an issue, the governing authorities spare no resources piling on the penalties.
The Indian government banned Maggi noodles on June 5, claiming they contained excessive amounts of lead. Nestle didn't help its case by challenging the ban. The government is now charging Nestle with unfair trade practices, false labeling and misleading advertising.
Food safety is a complex topic. But when it comes to working with government, the objective is simple and straightforward: COOPERATE!
Meanwhile, supply chain service providers have to make safety their top priority. For those that have already done this, they need to review their procedures. There are more safety tools available than ever, and supply chain service providers need to know they are making full use of them. 8-12-15 By Elliot Maras