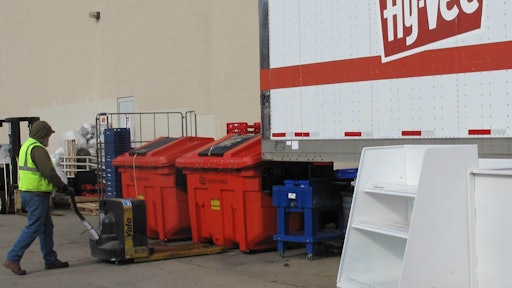 Hy-Vee, Inc. announced that by the end of this month all 25 of its stores in Nebraska will be diverting organic waste from landfills thanks to a partnership with Sanimax, a globally known environmental solution provider in the agri-food industry.
Nebraska Hy-Vee stores will divert excess fruits and vegetables, bakery products, solid dairy products and floral clippings with the help of the Sanimax system, which will then turn the food waste into compost, biogas and animal feed. Hy-Vee employees at each store will be trained on how to separate the waste to ensure quick and accurate disposal.
As part of the program, Hy-Vee stores will sell compost that is created by their own food recycling. In addition, stores with community gardens will use the compost to fertilize their plots.
"We are excited to use our stores' organic waste to help our community gardens grow. It's really coming full circle for our stores and our customers," said Tally Mertes, store director at the 180th and Pacific Hy-Vee store. "Hy-Vee is committed to promoting the well-being of our customers, employees, communities and the global environment. This new recycling program is just one way we can help our communities and our customers."
In March, two Omaha-area Hy-Vee stores were first to begin the program, and they diverted a total of 10,000 pounds of waste that month. Mertes estimates that the 25 Hy-Vee stores in Nebraska will divert approximately 150,000 pounds each month.