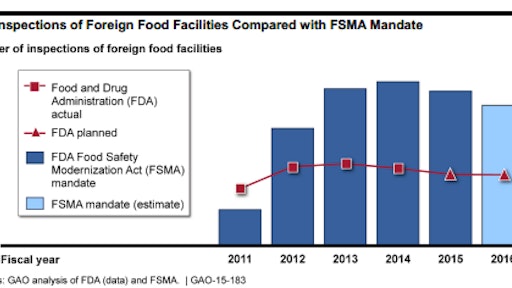 The Food and Drug Administration (FDA) is not meeting the Food Safety Modernization Act (FSMA) mandate to inspect foreign food facilities, according to a U.S. Government Accountability Office (GAO) report. The report, dated January 2015, was sent to the U. S. House of Representatives Subcommittee on Europe, Eurasia and Emerging Threats Committee on Foreign Affairs.
Under FSMA, the FDA is to inspect at least 600 foreign food facilities in 2011 and, for each of the next five years, inspect at least twice the number of facilities inspected during the previous year. The GAO report presented numbers showing the FDA is not currently keeping pace with the FSMA mandate.
FDA officials told the GAO that they do not plan to meet the FSMA mandate because of funding, and they question the usefulness of conducting that many inspections. However, FDA has not conducted an analysis to determine whether the number of inspections in the FSMA mandate or the lower number of inspections it is conducting is sufficient to ensure comparable safety of imported and domestic food. Without such an analysis, FDA is not in a position to know what is a sufficient number of foreign inspections and, if appropriate, request a change in the mandate, the report notes.
To download the 47-page GAO report, go to: http://www.gao.gov/assets/670/668230.pdf