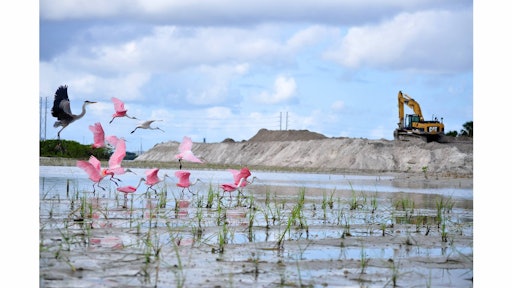 Port Tampa Bay's McKay Bay Restoration project has been acknowledged as winner in the Mitigation category of the American Association of Port Authority's (AAPA) Annual Environmental Improvement Awards program. The program recognizes projects that show leadership and exemplary environmental stewardship in and around seaports.
Port Tampa Bay, with assistance from the Southwest Florida Water Management District (SWFWMD), embarked upon and completed a combination of wetland restoration projects within the McKay Bay Ecosystem in Tampa Bay. The net impact of this work has resulted in the restoration of estuarine wetlands and adjacent shallow intertidal bay bottom within this historically impaired water body.
Earlier this year, the project received honorable mention in the annual Future of the Region Awards program of the Tampa Bay Regional Planning Council. Other project partners were as follows: Hillsborough County EPC; Tampa Contracting Services (TCS), Orion Marine Construction; Southwest Florida Water Management District (SWFWMD); and CH2M Hill.
"Environmental integrity is at the core of what we do to develop and grow the state's largest port. We are extremely honored to be recognized for our continued commitment to the environment. Port Tampa Bay will continue to engage in major environmental projects such as this that will have lasting benefits for the delicate marine habitats of Tampa Bay and the community," Paul Anderson, port president and CEO, said. "We are thrilled to be honored with an award from our partner AAPA, and we appreciate the professionalism of the judges who recognize these important projects nationwide."