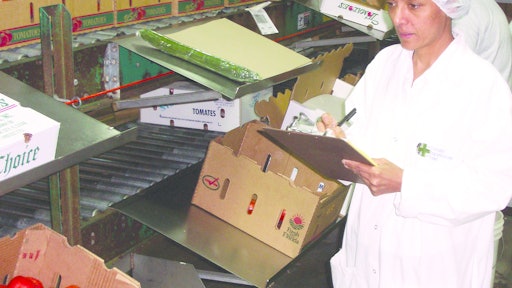 FDA Proposes Rule For Third Party Audits Of Imported Food
The Food and Drug Administration (FDA) has issued a proposed rule to amend the accreditation of third party auditors and to establish a user fee program for audit administration for imported food. The proposal establishes a reimbursement program to assess fees and require reimbursement for administering accreditation of third-party auditors under the FDA Food Safety Modernization Act (FSMA).
This rule establishes regulations for accreditation of third-party auditors to conduct food safety audits. The use of accredited third-party auditors to certify food imports will assist in ensuring the safety of food from foreign origin entering U.S. commerce. Accredited third-party auditors auditing foreign facilities can increase FDA's information about foreign facilities since FDA may not have adequate resources to inspect in a particular year.
Humane Society Calls For Federal Investigation Of Costco Eggs
The Humane Society of the United States has claimed that a Costco egg supplier has misrepresented the way its eggs are produced. The complaints call for two federal agencies to investigate potential violations of federal false advertising and health and safety laws.
The complaints—one filed with the Federal Trade Commission and one with the Food and Drug Administration —allege that Costco egg supplier Hillandale Farms deceived consumers concerned about animal welfare and that the filthy and unsanitary conditions at Hillandale present serious food safety concerns.
Albertsons Companies Files For Public Offering
Albertsons Companies, Inc. has filed a registration statement on Form S-1 with the Securities and Exchange Commission for a proposed initial public offering of shares of its common stock. The number of shares to be offered and the price range for the proposed offering have not yet been determined. Food Logistics reported in January that the Federal Trade Commission approved a merger of Albertsons and Safeway. Albertsons is the second largest U.S. supermarket chain after Kroger.
FDA Extends Restaurant Menu Labeling Compliance One Year
The Food and Drug Administration (FDA) provide da 1-year delay to the date restaurants – and those deemed by FDA to be "similar retail food establishments" – would be required to apply the final chain-restaurant-menu-labeling rule.
The Food Marketing Institute (FMI) welcomed the news. "We're encouraged that FDA's commitment will give us more time to at least garner some clarity and answers without feeling rushed to make difficult business decisions in an attempt to comply by Dec. 1, 2015 with regulations that are unclear," the FMI stated. FMI will continue to work with both FDA and Congress to address business challenges with implementing restaurant menu labeling in grocery stores. 
Federal And State Officials Investigate Salmonella Outbreaks Linked To Chicken
Officials with the U.S. Centers for Disease Control and Prevention (CDC), the USDA's Food Safety and Inspection Service (FSIS), and the Minnesota Departments of Health and Agriculture (MDH) are investigating two outbreaks of Salmonella enteritidis linked to raw, frozen, breaded and pre-browned stuffed chicken entrées, according to Food Safety News.
In the first outbreak, MDH identified four people infected with a strain of Salmonella Enteritidis with illness onset dates ranging from April 5, 2015, to June 8, 2015. Two people were hospitalized. Epidemiologic and traceback evidence linked these illnesses to eating Barber Foods brand Chicken Kiev raw stuffed chicken breast. This investigation is ongoing. In the second outbreak, MDH identified three people infected with a different strain of Salmonella Enteritidis with illness onset dates ranging from May 9, 2015 to June 8, 2015. Two people were hospitalized.
Debate Rages Over GMO Labeling Rules
The debate over whether or not food companies should be required to label genetically modified organisms (GMOs) in food continues, according to a The Wall Street Journal. Andrew Kimbrell, executive director of the Center for Food Safety, and Dr. Nina Federoff, Pugh professor emerita at Penn State University, squared off over mandatory GMO labels. Consumer advocates are pushing for mandatory GMO labels while U.S. states have taken different approaches to the requirement. Consumer advocates say GMOs carry risks while providing few nutritional benefits while opponents say these fears are exaggerated.
Drought Hammers California Farms And Ranches
As holders of some of the oldest water rights in California, many farmers and ranchers here in the Sacramento-San Joaquin Delta have never had their spigots turned off, a fate many of their counterparts in the parched state have endured, according to reports. But under an order from the State Water Resources Control Board, the Byron Bethany Irrigation District last month shut down irrigation to more than 160 farmers and ranchers in its 30,000-acre area.
"Everything is in peril right now," said Paul Simoni, as workers recently harvested corn on his family's 1,900-acre farm. Simoni said crops, including tomatoes and alfalfa still in the fields, likely would be wiped out if they don't get water soon.
A&P Files For Bankruptcy Again; Will Sell 120 Stores
A&P is filing for Chapter 11 bankruptcy with plans to sell off stores as it faces increasingly tough competition, according to the Associated Press. This marks the second time in five years that the Montvale, N.J.-based company has filed for bankruptcy. This time around, it said it has more than 100,000 creditors along with more than $1 billion in liabilities and over $1 billion in assets.
The company plans to sell as many of its 296 stores as possible and said in a filing with U.S. Bankruptcy Court in New York that it has bidders for 120 of those operations with expected proceeds of $600 million. The grocery chain has face tougher competition from companies like Walmart and Target Corp. expanding their grocery options. The business has grown even more crowded and competitive with companies like Whole Foods Market Inc. and Fairway Group Holdings Corp. catering to a more health-conscious market.
Center For Food Safety And Applied Nutrition Outlines Technology Gaps
The Center for Food Safety and Applied Nutrition (CFSAN), which produced the Food and Drug Administration's (FDA) Science and Research Strategic Plan for 2015-2018, acknowledges there are some "knowledge gaps" that must be addressed if FSMA is going to be successfully implemented.
"Further, globalization, new technologies, and increased consumer dreaming for fresh and imported food products are driving a need for new tools and standards to regulate a more complex and diverse food supply and cosmetic industry," the plan states. "Given these pressures and scope of regulatory authority, CFSAN is directing resources toward targeted and strategic scientific research that supports regulatory decision making and meets the demands of emerging and existing food and cosmetic safety issues in the 21st century."
The plan goes on to point out, "As CFSAN continues to implement the Food Safety Modernization Act (FSMA), the center is focused on setting science-based preventive control standards for the way industry produces, distributes, and markets food in order to strengthen the nation's food safety system. 
JBS USA Pork To Acquire Cargill Pork For $1.45 Billion
JBS USA Pork has agrred to acquire Cargill's U.S.-based pork business for $1.45 billion. Completion of the acquisition is subject to regulatory review and approval.
Included in JBS' acquisition of Cargill's pork business are two Midwest meat processing plants, one in Ottumwa, Ia., and the other at Beardstown, Ill. Both plants were acquired by Cargill in 1987, and in 2014 they processed a total of 9.3 million hogs. The purchase by JBS also includes five feed mills (two in Missouri, and one each in Arkansas, Iowa and Texas), and four hog farms (two in Arkansas and one each in Oklahoma and Texas).
PETA Sues California Over Chicken Electrocutions
Using reports showing that one-third of chickens are inadequately stunned in California slaughterhouses—leaving them conscious and able to feel pain as their throats are slit—and that an estimated 7 million birds per year aren't properly bled to death before they're plunged into scalding-hot defeathering tanks, People for the Ethical Treatment of Animals (PETA) filed a lawsuit in Los Angeles Superior Court against the California Department of Food and Agriculture. 
PETA contends that electric stunning violates California's humane slaughter law, which requires that animals be rendered insensible to pain before being cut and bled, as well as the California Penal Code, which prohibits torturing, maiming, and cruelly killing any animal.