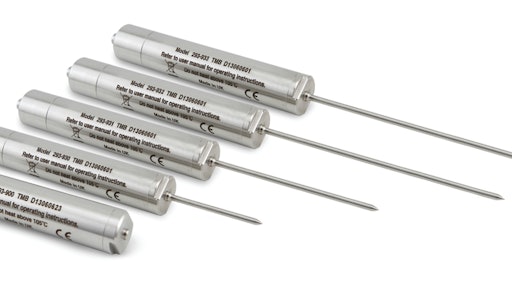 ThermoWorks Offers New, Fully Submersible ThermaData Loggers
Utah-based ThermoWorks recently launched their ThermaData Stainless Steel food-grade loggers designed to record temperatures in harsh environments. ThermaData SS Loggers are built with a rugged enclosure made from food-grade 316 stainless steel, which can withstand temperatures to 221°F (105°C) and are protected from corrosion, impact and moisture with a water resistant rating of IP67.
With five different models in the series, one model will record the ambient temperature, while four others include a penetration probe from 2 inches (50mm) to 8 inches (200mm) for product testing. ThermaData SS Loggers feature a user-replaceable 3-year battery and USB connector concealed under its sealed cap for high-speed download. No cradles or additional interfaces are required.
ThermaData Studio analysis software is included for trending, graphing, exporting and analyzing recorded data.
Russia To Allow U.S. Pork Imports From Chinese-Owned Smithfield
Russia announced in late March that it would reopen its market to U.S. pork imports, but only from two firms of Chinese-owned producer Smithfield Foods Inc., after Russia's veterinary and phytosanitary service (VPSS) received additional guarantees, according to the agency's Web site.
Most meat imports from the U.S. were banned by Russia last year because of concerns over the use of the feed additive ractopamine. Russia agreed to start allowing imports of U.S. pork from two Smithfield firms in last month, contingent upon additional food safety guarantees.
Their decision to allow imports only from Smithfield Foods Inc., which was bought by China's Shuanghui International Holdings last year, comes fresh on the heels of proposed U.S. trade sanctions against Russia for its decision to annex Crimea from Ukraine.
According to VPSS spokesman Alexei Alekseenko, reopening Russia's market to Chinese pork and Indian buffalo meat will help offset a drop in imports resulting from U.S. trade sanctions as well as sanctions from the European Union and Australia.
"A decision may be made in the coming weeks," Alekseenko noted, adding that Russia would also like to increase meat imports from Brazil.
CrowleyFresh Scores 100 Percent On Recent Food Safety Audit
CrowleyFresh, one of South Florida's leading cold storage and perishables logistics operations, is also one of the area's cleanest and safest, according to Primus Labs, which graded the operation at a perfect 100 percent during a recent food safety audit. Primus said the perfect score is only achieved by about 2 percent of operators in the industry.
The nearly 9-hour audit was conducted in February, and is designed to test and check a company's ability to maintain the integrity of the supply chain throughout the chain of custody – from receipt of the perishable products at the cold storage refrigerated dock to the time they are dispatched to store shelves.
During the audit, the Primus Labs inspector examined all areas of the temperature-controlled warehouse, testing the storage and handling of such items as bell peppers, pineapples, blueberries and asparagus. The 156-question audit ran the gambit from precise maintenance of temperature per commodity, cleanliness, absence of cross-contamination and bacterial growth outside of the norm, proper handling of pest control, chemical storage, and labeling.
CrowleyFresh also scored high on its recordkeeping procedures. Under current requirements, records must be kept for 12 months detailing the precise temperatures of each of the warehouse's multiple cooling chambers. CrowleyFresh was easily able to supply these records along with information on how the company tracks recalls, conducts independent lab tests, and more.
"We are proud of this accomplishment," said Eduardo Campos, CrowleyFresh director. "Achieving perfection is not very common in the industry, as per Primus Labs, only two percent of the industry has achieved it. Our stellar results are a testament to our entire team's commitment to reinforce procedures in order to supply our customers with trustworthy cold chain solutions ensuring the integrity of their products."
The CrowleyFresh facility features multiple humidity- and temperature-controlled coolers and is open 24/7 to store and handle perishables arriving from Latin and South America, the Caribbean, Europe, Asia and the Far East to South Florida for import and export. The state-of-the-art facility offers high-tech cooling and monitoring equipment, including forced air precooling, which can be adjusted to meet and maintain various temperature requirements. With 400,000 total cubic feet of refrigerated space, CrowleyFresh also offers additional storage space for cargo supplies and non-refrigerated materials.
FDA Claims User Fees Necessary to Implement FSMA
The U.S. FDA is again asking for new user fees to help it implement the Food Safety Modernization Act. In President Obama's budget for fiscal year 2015, the FDA has proposed new user fees that would provide roughly $229 million in funding for the food import program as well as the food facility registration and inspection program.
"More funding has to come down the line, but this funding we've asked for will help start the program and roll it out," explained an FDA official during a press conference last month. "We hope to work with Congress and help it pass."
According to blog post on Law360.com, the FDA's proposed new user fees for the food import program would help the agency modernize the import system, while the food facility fees would help modernize the food safety system and create more resources for preventing food illness outbreaks.
FDA official Michael Taylor reaffirmed the agency's need for user fee funding in February, telling a House Energy & Commerce Committee panel at the time that the agency does not have the resources to fully implement certain aspects of FSMA, including the mandate to prevent the importation of contaminated food.
The US-based industry group Grocery Manufacturers Association says it supports the FDA's proposed new user fees and it would do its part to work with Congress to help the FDA get the funding it needs to implement the FSMA.
"[The Grocery Manufacturers Association] recognizes that for the FDA to effectively implement and enforce the food safety mandates set forth in FSMA, it must be appropriately resourced," GMA spokeswoman Ginny Smith said in the statement. "The food and beverage industry is committed to working with Congress, the Obama Administration and other stakeholders to ensure that FDA has the resources it needs to fully implement FSMA and continually improve food safety."
Invisible Sentinel Gets AOAC Certification For Salmonella Rapid Test
Philadelphia-based Invisible Sentinel Inc., a life-sciences company that develops rapid diagnostics tests for the detection of foodborne pathogens, announced in March that its rapid diagnostic for the detection of Salmonella species received certification from the Association of Analytical Communities (AOAC).
The company's Veriflow Salmonella species assay (Veriflow SS) has been approved to detect bacterial contamination by Salmonella in multiple food types, including ready-to-eat foods, deli meat, and dairy products, as well as various surfaces with which food is in contact during preparation and packaging.
The AOAC is a global standardization organization that validates analytical test methods for the food industry. The AOAC Performance Tested Methods designation is recognized by the U.S. Department of Agriculture, the Food and Drug Administration, and global regulatory agencies.
With the certification of Veriflow SS, Invisible Sentinel has now achieved AOAC approvals for multiple assays designed to protect against illness due to contaminated food. The Veriflow Listeria species assay (Veriflow LS) was approved earlier this year, and the Veriflow Campylobacter assay (Veriflow CA) and Veriflow Listeria monocytogenes assay (Veriflow LM) received approvals last year.
"Achieving additional AOAC certifications for the growing number of assays in our Veriflow product line remains a primary initiative, as we focus on commercial growth and strive to reach a broader client base," said Nick Siciliano, chief executive officer and co-founder of Invisible Sentinel. "We're excited to have built a comprehensive suite of novel and exceptional AOAC-approved pathogen diagnostics for the food and beverage industries. We are also actively expanding our Veriflow product portfolio across additional industries through our custom-solution program."
Food poisoning due to Salmonella remains a significant public-health problem in the U.S., where testing for this foodborne pathogen accounts for upwards of 40 percent of the food-testing market. According to the Centers of Disease Control and Prevention (CDC), about 42,000 cases of food poisoning due to Salmonella are reported every year, and the actual number may be far greater. Although many cases are mild, it is estimated that 400 people die of Salmonella infection each year.
CFIA Wants Power To Fine Meat Facilities For Food Safety Problems
The Canadian federal government is proposing to give itself the power to fine meat-processing plants that break hygiene and other operating rules meant to protect human health. The Canadian Food Inspection Agency (CFIA) says the regulatory change would give it another enforcement tool to help protect consumers.
"These proposed new fines demonstrate our commitment to ensuring that Canada's stringent food safety requirements are being followed," said CFIA spokeswoman Lisa Murphy. "AMPs (administrative monetary penalties) will help the CFIA better protect consumers from food producers that fail to comply with federal food safety requirements."
Canadian inspectors already have the power to issue written warnings to companies when problems at meat plants are found, and in serious cases the CFIA can suspend a plant's license and shut it down.
The CFIA said the proposed fines range from C$2,000 to C$15,000 for violations. They could be imposed on a company that was regularly identified for not following food safety rules.
The Canadian Meat Council, who represents federally inspected meatpacking and processing companies, argue that such fines are not needed.
"The meat industry does not believe there is a necessity for yet another enforcement tool," said the group's spokesman, Ron Davidson, who also wonders why the federal government isn't seeking to apply such fines to the entire food-processing sector.
The meat industry wants assurances about how fines would be imposed and what steps would be taken to ensure they would be applied in a consistent manner throughout Canada.
"We are not pleased that it is being imposed on us ahead of the other sectors," said Davidson. "Every inspector is going to have the opportunity to impose fines."
The CFIA said initially that fines would be recommended by inspectors, but issued by area investigators to ensure consistency. The agency also said it wants to see how well the fines work in the meat industry before applying them to other food commodities.
The proposal for fines follows the release of an independent report last June into the recall of seven million kilograms of beef products from the XL Foods plant in southern Alberta, Canada. Beef from the plant was linked to 18 people becoming ill in 2012 from a potentially deadly strain of E. coli. The report found the Alberta plant failed to clean equipment properly and that government inspectors failed to notice and deal with problems at the plant.
It is not clear when Health Canada plans to make the amendments to existing regulations or when the change would become effective.
"We anticipate the regulations may be finalized this year, and if this happens, the CFIA will work with industry to ensure the new system for meat inspection is implemented effectively," stated the agency.