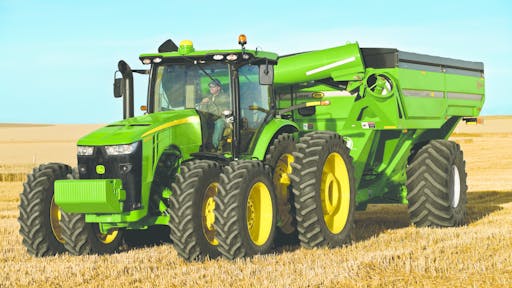 A number of significant advancements in food production have been made in recent years, from growing and harvesting methods that improve crop yields to 'new' food sources like plant-based dairy and meat products, while better cold chain performance and integration is making it possible to move more food longer distances without compromising quality.
Yet for every step forward, the challenges brought about by threats such as climate change, a growing global population, and persistent food insecurity in the developing world remind us of how much further we must go to assure an adequate food supply is available for future generations.
Forget the smarter mousetrap, build a smarter tractor
If there's any doubt just how sophisticated today's farm equipment is, just ask the CEO of John Deere. In an interview last year with Fortune, the company's CEO Sam Allen said, "Most people don't realize that one of our 8000 Series tractors has more computing power on it than the first space shuttle." The aviation and aerospace comparisons don't end there…the company's satellite-guided combines feature more lines of programming than many commercial airliners and are three times more efficient than they were a decade ago, too.
The result is equipment that delivers high performance a precision. "Going up and down a field a mile each way, if the farmer has a 60-foot boom on the back, 30 feet on each side, there'll be only a two-inch overlap. Prior to this, a farmer would have overlapped by at least six feet," said Allen.
John Deere's proprietary GPS-enabled auto-steer technology is an example of the types of innovations the company is contributing to the broader effort of boosting agricultural output.
"We believe the key will be continuing to improve productivity, mostly on existing land," said Allen during the interview. "That's going to come through a combination of seed genetics and smarter agronomic decisions, and those decisions are going to be enabled through the use of data coming off equipment that's getting more intelligent all the time."
For example, while farm equipment is in the field plowing, planting and harvesting, wireless connections allow farmers to remotely review such things as planting depths and the application of various sprays and fertilizers. The farm equipment serves as a data source, too. Information on everything from the protein level of chopped corn used as livestock feed to the spraying history of each field can be collected and transmitted to a portal and analyzed.
Earlier this month, John Deere and Bayer CropScience announced they would work together on a pilot program to provide data-enabled decision-support tools to farmers.
According to a press release, "Bayer CropScience will initiate R&D-based field pilots designed to use agronomic data to prescribe Bayer CropScience products to maximize yield potential and overall profitability on each acre."
Shane Hand, the company's digital farming strategic marketing lead, explained that, "Our intent is to leverage the agronomic strengths of Bayer CropScience and channel partners, combined with the precision-enabled equipment and the MyJohnDeere decision support platform offered by John Deere, to enable farmers to move from precision agriculture to decision agriculture."
John Deere's MyJohnDeere is a information platform that allows farmers to manage equipment data, production data and farm operations.
Precision farming is one sector where Netherlands-based TerraSphere is applying its satellite imaging technology. The company produces vegetation index maps of individual parcels based on satellite and UAV (unmanned aerial vehicle) imagery throughout the growing season. The maps allow farmers to monitor the growth of their crops, make decisions regarding fertilizer application and as a guide for soil sampling.
The application of UAVs/UASs (unmanned aircraft systems) in the area of precision agriculture is huge, and it's likely that they will be cleared to operate in unrestricted airspace in the U.S. starting in September 2015.
According to the study, The Economic Impact of Unmanned Aircraft Systems Integration in the United States, authored by aviation industry consultant Darryl Jenkins and Embry-Riddle Aeronautical University professor Bijan Vasigh, UASs will generate $13.6 billion in economic impact in the first three years after they are cleared to operate in the U.S. In addition, 90 percent of the potential market would be for precision agriculture, including remote sensing of crops for problems and growth patterns and precision application of pesticides and nutrients, as well as public safety.
[information box]
The Latest USDA Census of Agriculture Shows…
Farm operators are becoming older and more diverse; following the trend of previous censuses. In 2012, the average age of a principal farm operator was 58.3 years, up 1.2 years since 2007, and continuing a 30-year trend of steady increase. The Census also accounted for more minority-operated farms in 2012 than in 2007.
In 2012, the U.S. had 2.1 million farms—down 4.3 percent from the previous Census in 2007. In terms of farm size by acres, this continues an overall downward trend in mid-sized farms, while the smallest and largest-size farms held steady.
Between 2007 and 2012, the amount of land in farms in the U.S. continued a slow downward trend declining from 922 million acres to 915 million. This is only a decline of less than one percent and is the third smallest decline between censuses since 1950.
Source: www.agcensus.usda.gov
Alternative protein sources
Over the past few years, Food Logistics has covered a number of developments related to alternative protein sources, from Hampton Foods' plant-based egg to 3D 'food printing,' and from the rise in entomophagy (the eating of insects) in the Western world to Dutch professor Dr. Mark Post's 'lab meat.'
In fact, the Dutch are behind many pioneering developments related to food, including seaweed cultivation.
Since 2012, Wageningen UR (University & Research Center) has been conducting pilot trials involving seaweed cultivation at several sites around the Netherlands. Dr. M.C.Th. (Martin) Scholten explains that, "As the world population and consumption levels grow, efficient use of natural resources becomes more important. Feeding the world within the carrying capacity of Planet Earth requires an open eye for the sustainable food production at sea, as seas cover more than 70 percent of the planet."
Competition for land-use, depletion of terrestrial nutrients and loss of pristine forests are among the top challenges that warrant studies such as these, adds Dr. Scholten. "Seaweeds provide big opportunities for production at sea: a commodity that can be used as food for human consumption, livestock feed and a source of green chemicals."
Supporting a growing cold chain
Whether it's alternative or conventional protein, fruits or vegetables, perishable foods rely on an integrated cold chain and more of it will be on the move in the coming years.
The USDA's Economic Research Service forecasts that:
U.S. fresh vegetable imports will grow from $6.5 billion in 2013 to $11.3 billion by 2023; fresh vegetable exports will climb from $2.3 billion in 2013 to $3.1 billion by 2023.
U.S. fresh fruit imports will rise from $8.3 billion in 2013 to $13.4 billion by 2023: fresh fruit exports will rise from $5.01 billion in 2013 to $7.44 billion in ten years.
While imports are expanding faster than exports, the USDA predicts exports will continue to grow in significance for U.S. producers. By 2023, 27 percent of U.S. fruits and nuts will be exported, up from 23 percent in 2013. Likewise, about 20 percent of U.S. vegetable output will be sold in foreign markets by 2023, up from 16.7 percent in 2013.
Container lines have invested heavily in refrigerated equipment in order to gain a larger market share of food imports/exports. During the JOC's recent TPM conference in Long Beach, Calif., shipping executives said they're preparing to transport more reefer cargo.
Peter Frederiksen, a member of the executive board for Hamburg Sud, said that improving standards of living and growing populations were driving demand for perishable foods. He expects the global reefer market will continue to achieve 4 to 5 percent growth in the coming years.
To keep up, Hamburg Sud will add 6,500 new reefer containers to its equipment fleet this year, while its 'Cap San' series of vessels, launched in 2013, offer more reefer plugs (2,100) than any other vessels available today.
Hamburg Sud held a naming ceremony for the Cap San Lorenzo last month in Buenos Aires—the fourth of six 'Cap San' new builds for the carrier. The Cap San Lorenzo is deployed on a major reefer trade lane between the east coast of South America and Europe.
Sidebar (1 of 2):
Feeding the Growing Global Middle Class without Starving the Supply Chain
Leveraging the Right Business Intelligence for Fluid Supply Chain Decisions
By Kate Shoell, Director, Global Promotions and Logistics, and Brian Benjamin, Sr. Director, Strategic Account Management, Analytics & Supply Chain Services, HAVI Global Solutions
Feeding the middle class is the same everywhere. What has changed is the amount of middle class mouths to feed. For example, in China and India, this growing segment is pulling more and more seats up to the dining room table—and their standards for quality and demands for timely and consistent delivery from field to fork is the same as the rest of the middle class world. This means the food supply chain is changing too, and food companies across the globe need to be ready.
The challenge for food logistic and supply chain professionals is managing this increasing demand for food, which is not exclusive to Asia. The growth may occur in Asia—with projections to nearly double its middle class population from 1.8 to 3.2 billion people by the end of the decade, according to Brookings Institution—but also in areas such as Brazil, Africa and the Middle East. Regardless of where change occurs, with today's global food supply chain, significant fluctuations in one region are felt globally.
To remain competitive on a global scale, food supply chains must be capable of absorbing the many shocks inherent in a volatile, growing economy, including consumer demand trends, rising commodity prices, and imposed regulatory changes. Strengths can be directly tied to a company's ability to adapt to changes and make decisions quickly based on many of these expected and unexpected challenges.
While an ideal solution may in fact live within today's big data and business intelligence (BI) platforms and analytics tools, it is not as easy as flipping a switch. BI and enterprise resource planning (ERP) solutions can and often provide supply chain mangers with greater access to a consolidated view of inventory levels and product movement, but that is only half the battle.
Managing data is more than just a clerical function; it is the foundation for smart supply chain decisions. For many enterprises, however, transparency or the resources needed to translate the information gathered into intelligence that is actionable is lacking. Other times, the wrong information is being examined or inoperable metrics have been put in place. Business departments lose sight of how their day-to-day activity and responsibilities align with goals and strategies of the company. They instead turn to limited data that can impact collaboration and delay important decision making.
This risk goes beyond simply using projections that are based on last year's demand and forecasted costs—should a problem occur, decision makers may not be able to access the latest data on transactions, orders, supply chain activity, and markets, and make adjustments in real-time.
To reduce inventory exposure and become more nimble, business decision makers must take a strategic approach and think creatively about the potential impacts the growing volatility and risks present.
Be Adaptable — Attempting to manage a supply chain without an integrated approach to addressing fluctuations in commodity prices, or using traditional management tactics that accommodate simple factors or aging data, can leave companies significantly exposed to rising product costs and shrinking margins. Supply chain managers must be able to modify products or ingredients as external implications call for changes.  
By engaging real-time, dynamic models, supply chain managers and users easily input current data and generate outputs (costs, demand projections, crisis scenarios, etc.) that reflect present information with consistent, easily replicable results. With a single, consistent view of data, users spend less time preparing and validating numbers, and more time assessing the impact of unexpected change; evaluating scenarios, and addressing the subsequent decisions that must be made quickly.
Understand the Entire Supply Chain—Once information is integrated into a working system, it must be acted upon. When operating on a global scale, sending and receiving food or ingredients can be challenging—especially when companies have a complex network of suppliers, distribution centers and redistribution centers.
It is important to know the suppliers well and understand the dynamics of the relationship. Can prices be negotiated upfront to avoid volatile market shifts, for example locking-in fuel costs? Another consideration is fluctuating prices with specific ingredients. From shipping that requires refrigeration to seasonally adjusted food prices, passing costs on to consumers or formulating seasonal promotions can offset expenses.
Other examples include such factors as crossing international borders, inspections at customs, trade compliance and foreign laws. These elements should never impact shipping timetables, but often do. While established cross-border relationships are beneficial, it is important to understand when alternative sourcing must be considered. Qualified suppliers with lower associated costs may be worthwhile.
Companies can improve supply network efficiency and overall profitability by better integrating data and analytics to support planning and strategic decision-making, while creating additional value for marketing and operations.
Make Contingency Plans—The issue with risk management has always been the quantification of something that did not happen, or was successfully averted. From a natural disaster delaying shipments to another supplier's product recall, some challenges cannot be anticipated. With sophisticated big data analytics it is possible to compare amounts spent on resolving a problem with the savings generated by mitigating a risk. Simply put, it is best to have a backup plan for most any scenario so that decisions can be made as quickly as possible.
By bringing together all the factors that impact margins, businesses can take an integrated approach to incorporate various demand scenarios in planning, enabling a comprehensive view and understand the impact a decision may have on costs and margins.
Development trends and global growth among the middle class has placed more demand on the supply chain and challenges for food logistics professionals on all levels, locally and globally. To succeed, companies need to take an integrated approach to managing their supply chain and addressing risk, moving beyond the traditional metrics and management tactics that can only accommodate simple factors or aging data.  By doing this, companies can shift their supply chain management from a cost center, to a competitive differentiator.
Sidebar (2 of 2):
Mitigating Trader Partner Risk in the Global Food Supply Chain
By Scott Byrnes, Vice President of Marketing, Amber Road
As the food industry continues its global expansion—at the end of 2012, the global food market was valued at $4.2 trillion dollars and, according to Datamonitor, is expected to reach $5.3 trillion dollars by 2017—so does supply chain, foodborne illness, bioterrorism and brand reputation risks. 
Why? Because a global supply chain, longer and more complex than a domestic supply chain, has multiple vulnerability points with potentially hundreds of variables.
There are numerous import and export regulations in the food industry to decrease risk exposure. The 2011 Food Safety Modernization Act, managed by the U.S. Food and Drug Administration, for example, requires companies to implement a food defense program to prevent foodborne diseases and verify that their foreign suppliers have adequate preventive controls in place to ensure that the food they produce is safe.
Additionally, there are many U.S. and other non-U.S. governmental regulations that companies must follow to trade internationally, one of which is not doing business with a denied party.
Food and beverage shippers are responsible for determining whether any business partners, including individual contacts, parent or subsidiary companies, or customer, have been placed on any official denied persons or illegal transshipper list; blocked from import or export transactions; or sanctioned by a government for illegal acts. Companies must also ensure they do not ship to a country that has been placed under embargo by the country from which they are exporting.
Obeying the law is critical, because non-compliance can not only hold up goods at customs, but can also potentially result in fines, jail time and bad publicity. Additionally, time to market with food products is critical. Delays could cause spoilage or missed opportunities, particularly with seasonal items.
Increasing regulations and focus on mitigating risks, combined with growing supply chain complexity, is driving the need for the food sector to more closely manage these issues. However, companies can face stumbling blocks with compliance. Using manual processes to manage compliance can be error prone and time consuming, as hundreds of country-specific lists and regulations must be checked.  It also requires extensive knowledge of the laws, which are frequently updated. 
As a result, many companies are turning to automation to help them perform this task quickly, compliantly, and at a lower cost than performing the task manually. A cloud-based software can be easily and quickly integrated into existing systems and is readily accessible to all parties involved in the transaction. Benefits of automating restricted party screening include:
1.   Improved screening accuracy. With over 200 lists from governments worldwide, manually determining whether a partner, customer or contact is designated a restricted party is time-consuming, inefficient, and prone to errors.
2.   Prevent illegal transactions and the associated fines and penalties.
3.   Reduced shipment delays. When matches occur, a configurable workflow allows for efficient resolution of holds using routing, alerts and escalations.
4.   Preserves an audit trail of screening activity to reduce corporate risk and demonstrate reasonable care.
5.   Centralized information storage for all partners. Because this information is reused throughout the system in a range of transactions, RPS (restricted party screening) results are automatically added to partner and contact records.
Kraft Foods Group, the world's second-largest food company, is one company using cloud-based restricted party screening software to simplify its compliance processes, maintain compliance with government organizations, and protect its brand value.
Kraft uses Amber Road's software in a decentralized fashion by local resources and has integrated it with SAP, with over 200 entities at the company using the system. Previously, the company had been using a manual system for restricted party screening.
With the technology, Kraft has significantly reduced the time needed to screen restricted parties and has reduced its number of false positives, decreasing the time spent on validating potential matches.