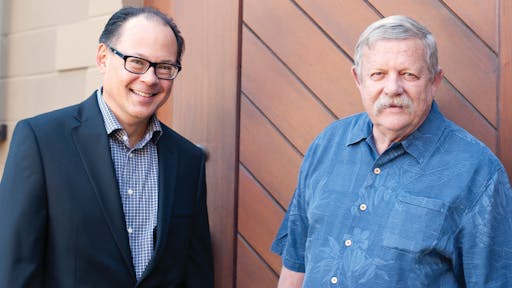 There is a common thread that runs through the following profiles in this year's final cover story. The founders and current leadership of Hess Collection Winery, California Natural Products, and Goya Foods share a commitment to the land, culture and tradition, which in turn guides their supply chains in the areas of sustainability, innovation, food safety, and customer satisfaction. In their own way, each company is firmly rooted in history, yet breaking new ground in their respective sectors and building collaborative relationships with their transportation and technology partners to establish new thresholds for how The Future of Food Logistics is evolving.
Hess Collection Winery & UPS 
During a business trip to Napa Valley in the 1970's, Donald Hess, a ninth-generation Swiss brew master, was drawn to a particular area, the Mount Veeder Appellation, known for its mountainous terrain, volcanic soil and distinct microclimates.
In 1978, Hess began purchasing hundreds of acres of established vineyards and created the Hess Collection Winery on a site whose winemaking history goes back to the 1860s. Part of his purchase included over 600 acres set aside as undeveloped land to support wildlife corridors, fish friendly farming practices and biodiversity.
Today, the winery produces wine in Napa Valley as well as other global locations—two in Argentina, one in South Africa, and one in Australia—explains Bill Smith, the winery's compliance manager who also oversees consumer direct shipping.
Despite the modern shipping methods that facilitate wine transportation around the world, the direct-to-consumer part of most winery's business typically slows to a crawl during the summer months in North America due to the risks of heat and the damage it can impose on wine.
"Four to five years ago, holding direct-to-consumer wine shipments until October was the trend," says Smith. This resulted in more than delayed satisfaction on the consumers' part, it cascaded throughout the operation, says Smith.
Holding direct-to-consumer shipments, which usually range from one bottle to one case, take up valuable space at the winery during busy summer months. It also affects financial and accounting operations. Once October hits and the wine is ready for shipment, the winery is then tasked with labeling thousands of small package shipments and coordinating a spike in large truck movements in and out of its facilities to get the wine on its way to consumers.
Until recently, next-day air was the only viable alternative for safely shipping wine in the summer, but it is a very expensive option, Smith notes.
Two years ago, UPS launched its Summer Solutions program targeting direct-to-consumer shipments.
"There was a fair amount of skepticism at first because there was nothing like it," recalls Chuck Eisen, an account manager with UPS who has worked in the Napa Valley for 15 years. Nevertheless, the program, which has doubled in size each year since its debut and is on track for continued expansion, has proved a hit with wineries and their customers.
UPS' Summer Solutions is available in all the major wine regions of Northern California, says Eisen, from Monterrey County to Lake County up north, and from San Francisco east to Sacramento.
The success of the program, both from the aspect of shipping ease and affordability, is that it operates on UPS' existing network with last-mile delivery performed by the company's iconic brown trucks, says Eisen. Maintaining the ideal temperature of the wine during the bulk of the transportation is what differentiates the Summer Solutions program from standard shipments, however.
For starters, wine shipments are picked up from wineries then loaded in the evening onto temperature-controlled containers at UPS' North Bay hub in Richmond, Calif. The temperature-controlled containers are moved by rail to one of four UPS distribution centers around the U.S., either Mesquite, Texas; Chicago; Parsippany, N.J. or Jacksonville, Fla.
Within a day of arriving at the UPS distribution center, wine shipments are loaded onto the brown trucks for delivery to the consumer.
To help assure the optimum temperature of wine shipments are maintained, UPS encourages consumers to use a business address for delivery, as those are scheduled before noon and reduce the chances of a shipment arriving when no one is home. In addition, wine shipping packages are designed to provide extra insulation during the limited hours the wine is in transit outside of the temperature-controlled portion of the journey.
Email communication between the winery, the consumer, and UPS also enhance real-time shipment tracking. UPS rolled out is My Choice home delivery option for consumers in September 2011, providing consumers with greater flexibility and control over when and where their shipments are delivered.
For Hess Collection Winery's Smith, the improved communication options make it easier and less time consuming for him and the customer to track and trace wine shipments.
Not surprisingly, the program has helped support sales at Hess Collection Winery during the summer, reports Smith, who says consumers tend to buy more wine knowing they can enjoy it during the summer months and not have to wait until October.
"Ultimately, it has improved inventory and profitability for us," says Smith. Equally important is that the sustainability attributes of the Summer Solutions program—from utilization of rail transportation to more streamlined and efficient fulfillment—support the fundamental principles and philosophy put forth by Donald Hess to, "Nurture the land, and return what you take."
California Natural Products & Power Automation Systems
When he was a young boy, Pat Mitchell ran a roadside fruit stand in Lathrop, Calif., a small town about 10 miles south of Stockton in the heart of the rich agricultural area known as the Central Valley, where Mitchell's family grew melons. He went on to study agronomy at California State University, Fresno and returned to his hometown to devote his professional career to 'all things agriculture,' from research and development of new ingredients and food products, to better packaging and innovative warehousing and distribution systems.
Mitchell founded California Natural Products (CNP) in 1980 at the exact location his family operated their melon packing shed. The original building remains today on CNP's property, which continues to grow in order to accommodate new business streams.
Over the years, Mitchell emerged as a pioneer in the food industry, especially the organic and natural food sector. His developments for manufacturing rice syrup, which is an all-purpose natural sweetener alternative to sugar, are used today in a range of products like cereal, baked goods, and energy bars.
 Meanwhile, Mitchell realized early on that aseptic packaging was a perfect fit for the organic and natural food sector because of its sustainability characteristics—the products didn't require refrigeration, it extended shelf life for retailers and consumers, made shipping more efficient and lighter weight, and opened up new opportunities for food manufacturers.
Today, CNP operates the most diverse product line of any aseptic plant in North America, notes Clark Driftmier, the company's vice president of marketing & sales for retail brands. CNP began using the Tetra Pak aseptic packaging for one of its products in the early 1990s, and now over 400 products are manufactured and packaged in Tetra Paks at CNP's facility, says Driftmier.
Food safety is another advantage of using aseptic packaging. The process involves filling a sterilized aseptic package with Ultra High Temperature (UHT) treated food in an environment that is also sterile and bacteria-free.
According to Driftmier, the steam infusion process heats the product to 280 degrees Fahrenheit for a few seconds to kill potential bacteria then immediately cools the product to avoid any degradation or impact on taste and texture.
CNP operates a state-of-the-art SQF Level 3 and Certified Gluten-Free food manufacturing facility and even boasts a wastewater treatment facility on premise that earned a wastewater innovation award from California's Water Environmental Association. All the wastewater generated at CNP's facility is reclaimed, treated to reduce biological oxygen demand (BOD) to domestic household levels, and either reused nearby for agricultural purposes or returned to the municipal treatment plant in cleaner condition.
The company's product portfolio includes a range of rice and soy milk beverages, soups and broths, waters, and nutritional drinks for brand names that are carried in nearly every supermarket and natural foods store. In addition, CNP has two of its own branded products—the Svelte Organic Protein Shake and CalNaturale Wine.
CalNaturale wines (available in Chardonnay and Cabernet Sauvignon from organically grown grapes) debuted in 2010 as the first wine brand from premium California appellations packaged in Tetra Paks, making it a highly sustainable product on several fronts. By CNP's estimates, CalNaturale wines have half the carbon footprint of glass bottles.
CNP's success over the years did come with one problem—albeit a 'good' one—which prompted Mitchell to go back to the drawing board to create a warehousing automation solution that could meet his requirements for reducing costs, increasing productivity, and improving sustainability.
His quest for such an advanced automated storage and retrieval system (AS/RS) led to years of development and testing, even at his own CNP facility. In 2000, Mitchell founded Power Automation Systems (PAS) and introduced PowerStor to the market. According to PAS' Web site, PowerStor is the world's most innovative automated warehouse storage solution and the most sustainable too, delivering the highest density, highest throughput and greatest flexibility of any system on the market.
The bold claims are substantiated by the caliber of clients the company has attracted, which includes the likes of Pepsi, Trinchero Family Estates, Biery Cheese, Maple Leaf, Ralcorp, and Coca-Cola, to name a few. PAS has 15 systems installed at locations throughout Europe, Mexico and the U.S., and is expanding further, points out Rodney Tipton, president of PAS.
Clients have realized a number of benefits with PAS' systems, specifically a 60 percent increase in pallet storage; an 80 percent reduction in operating expenses associated with labor, fork trucks and energy consumption; and less shrinkage from product damage and lost inventory.
Tipton, who joined CNP in 2001, assumed the role of president at PAS in 2010 and worked together with Mitchell to develop and build the first PowerStor automated cart and lift-based automated storage and retrieval system (CTVL-AS/RS). Most recently, his focus has been preparing for the launch of CNP's new automated warehouse, which sits directly across the two-lane highway from the food manufacturing and packaging facility in Lathrop.
During a site visit by Food Logistics in November, Tipton offered a look inside the new automated warehouse, which was nearly complete and just about ready to 'go live.'
Phase I of the project will accommodate 9,000 pallet positions, says Tipton, while Phase II will add more pallet positions.
One of the most interesting features of the new automated warehouse—and one that physically links it to the CNP facility across the highway—is an enclosed overhead bridge that supports the continuous 'loop' of product and pallets moving back and forth between the CNP facility and the new automated warehouse.
Product will eventually travel at 600 feet per minute between the two facilities, explains Tipton. Not only does the design illustrate the PAS team's creative abilities and engineering expertise, it's also an indicator of the company's willingness to think outside the box and customize solutions for individual clients.
PAS's largest project to date was announced in September, when California-based Trinchero Family Estates tapped the company to install its flagship solutions—PowerStor, PowerStage, and PASWare—in a new, modern bottling and warehousing facility Trinchero is building in Lodi, Calif.
The first phase of the installation includes 54,000 pallets, although more than 72,000 pallets of wine will eventually be stored and moved through Trinchero's new facility. The launch is set for January 2014 with full operations scheduled to be underway by June 2015.
According to a PAS press release: "Trinchero Family Estates chose the PAS CTVL system over traditional stacker cranes (AS/RS). The PAS solutions fulfilled Trinchero's requirements for versatility, simplicity, transfer speeds, safety and energy usage."
PAS also designed the system to meet Trinchero's requirements to have palletized wine enter on one side of the warehouse and exit to the shipping docks on the other side without compromising throughput.
"This is achieved through the use of simultaneous and independent movement of the multiple robotic vehicles (carts) throughout the storage structure while being continuously managed and monitored via the PAS proprietary software," added PAS in the press release.
Goya Foods & Manhattan Associates
New Jersey-based Goya Foods is the largest Hispanic-owned food company—and also one of the fastest-growing—in the U.S. Considering the growing Hispanic population in the U.S. is second only to Mexico, the future prospects for Goya's products, which range from canned beans to spices and other prepared products, is undeniably bright.
Goya is decidedly different from other food companies though, and not only because of its niche products.
One example is the company's direct store delivery (DSD) model. At first, this model seems inefficient, but in reality, it reinforces Goya's commitment and close relationship to its retailers and customers. Many of Goya's retail outlets are small markets in neighborhoods with a predominantly Hispanic population. Sales staff visit each outlet to stock and reorder the precise mix of product for every market, which can vary significantly from one city block to the next. The approach has nurtured brand loyalty for Goya both from retailers and customers who are looking for a 'taste of home.'
The direct store delivery model coupled with Goya's ongoing growth eventually prompted the company to reevaluate its technology requirements, mentioned vice president Peter Unanue during an interview with Food Logistics.
 After an extensive vetting process, Goya chose Manhattan Associates' warehouse management system (WMS) and transportation, planning and execution (TP&E) solutions to assist in managing its business, including the forecasting and replenishment functions, said Unanue.
As of September, Goya had implemented Manhattan Associates' solutions at five out its 11 distribution centers across the U.S., he added, with the rollout ongoing.
Meanwhile, the new technology tools also allow Goya to better support its direct store delivery model.
"When our sales staff is in the retail outlet, he can take the order and transmit it to the system, where we check for credit and inventory availability," says Unanue. "That same day or evening, we'll start picking the order, loading the truck, and it's delivered the following morning."
Goya also does its transportation bidding more frequently now using the TP&E solution, which has saved the company a "substantial amount of money because we're now able to lock-in rates," says Unanue.
Inventory management has also become easier with the WMS. "We used to do an inventory once or twice a year, and it was painful," Unanue admits. "But now, we can do cycle counting every day."
Furthermore, the software and technology is key to facilitating Goya's plans to include perishable goods, like cheeses, to its product line, says Unanue.
"In the last year or so, we've been adding products that have a shorter shelf life and we're looking to continue that because we see advantages there," he says.
 Looking ahead, Unanue expects Goya's software and technology strategy to incorporate more sales tools and reporting analytics.
The personal interactions between Goya's sales staff and market owners yields tremendous 'human intelligence' that is valuable to the company. "And, we definitely need to utilize that more," he concludes.
Companies in this article