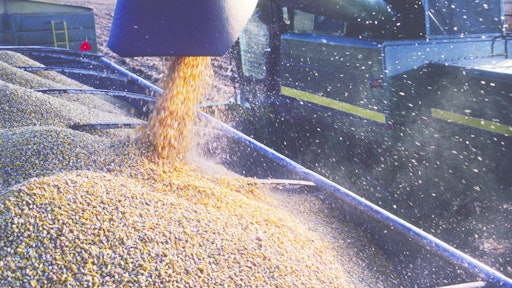 China Unfairly Blocking US Chicken Imports, Rules WTO

A World Trade Organization (WTO) dispute panel has ruled in favor of U.S. chicken producers who claimed China's imposition of antidumping and countervailing duties on U.S. chicken "broiler products" was illegal under global trade rules.
China began assessing tariffs as high as 105.4 percent on the price of the chicken broiler products in 2010, prompting the U.S. to file a WTO complaint the following year and causing U.S. exports of those products to drop by 80 percent.
U.S. poultry exporters, including Tyson Foods, Sanderson Farms Inc., and Pilgrim's Pride Corp., a unit of JBS SA of Sao Paulo, Brazil, had backed the case.
Going Green Only to Save Some Green

One of the most interesting items to come out of this year's Executive Survey on Supply Chain Sustainability is the fact that while a large portion of the industry has embraced the sustainability movement, the biggest incentive is to lower costs rather than reduce their environmental impact.
The annual survey put out by New York-based advisory firm Alix Partners LLC, found that while 72 percent of the respondents said their companies have corporate policies or objectives in place, 84 percent indicated lower costs are more important than is improved global impact. Those numbers are even higher among European companies, with 88 percent saying they had sustainability efforts in place, with 89 percent saying it was more about costs than impact.
The survey, comprised of mostly high level executives based in Europe and the U.S. from 10 different industries with a majority of them in shipping, represents what Alix Partners is calling their first global effort to measure the behavioral impact of sustainability initiatives.
The lack of adequate financial return is the main roadblock toward greater progress in sustainable initiatives, according to the survey. Almost 43 percent said they were undecided as to whether their companies would invest in a sustainability plan next year.
The survey also points out the different viewpoints of executives on opposite sides of the globe. According to the European respondents, recycling raw materials, energy conservation and switching to alternative energy are the main drivers behind their efforts, while in the U.S. consolidating LTL shipments into fewer, larger shipments was the main impetus.
Mondelez Supply Chain Overhaul to Save $3 Billion

Mondelez, the owner of Cadbury Chocolate and Kraft Foods Mondelez International, is making major changes in its supply chain, which the company says will save $3 billion over the next three years.
For starters, upgrades to the company's Oreo cookie manufacturing lines will reduce operating costs by $10 million per line. In addition, Mondelez is investing in 14 greenfield plants by 2020 that will also improve efficiency and reduce supply chain costs.
Chairman and CEO Irene Rosenfeld said, "In North America, we're targeting a 500-basis-point improvement in operating income margin, and we now expect to reach that target by 2016, a year earlier than originally anticipated." She added that, "In Europe, we're targeting an improvement of 250 basis points in OI (operating income) margin, which we also expect to reach by 2016."
Is AmazonFresh Just a Front to Expand Same-Day Delivery?

That's the question some reporters are posing, including FastCompany's J.J. McCorvey in a recent article, which said the Internet giant's AmazonFresh online grocery ordering and home delivery was launched to help the company put the infrastructure in place to handle not just groceries, but books, electronics and just about anything else consumers purchase online.
It's difficult and expensive to manage a fleet of urban delivery trucks, especially if those trucks aren't moving maximum volumes. Tom Furphy, a former Amazon executive, claimed to have said the idea for AmazonFresh was sold as a way to build economies of scale and justify the massive investment in same-day delivery capabilities.
Meanwhile, the company's been splurging on warehouses these past few years, which will support its goal of same-day delivery. Since 2012, Amazon has added 50 new facilities to its network, with five more in the U.S. added this year.
According to Bloomberg, Amazon's spending on fulfillment jumped more than 40 percent annually from 2010 to 2012, compared with 24 percent in 2009.
USDA Computer Glitch Causing Problems

The U.S. Department of Agriculture (USDA) announced that a "technical glitch" in a new computer system used by inspectors at over 6,500 meatpacking and processing plants across the U.S. was shut down for two days in August, resulting in millions of pounds of beef, poultry and pork being shipped before it could be properly checked for E coli and other contaminants. Despite the computer failure, the USDA says there have been no reports of tainted meat being sold or consumed.
Two years ago, the USDA invested $20 million on a new computer system that was designed to improve food safety by streamlining the inspection process at meatpacking and procession plants, allowing for real time information and the ability to track problems before they turn into outbreaks. But since the system's launch in 2011, inspectors have consistently complained of crashes, glitches and problems.
The USDA has tried to downplay the problems in the past, with the USDA's Food Safety and Inspection Service (FSIS) director Alfred Almanza claiming the issues have little to do with the system and more to do with the lack of wireless networks in rural areas where plants are located. But this admission, along with another admission that computer issues caused "problems with meat sampling at 18 plants in 2012" is making it difficult for the USDA to earn the trust of industry and consumers when it comes to food safety.
Grocery Shopping Gets Its Tech Game On

When it comes to technology in the grocery store environment, the introduction of the bar code scanner in the 1970s was the last 'big thing.'
"You have an industry that's been kind of stuck in time," said Scott Mushkin, a grocery retail analyst at Wolfe Research, in a recent Los Angeles Times article. "Grocers have to invest. Their business models have been under so much pressure, they're fighting for their lives."
In response, grocers have been rolling out some new technologies to improve shoppers' experience. Ralph's—a Southern California grocery chain owned by Kroger—is testing QueVision, a system that uses hidden infrared cameras with body heat trackers to determine the number of shoppers in the story at any given moment. The information is used by managers to deploy extra cashiers when it gets busy.
A spokeswoman from Ralph's says QueVision has slashed the amount of time it takes to get to the front of the line to about 30 seconds compared to the national average of four minutes.
Walmart's PTI Deadline Nov. 1 For Fresh Produce

Walmart says it will start rejecting fresh produce shipments at its DCs starting November 1 if the shipments do not have labels compliant with the Produce Traceability Initiative (PTI).
The development is welcome news for PTI's leadership and others in the industry who say the buy-in from Walmart will give others the necessary push to establish their own deadlines to start using PTI compliant labels.
"Eco-Eating" on the Rise

Consumers' desire to eat ecologically responsible foods is on the rise, and it's extending beyond the grocery stores to restaurants and hotels, according to a recent article in Sustainable Brands.
New research entitled the Eco-Eating Culinary Trend Mapping Report states that "eco-eating takes many forms, typically starting with organic dairy and produce and moving on to plant-based proteins." In addition, "While in the past it may have been sufficient to stop there and call it an eco-progressive meal plan, today progressive diners and food shoppers are beginning to think about their eco-eating footprints and are looking for sustainable choices in all sorts of new places."
Among the trends gaining momentum from an interest in eco-eating are: Edible Packaging; Protein-Packed Insects; Restaurant Gardens and Hotel Beehives; New Sustainable Seafood Choices; Grass-Fed Beef; Meatless Family Meals; and Today's Tofu, which has become tastier and more mainstream than in previous years.