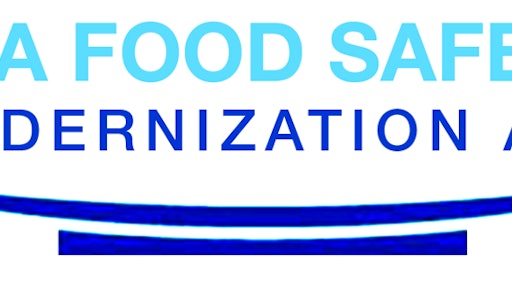 FDA Publishes Final FSMA Preventive Controls Rules
The U.S. Food and Drug Administration (FDA) has published the final versions of the first two of seven major rules under the bipartisan FDA Food Safety Modernization Act (FSMA). The two rules finalized, the preventive controls rules, focus on implementing modern food manufacturing processes for both human and animal foods. The preventive controls rules require human and animal food facilities to develop and implement written food safety plans that indicate the possible problems that could affect the safety of their products and outline steps the facility would take to prevent or significantly minimize the likelihood of those problems occurring. 
New York City To Require Restaurants To Label High-Sodium Food
New York City will require chain restaurants to add a warning label to menu items that contain more than the daily recommended amount of sodium, making it the first city in the U.S. to do so, according to Reuters. The rule requires restaurants to add a salt-shaker symbol next to food items that contain more than 2,300 milligrams of sodium, the maximum daily amount recommended by U.S. health officials. The rule will go into effect on Dec. 1.
Mars Inc. Opens Global Food Safety Center
Mars, Inc. announced the opening of its Global Food Safety Center, a first-of-its-kind facility for pre-competitive research and training that aims to raise global food safety standards through collaboration. Convening governments, academics, regulators and industry peers, the center is intended to drive global focus on addressing the challenge of food safety, leading to better access, availability and nutrition, as well as reduced food waste and an increase in overall quality of life. With an emphasis on pre-competitive research and collaborative solutions, the center will leverage insights and expertise from over 60 Mars partnerships dedicated to innovative, sustainable and responsible food safety practices. 
Venezuelan Food Shortage Brings Looting
Ater looting and setting fire to a National Guard command post in La Sibucara, Venezuela in August, a mob infuriated by worsening food shortages rammed trucks into the smoldering edifice, reducing it mostly to rubble, according to The Wall Street Journal. The incident was just one of numerous violent clashes that have flared in pockets around the country as Venezuelans wait for hours in long supermarket lines for basics like milk and rice. Shortages have made hunger a palpable concern for many Wayuu Indians who live here at the northern tip of Venezuela's 1,300-mile border with Colombia.
Are Barcodes Headed For Extinction?
Growing demand for more information about products could mean the end of the simple barcode - the blocks of black and white stripes that adorn most objects for sale and are scanned five billion times a day, according to Reuters. Shoppers are now demanding far greater transparency about products, and store owners need more information to help with stock taking, product recalls and to fight fakes. That could mean a costly upheaval for retailers and brands to change packaging and invest in new systems and scanners. But it should also bring benefits as more data helps them manage the flow of goods better.
McDonald's And Tyson Drop Poultry Producer Over Chicken-Killing Video
McDonald's Corp. and Tyson Foods Inc. severed ties with a Tennessee poultry farm after an animal-rights group released video footage from the facility that showed chickens being stabbed, clubbed and crushed to death, according to NBC News. The videotape, which was unveiled by Mercy For Animals at a news conference in Los Angeles, depicts gruesome animal cruelty toward the birds at what the group said was T&S Farm in Dukedom, Tenn., which was under contract to Tyson Foods. 
Woman Sues Chipotle Over GMO-Free Menu Claims
A California woman has filed a lawsuit charging Chipotle Mexican Grill Inc. with making false and misleading claims by saying its menu is free of genetically modified organisms, or GMOs, according to Nation's Restaurant News. In a complaint filed in the U.S. District Court, Northern District of California, Colleen Gallagher filed on behalf of all California consumers who bought food from Chipotle. She is represented by law firm Kaplan Fox & Kilsheimer LLP in San Francisco, Calif., which is seeking class-action status for the case.
Kit Kat To Be First Chocolate Brand Using All Sustainably Sourced Cocoa
Nestle SA said KitKat will become the first global chocolate brand to make all its products with sustainably sourced cocoa as the chocolate industry faces allegations of child labor in the supply of raw materials, according to Bloomberg. All KitKat bars will be made with cocoa accredited by independent third parties by the first quarter of 2016, the Vevey, Switzerland-based company said. That includes those made in the U.S., which are produced by license holder Hershey Co.
McDonald's Commits to Cage-Free Eggs
To meet consumers' changing expectations and preferences, McDonald's announced that it will fully transition to cage-free eggs for its nearly 16,000 restaurants in the U.S. and Canada over the next 10 years. The news follows other actions announced this year by the company to source only chicken raised without antibiotics important to human medicine by 2017 and to offer milk jugs of low-fat white milk and fat-free chocolate milk from cows that have not been treated with rbST, an artificial growth hormone.
Heartland Food Products Group To Acquire Splenda From McNeil Nutritionals
Heartland Food Products Group, a global producer and marketer of low-calorie sweeteners, drink mixes, coffee, and nutritional beverages for consumer markets, has entered into an agreement to acquire the Splenda low-calorie sweetener brand from McNeil Nutritionals, LLC, a subsidiary of Johnson & Johnson Consumer Inc.  Splenda is the leading low-calorie sweetener brand. 
Target To Offer Alcohol In New Chicago Store
Target Corp. has applied for two liquor licenses for a store planned to open in October in Chicago's Streeterville neighborhood, according to USA Today. The company would not provide further details. The licenses haven't been approved yet. While many Target stores already sell alcohol to take home, Target applied for both a package goods license and a consumption on premises liquor license for its new store.
B&G Foods Inc. To Acquire Green Giant And Le Sueur Brands From General Mills Inc.
B&G Foods, Inc. will acquire the Green Giant and Le Sueur brands, leaders in frozen and canned vegetables, from General Mills, Inc. for approximately $765 million in cash, subject to an inventory adjustment at closing.