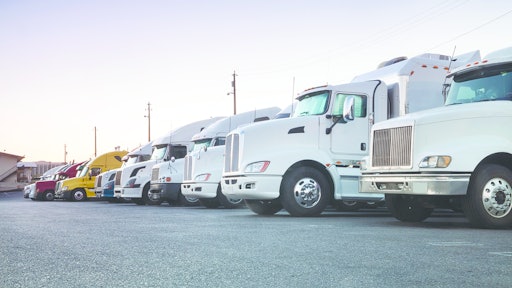 EPA, DOT Propose Greenhouse Gas And Fuel Efficiency Standards For Heavy-Duty Trucks
The U.S. Environmental Protection Agency (EPA) and the Department of Transportation's National Highway Traffic Safety Administration (NHTSA) are jointly proposing standards for medium- and heavy-duty vehicles that would improve fuel efficiency and cut carbon pollution to reduce the impacts of climate change, while bolstering energy security and spurring manufacturing innovation. 
The proposed standards are expected to lower CO2 emissions by approximately 1 billion metric tons, cut fuel costs by about $170 billion, and reduce oil consumption by up to 1.8 billion barrels over the lifetime of the vehicles sold under the program. These reductions are nearly equal to the greenhouse gas (GHG) emissions associated with energy use by all U.S. residences in one year. The total oil savings under the program would be greater than a year's worth of U.S. imports from the Organization of the Petroleum Exporting Countries (OPEC). 
EPA Plans Emissions Cuts For Airplanes And Trucks
The Obama administration is planning a series of actions this summer to rein in greenhouse-gas emissions from wide swaths of the economy, including trucks, airplanes and power plants, kicking into high gear an ambitious climate agenda that the president sees as key to his legacy, according to The Wall Street Journal. The Environmental Protection Agency is expected to announce as soon as Wednesday plans to regulate carbon emissions from airlines, and soon after that, draft rules to cut carbon emissions from big trucks, according to people familiar with the proposals. In the coming weeks, the EPA is also expected to unveil rules aimed at reducing emissions of methane—a potent greenhouse gas—from oil and natural-gas operations. 
And in August, the agency will complete a suite of three regulations lowering carbon from the nation's power plants—the centerpiece of President Barack Obama's climate-change agenda. The proposals represent the biggest climate push by the administration since 2009, when the House passed a national cap-and-trade system proposed by the White House aimed at reducing carbon emissions.
Ports Of Los Angeles, Auckland And Guangzhou Establish Formal Working Alliance
The Port of Los Angeles has signed a memorandum of understanding with the Ports of Auckland, New Zealand, and Guangzhou, China, at a Tripartite Ports Summit sponsored by Los Angeles Mayor Eric Garcetti and the City of Los Angeles. The document establishes the Tripartite Ports Alliance, which represents a new level of cooperation between the three port authorities that had initially committed to working more closely together in November 2014. "We commend Mayor Garcetti's leadership and foresight in helping to form this alliance during his trade mission to Asia last year," said Ambassador Vilma Martinez, Los Angeles Harbor Commission president. "The Port of Los Angeles looks forward to collaborating with the ports of Auckland and Guangzhou on a series of initiatives, including promoting commercial and business opportunities as well as sharing innovative best practices."

Los Angeles, Guangzhou and Auckland are sister cities and strategic trading partners that share similar economic goals. The newly formed alliance provides a platform for growing trilateral cooperation to foster trade, innovation and investment opportunities between the public and private sectors of the three regions.
Objectives within the memorandum of understanding include sharing of best practices and expertise; strengthened communication and collaboration on investments, technologies and environmental policies; and working together to enhance capabilities of each port in order to boost their respective regional economies. 
DOT Grants Agriculture 2-Year Waiver From Hours Of Service Rule
America's hog, cattle and poultry farmers have been granted a 2-year waiver from the U.S. Department of Transportation (DOT) hours-of-service rule for certain drivers, according to farmanddairy.com. The rule, issued in mid-2013 by DOT's Federal Motor Carrier Safety Administration (FMCSA), requires truck drivers to take a 30-minute rest break for every eight hours of service. It would have prohibited drivers hauling livestock and poultry from caring for animals during the rest period.
The National Pork Producers Council, on behalf of other livestock, poultry and food organizations, in 2013 petitioned the FMCSA for a waiver and exemption from complying with the regulation. The groups this spring asked the FMCSA to renew the waiver and to extend it for the two-year maximum allowable under federal law.
Railroads Retire Boxcars, Creating Shortage
A shrinking supply of boxcars—once the ubiquitous symbols of U.S. railroads and a rolling bellwether for the economy—is causing a freight-hauling crunch for industries that continue to use them, according to The Wall Street Journal. The number of boxcars in service in North America fell by 41 percent in the past decade to slightly less than 125,000 last year as 101,600 cars were scrapped and only about 13,800 replacement were added. That downsizing accelerated a decades-long shift by railroads to more specialized railcars and intermodal carriers that allow shipping containers to hop from trucks to trains. 
CSX And Louisville & Indiana Railroad Partner On $90 M Indianapolis-To-Louisville Infrastructure Upgrade
Louisville & Indiana Railroad (L&I), a subsidiary of Anacostia Rail Holdings, and CSX announced the completion of an agreement that grants CSX a permanent easement to operate over the L&I's 106-mile rail corridor between Indianapolis and Louisville. In addition to CSX's $10 million easement purchase, the two companies finalized an operating agreement that provides for an additional $90 million in infrastructure upgrades over the next several years to improve the track structure and right of way along this key freight route. The joint project, which closed on June 17, 2015, was approved by the U.S. Surface Transportation Board in April.
U.S. Senate Introduces Multimodal Freight Act
U.S. Senators Cantwell, D-Wash., Booker, D-N.J., Murray, D-Wash., and Markey, D-Mass. introduced a proposal creating a national multimodal freight policy and investment program. Much of the bill, the National Multimodal Freight Policy and Investment Act, was crafted based on recommendations developed by the nonpartisan National Freight Advisory Committee, a group organized by the United States Department of Transportation (USDOT) and composed of public and private sector freight stakeholders.